We took the new BMW Z4 out for a spin to see if it lives up to the reputation of a BMW roadster.
What is it?
The new Z4 is the latest sporty soft top from BMW. With a reputation to maintain and the claim of 'the ultimate driving machine' BMW has a lot to live up to with the Z4.
So, with a new platform, upgraded interior and divisive new styling, can the latest Z4 take on talented rivals such as the Porsche Boxster and Jaguar F-Type?
What's new?
The latest Z4 has had a complete overhaul, sharing very little with its predecessor.
The new cab-forward silhouette puts the driver closer to the centre of the action. There's a choice of three engines – two four-cylinders and a straight-six – while the roof is a quick-folding electrically operated soft-top.
What's under the bonnet?
The basic Z4 models feature a four-cylinder petrol engine in either 20i or 30i models with an output of 197bhp and 298bhp respectively. We drove the next rung on the ladder – the straight-six M40i, which puts out 335bhp and a limited top speed of 155mph. All are rear-wheel drive and feature the same eight-speed torque converter automatic gearbox.
The engine has plenty of power without feeling frantic, and the gearbox can instantly switch between slurring gears together and rifling through them at high speed. It also sounds lovely, which is more than you can say of a four-cylinder Porsche Boxster.
What's it like to drive?
The stiff body means that ride comfort can be achieved without compromising handling.
The Z4's steering is solid and accurate and the handling is well balanced. The 50/50 weight distribution and low centre of gravity keep things flat and true, while the specially developed Michelin Pilot Super Sport tyres give brilliant agility.
It's not quite as thrilling on the edge as a Porsche Boxster, though, and if you want muscle car character at this price the Ford Mustang is pretty unbeatable – if less accomplished.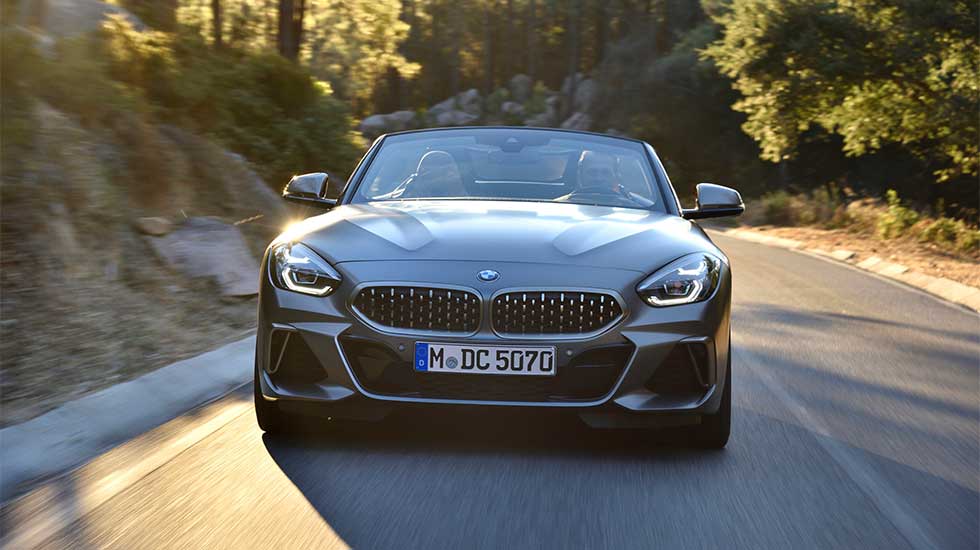 How does it look?
The Z4's looks are divisive, with some saying it's lost its elegance, is too fussy and the grilles are too large. We like it, though.
It still retains the long-bonnet silhouette but the driver is now positioned more centrally. The high-set headlights flank a new, wider kidney grille inspired by the iconic 507, and the rear deck is raised to give a real 'wedge' shape. It's the slashes along the sides and rear that divide opinion. It's certainly more angular than its predecessor but we think that gives it an even greater stance. BMW have estimated that 90 per cent of UK buyers will choose a meaner-looking M Sport model, too.
What's it like inside?
The typical BMW cabin includes a driver-focused layout and iDrive infotainment system, which is intuitive, clear and quick.
The Z4 feels cosy but not cramped, although it can be quite dark and claustrophobic with the roof up. A big glovebox, adequate boot and space behind the seats for smaller bags give you plenty of storage. However, the cupholders are placed just where your elbow wants to be, which isn't ideal.
What's the spec like?
The standard level of kit includes an iDrive infotainment system, leather upholstery, 18-inch alloy wheels, climate and cruise control plus all-round parking sensors. Our M40i was rather more plush, though, with M Sport tweaks, 19-inch alloy wheels, aluminium interior trim, electric and heated seats, upgraded brakes, an M differential, adaptive cruise control and upgraded infotainment. However, it's perhaps not quite as plush as you might hope for its near-£50,000 price tag.
Verdict
The BMW Z4 successfully balances between grand tourer and sports car – and this M40i model really is great to drive. It's just a shame that most buyers will opt for a lesser engine, as we're not sure the four-cylinder 20i will show off the Z4's characteristics at their best. Still, provided you like the looks, this is an excellent, comfortable and dynamic roadster which shows that BMW still has serious form in this class.
_____________________________________________________________________________________________
Our dealerships now have the new BMW Z4 for you to browse and test drive, as well as a limited number of Z4 M140i First Edition models. To test drive the BMW Z4, visit your nearest Knights & Blue Bell BMW (part of the Lookers family.)