Those drivers pursuing driving thrills will often find their gaze firmly fixed upon a fast sports car. However, most of these are far from practical considering the limited space, high emissions and running costs.
Fortunately, the breed of hot and hyper hatchbacks could be the perfect compromise between performance and practicality. Stylish and fun to drive, these cars can transport your kids to school in the morning and transform into mean machines in the evening devouring tracks and back country roads with poise and elegance. As an added bonus, a number of these cars are available with all-wheel drive capabilities.
These vehicles are available from most manufacturers. Here we take a look at seven of our current favourites including:

Ford Fiesta ST
SEAT Leon SC Cupra
Volkswagen Golf GTI
Ford Focus ST
Vauxhall Astra VXR
Audi S3
BMW 140i
Get more detail on our picks below, in no particular order. Lookers have dealerships across the UK where you can find these great hot hatches for sale.

Ford Fiesta ST
Awarded 'best hot hatch' for three years running at the WhatCar? Awards, the Fiesta offers stunningly good looks, excellent value for money and great performance. Spacious enough to fit three adults in the back and compact enough to comfortably navigate the tight city streets, the Fiesta has a well-built interior and comprises of excellent practicality.

The Fiesta ST is powered by a 1.6-litre turbocharged engine which produces 180bhp or 197 on overboost, a function that boosts output for short bursts of time.

Those looking for even more power can opt for the ST200, a limited edition flagship model that boasts 212bhp. Other trim levels include ST-1, ST-2 or ST-3 which come with different equipment levels.

Customers also have the choice of upgrading their cars through Ford's partnership with Mountune to as much as 227bhp, without any repercussions on warranties.

Power is delivered to the front wheels via a six speed manual gearbox and the car is only available as a 3 door hatchback unless you specify ST-2 or ST-3 trim level which are available in a 5 door variant.

See our latest offers on the latest Fiesta ST as well as our approved used range.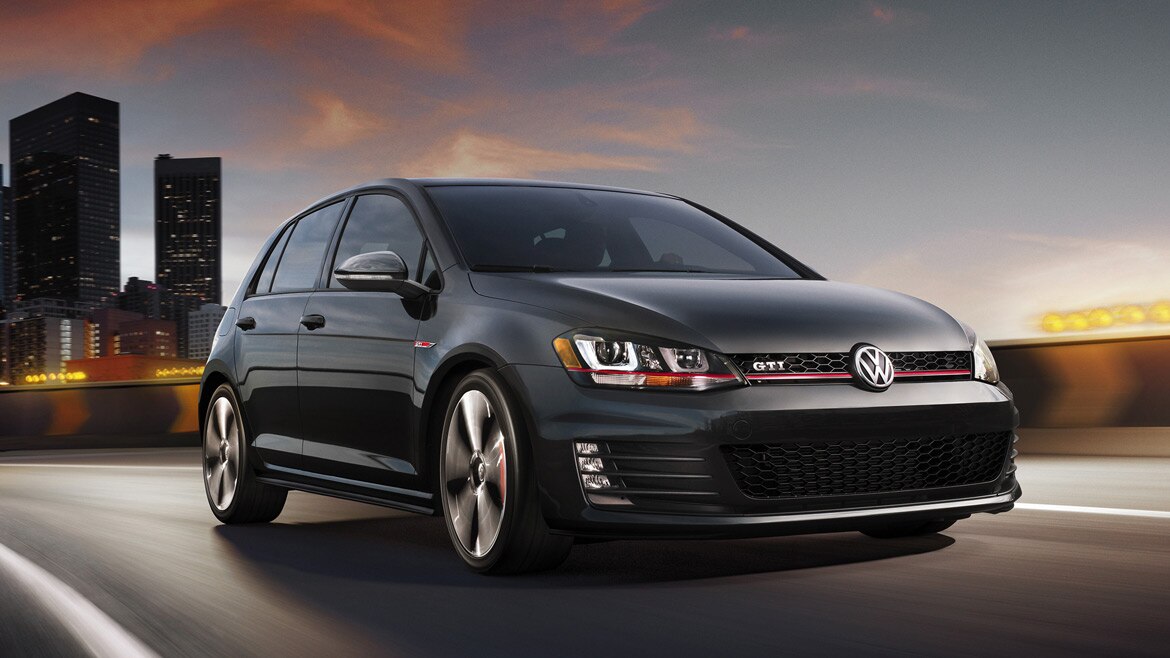 Golf GTI
One of the icons of Volkswagen, the Golf GTI has long been a benchmark in performance hatchbacks, it offers subtle and grown up good looks, which could easily make the car pass off as a family car, while offering breathtaking performance. Available in a 3 or 5 door variant, it offers the perfect blend of practicality and versatility, making it of the best hatchbacks on the market.

Coupled with a manual and DSG gearbox, the GTI offers 217bhp from a 2.0 litre turbo charged engine. For those looking for extra performance, there is a performance package available which adds 10bhp, larger brakes and an electronically-controlled mechanical limited-slip differential. The limited edition clubsport pushes the power up to 286bhp with improved aerodynamics.

This leaves the range topping, four wheel drive, Golf R to sit pretty with 296bhp, the fastest production hatchback that VW has ever produced. To the untrained eye, the Golf R looks like just another family hatchback. However, the car buffs among us will know that the R will do a 0-62 time of 4.9 secs with a DSG gearbox or 5.1 with a manual one.

Seat Leon Cupra
Available as three and five door variants, the Seat Leon SC Cupra is an affordable hatchback which offers excellent performance and practicality. Closely related to the Golf GTI, it drives well and is just as much at home on the motorway as it is on the twisting and turning country roads.

Named as the hot hatchback of the year 2014 and 2015 by AutoExpress, the Seat Leon Cupra delivers 296bhp from a 2.0 litre turbocharged engine, with generous equipment levels.

The Leon is available as a 3 and 5 door variant, of which, the 5 door also comes as an estate with a larger boot, not strictly a hot hatch but a choice nevertheless. While transmissions choice ranges from manual to the DSG gearbox which is equipped with launch control.


All the fancy gizmos that we come of expect of new models are available, including touchscreen nav system, Adaptive Cruise Control, Emergency Brake Assist and Lane Assist.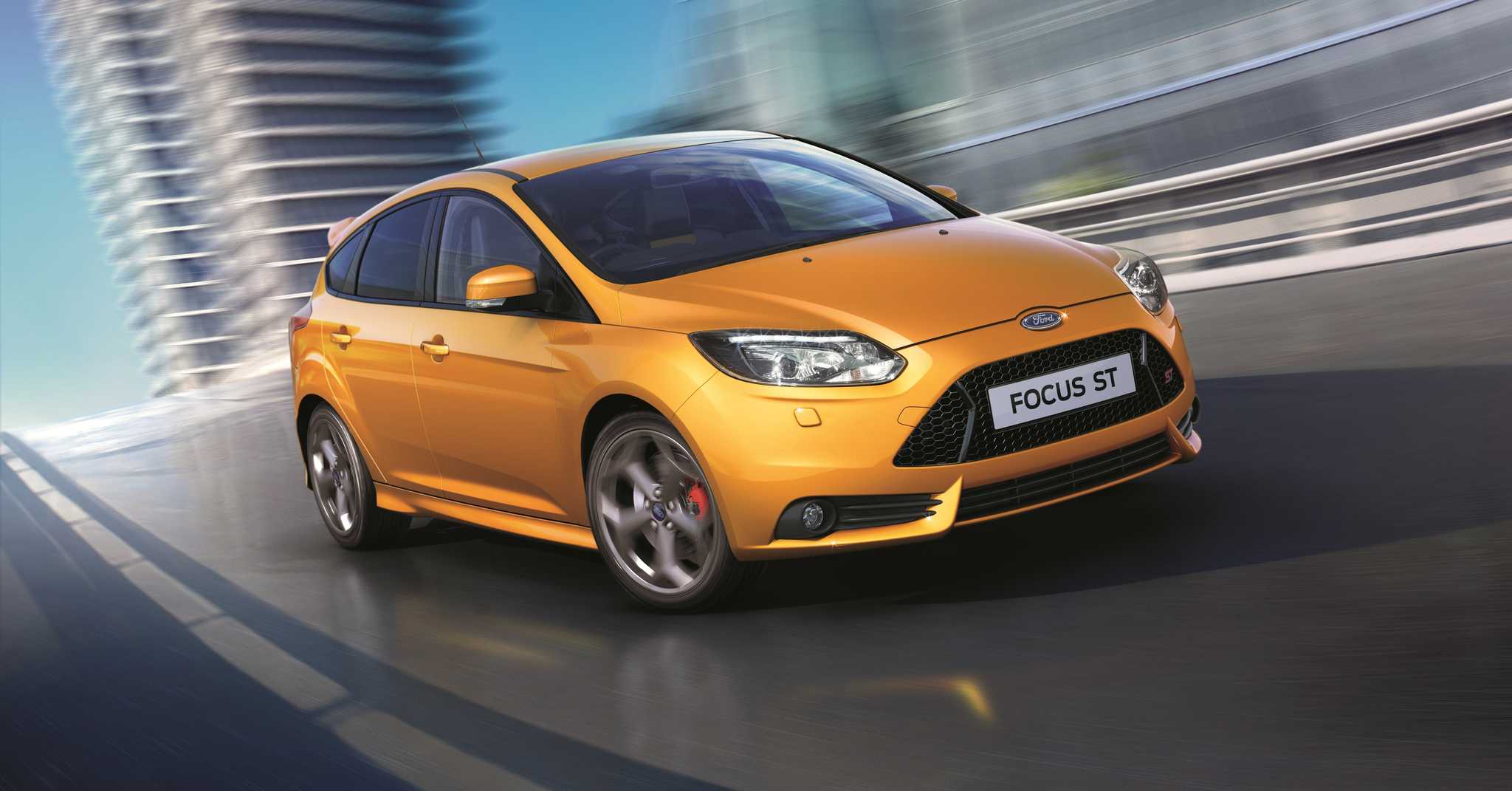 Ford Focus ST
Ford has a long history of racing pedigree and has a long line of hot hatches. The Ford Focus ST is no different and offers an excellent ride quality and practicality. For those looking for extra versatility, the Ford Focus ST is also available as an estate, again, not exactly a hot hatch per say, but an option if you require extra room.

Customers have a choice of three trims levels available, which include ST, ST-2 and ST-3. Power is delivered through a 2.0 litre petrol engine producing 247bhp which will sprint from 0-62 in 6.5 seconds or a 2.0 TDCi diesel engine producing 182bhp with 0-62 sprint time of 8.1 seconds. The Ford Focus ST can be coupled with a six speed manual or a six speed powershift auto, with power going to the front two wheels.

If 247bhp in the petrol guise doesn't sound appealing enough to you then Ford's official tuning partner, Mountune, can stick on a performance upgrade to take the power output up to 272bhp and torque to 400Nm.

The top spot in the Ford hot hatch line up belongs to the Ford Focus RS, which was also named as AutoExpress Hot hatch of the year 2016.
The Ford Focus RS uses a 2.3 litre EcoBoost engine to churn out a noteworthy 345bhp and thanks to it's all wheel drive and torque vectoring system, all of it can be put to good use road helping it break 0-62mph in claimed 4.7 secs!
You also get a drift button and launch control and once again, if 345bhp doesn't launch you quick enough then you can always take your car to RS to Mountune and get 370bhp! All with your warranty intact too!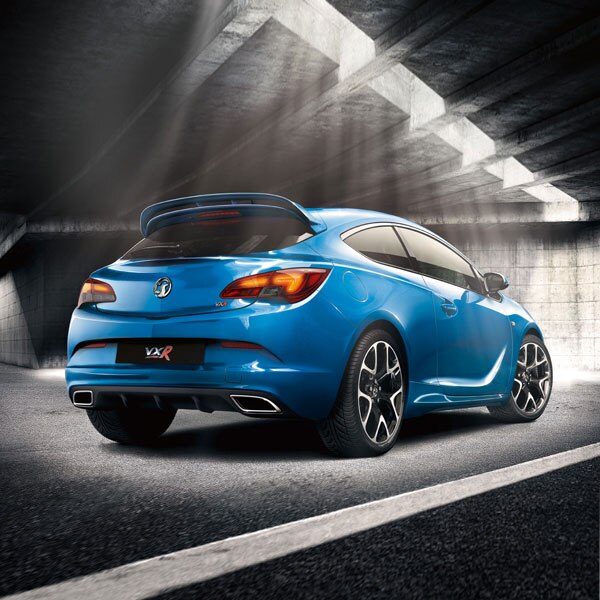 Vauxhall Astra VXR
The Vauxhall Astra is one of the most powerful cars in its class, offering blistering pace stunningly good looks, making it an excellent value proposition. Practical enough for everyday use, the Astra VXR offers exceptional grip through corners. Available only as a 3 door, the adaptive suspension setup allows you to switch between different modes to make the Astra VXR's suspension sportier or more comfortable.

Powered by a 2.0 litre petrol engine producing 280 bhp, 400Nm of torque and a 0-62 time of 5.9 secs, it's no slouch either, just be careful in how hard you floor the throttle as power is delivered through the front two wheels.

While no extra tuning packages are available, the Astra VXR can be ordered with an aero pack which upgrades the massive 19" alloys to 20" and extended side sills for an even more aggressive and sporty look.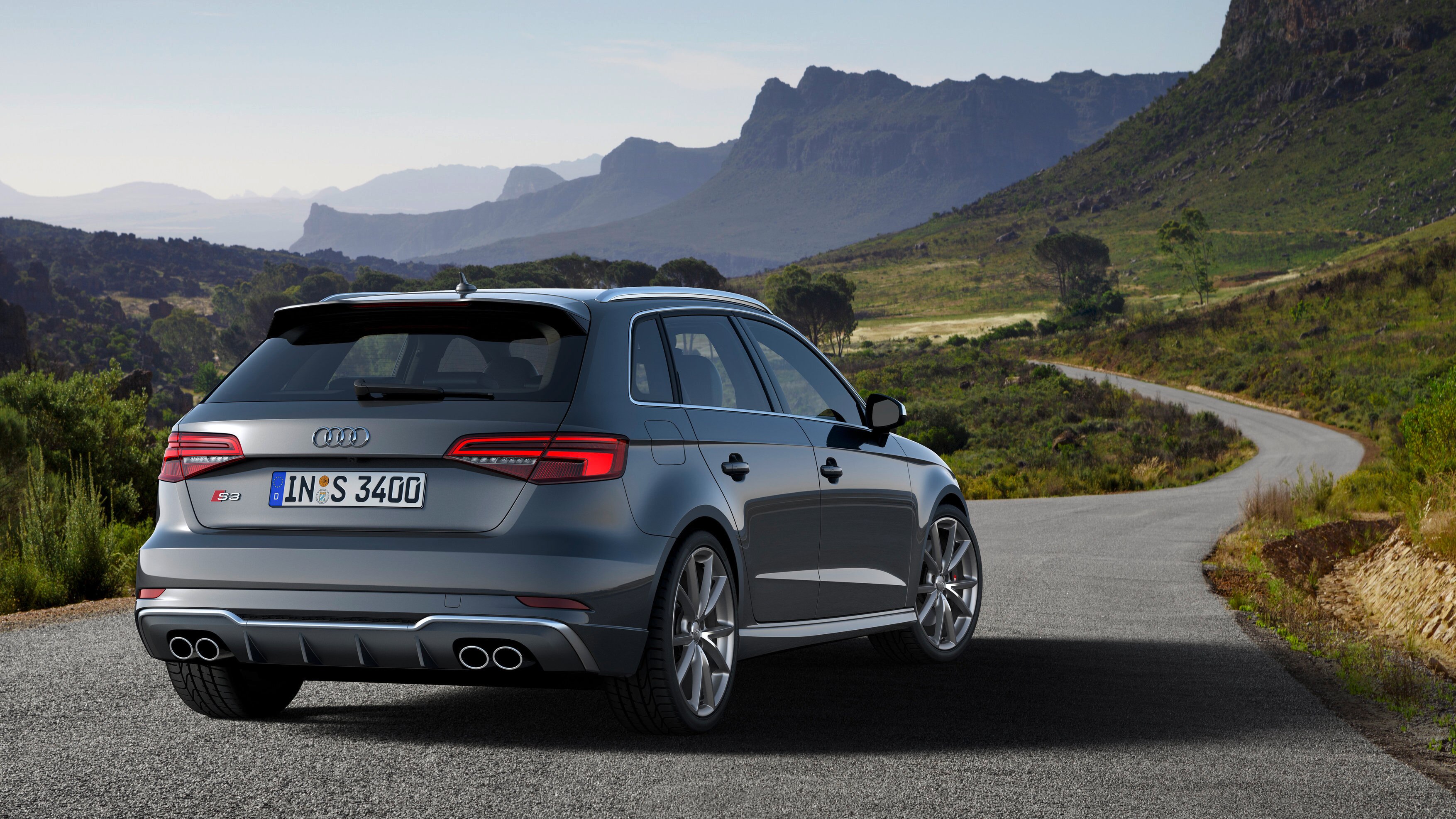 Audi S3
Based on the wildly successful Audi A3, the Audi S3 offers excellent ride quality, superb build, practicality and scorching performance. Subtle and grown up good looks enhance S3's appeal for drivers.

Powered by a 2.0 litre TFSI (turbocharged fuel stratified injection) four cylinder engine, it delivers 306bhp to all four wheels thanks to Audi's renowned Quattro system and comes standard across the S models. Both the six speed manual gearbox and the S-tornic gearbox dispatch 0-62 mph in under 5 seconds.

The Audi S3 is available as a three-door and five-door Sportback, while other derivatives such as four-door saloon or open top Convertible are also available in the range. Not strictly hatchbacks but noteworthy in the category nevertheless.

If the S3 with its 306bhp doesn't satisfy your need for performance then you also have the option of a more powerful alternative. Known as the RS3, it ushered in the era of "hyperhatch", the new one packs in a a staggering 395bhp and 480Nm of torque, thanks to a reworked 2.5 litre turbocharged 5 cylinder engine.

Similar to the S3, power is sent to all four wheels via a seven-speed dual-clutch gearbox helping RS3 crack 0-62 mph in 4.1 seconds, almost supercar territory that.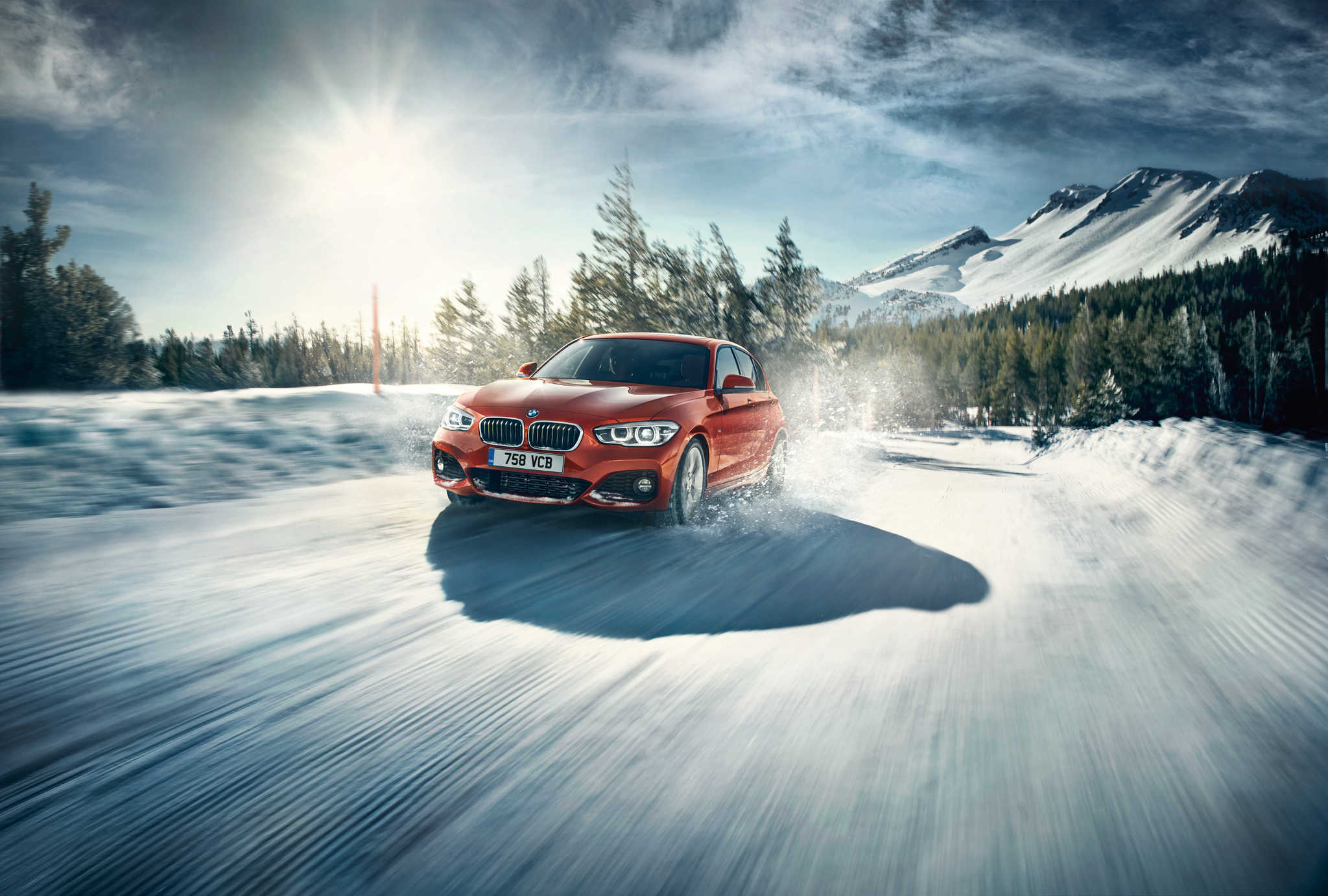 BMW M140i
No hot hatch list would be complete without the inclusion of the 1 Series BMW. The hottest 1 Series was formerly known as the BMW M135i and became a firm favourite among driving enthusiasts. The 2016 update sought to build on that and brought in more power to the rear wheel driven car. Now known as the BMW M140i, it boasts of 335bhp, up from 321bhp, delivered by a 3.0 litre 6 cylinder engine and an extra 50Nm of torque, now up to 500Nm.

Tied to the automatic or manual gearbox, the BMW M140i rips through the gear range with smooth power delivery helping it go on to 0-62 mph in just 4.6 seconds from a dead start and hit a claimed 155mph top speed. Similar to its predecessor, it's available as a three and five door variant.

Rumour has it that we may never see a 6 cylinder engine in a hot hatch again as car manufacturers inclination of downsizing to 4 cylinders seems to be the way forward for the foreseeable future. Grab one while you can, once the era of six cylinder hot hatch has foregone, it'll quickly become treasured goods! BMW already stands atop the rear wheel drive hot hatch market with very few competitors, if any at all.