As we hurdle towards Christmas day, Lookers blogger Becky Green takes a look at seven festive fixes to get your car into the festive spirit just in time before we're all driving home for Christmas!
The wreath, with an overbearing smell of pinecones and potpourri almost taking out passers-by, is hanging on the door or, if it's anything like the one I made myself, is sitting in a tangled disarray of holly above the fireplace – too much of a shambles for the neighbourhood to see. Your tree is proudly standing tall in your living room, inconveniently blocking the TV, challenging us to a game of 'What happens next' from just listening in on Love Actually – according toThe Sun, you'll be guaranteed to catch it at least half a dozen times this December. What a surprise. My dad's unhealthy obsession with 'Echt Erzgebirge', which specialises in woodcraft Christmas incense smokers, fills my childhood home with a thick fog of smoke during festive week, and I'm pretty sure my parents should consider fitting their own emergency exits.
Do I sound like I'm getting into the Christmas spirit? Despite my above grumbling, I'm certainly not a 'bah humbug' – I actually quite like their minty flavour – and the festive spiky whiskered field mouse and comically bulgy-eyed Rudolph decorations always make me smile during their month of fame in my house turned 'winter wonderland' each year. However, all alone, parked outside in the driveway, is my car. And the only look-in he's (I named him Bertie) had on Christmas so far, is through the winter tyres he was fitted weeks ago.
Here's how we can make sure our cars don't feel neglected over Santa season:
1. Spice up your car with the scent of cinnamon or other Christmassy goodness! This sparkling cinnamon Yankee fragrance smells just like the annual candle you buy for your grandma, and what's Christmas without a little of that?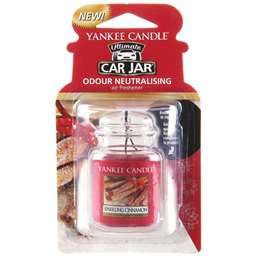 2. Christmas time, mistletoe to entwine! If you're taking the less is more approach, fix some small boughs of holly or mystical mistletoe – which, according to an old Celts and Norse tale, actually does encompass magical properties – onto your rear-view mirror to celebrate the season to be jolly.
3. Invest in a bobble head to bring yourself a sprinkle of festive cheer each time you hop into your car for the final week of work before the break – you're on the final stretch until the days of relaxing merriment commence! Any Will Ferrell fans out there? Need some company in the traffic? This Elf bobble head talks to you when he wobbles!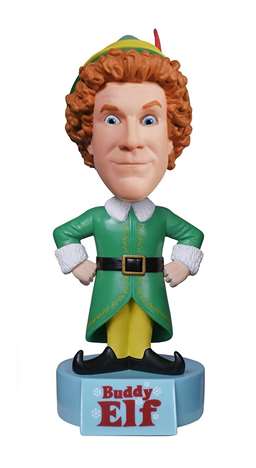 4. Deck your car with tons of stickers fa la la la la la la la la… To transform your car into your very own sleigh, there are plenty of snowflake stickers and frosted reindeer decals to choose from online. Try Etsy for ideas or these classic snowflakes for jazzy weather-proof vinyl. However, please don't attempt to take flight on Christmas Eve. It won't work.
5. Forget sleigh and think more… neigh?! I really don't know what noise reindeer make!! Give your car a shiny nose and antlers to match Rudolph's with this reindeer car costume. Try these from Amazon for less than £8. The antlers attach over the edge of your window, then you can just wind up your window to hold them in place, and the nose has a long wire on the back, which can be tied around your front grill.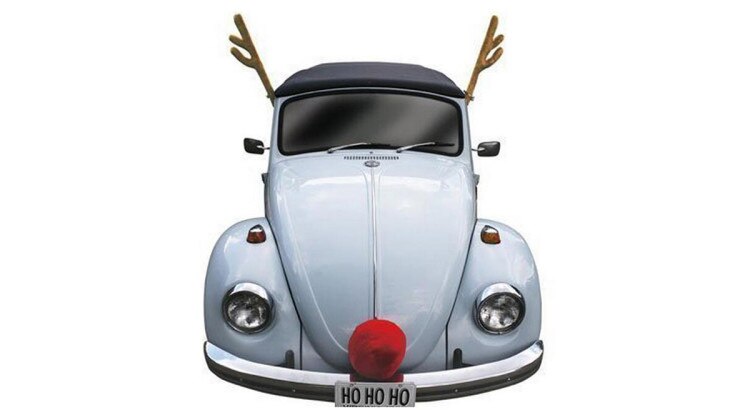 6. Driving home for Christmas… Are you the type of driver who sings along at the top of their voice, jigs along at the slightest glimmer of a funky beat, or just simply enjoys frantically flitting between different radio stations? You can simply have a wonderful Christmas time by setting up an iPod or Spotify playlist, with some underground, less familiar hits for your car, investing in a more familiar 'greatest hits' CD, or tuning into a special, specific 'Season's Greetings!' radio station. I genuinely once came across one called Mince Pie FM – the name just tickled me.
7. 'I said you buy one, you get one free!' Does anyone else remember that guy? He actually landed himself in a spot of bother in court. Knew he had a crazy look in his eye. But back to the point… this chirpy (literally) robin offers 2 for the price of 1 with its adaptable dashboard bobble head to aerial topper flexibility. You can view a full range of wondorous wintery wobblers here.
Let us know if you've decorated your car with any Christmas ornaments this winter by writing in the comments below.