"I've tried everything other than jumping out of a plane but nothing gives you an adrenalin rush like racing a car" Nigel Mansell
Nothing quite comes close to the to the heart pounding thrill of driving a high octane state-of-the-art supercar at full throttle. And what better place to do it than at Croft Circuit in North Yorkshire, one of Britain's most historic and exhilarating race tracks. The circuit plays host to some of UK racing's most fiercely competitive meetings, including The British Touring Car Championship, and now it's your turn to carve out a little piece of motoring glory as well as raise money for a great cause.
Get Busy Living
This year's Lookers Track Experience is in support of the 353 Trust, which helps injured soldiers, the families of the bereaved, and other military charities around the country. It was named after Private Conrad Lewis, who, on February 9th 2011, became the 353rd soldier to be killed in Afghanistan. One of its mantras is Get Busy Living, which perfectly sums up the grit and determination that our ex-military personnel display on a day-to-day basis. www.353.org.uk
On Your Marques...
You will be welcomed with refreshments and briefed by our expert instructors who will be on hand to help you get the most out of your experience. You will then be pressing the pedal to the metal in a series of five zones that will test your driving skills and push your vehicle to the limit; whether it's driving the latest supercar around the Croft Circuit or taking on more rugged terrain in a 4x4. THE GLOVES ARE OFF! Once the track day is over (and once you've had time to catch your breath) you'll be whisked off to the luxury 5 Star Rockliffe Hall Hotel where you will enjoy an evening of Michelin starred dining in the ambiance of the Orangery Restaurant courtesy of resident chef Richard Allen. This will be followed by a very special charity auction to raise funds for our chosen charity 353.
Five Zones... Five Challenges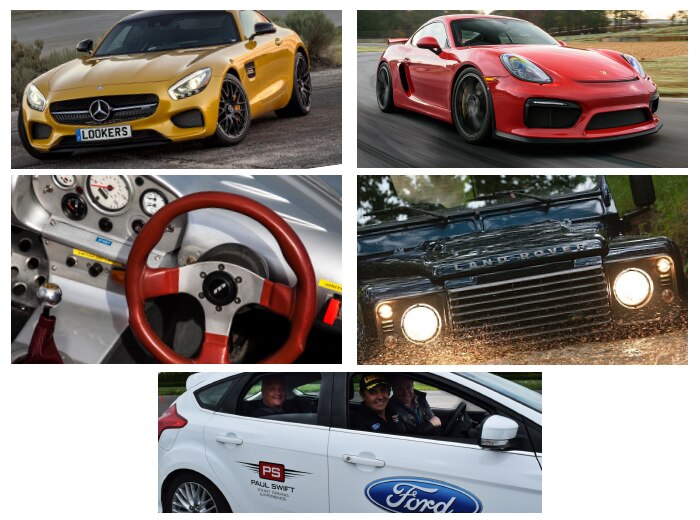 You opportunity to get behind the wheel of some of the world's most powerful cars, get the inside track from trained instructors, test your memory reactions and skills in a Caterham 7, tackle tough terrain in the ultimate 4x4 experience and be pushed to the limit with British Motorsport Champion and Guiness World Record holder Paul Swift.
Book Your Place
To book your place please email Caron.Egan@benfieldmotorgroup.com. If you are unable to attend this year's event but would still like to donate to 353, you can do so by visiting mydonate.bt.com/fundraisers/353supercarevent.
Lookers Track Day 2015
Highlights from last year's track day.