Across the country many ho-ho-home owners have decorated their houses with an array of colourful lights, illuminated Santa's, electronic reindeers, fake snow and giant snowmen. It can only mean one thing – its Christmas!

Some displays feature tens of thousands of lights, nativity and winter wonderland scenes and the very best have become local attractions for many – often raising money for charity into the bargain. If you are a fan of this time of year you may also consider making your car a little more festive too. Take a look at our suggestions and ensure your car jingles all the way.
Reindeer Kit

Can you name all of Santa's reindeer?** Answers at the bottom of this page if you need some help. In the meantime if you would like your car to resemble Rudoplh (everyone remembers Rudolph!) you could pop on this kit. Just watch out though in case your car starts to levitate towards Santa and his sleigh on Christmas Eve!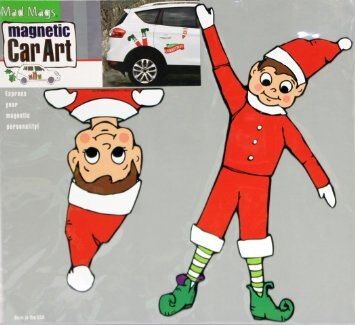 Elf Art

Elves are known for their skill in making toys in Santa's workshop, helping take care of reindeer as well as their love of all things sweet. These magical cute creatures live in the North Pole with Santa and Mrs Claus. So if you would like your own little Buddy, Jingle or Elfie over the festive period, pop one of these magnets on your car and spread some Christmas cheer.
Ariel Toppers

Deck the car fa la la la la … a simple but effective festive addition is the ariel topper. And, an extra bonus is that, after a hard days Christmas shopping you can easily spot your car in the car park!
Christmas Wreath
Nothing says Christmas like a wreath – often seen adorned on front doors and on mantle's its meaning is very poignant too. Made of evergreens, most often pine branches or holly, its circular shape represents eternity for it has no beginning and no end.
Snowflake Stickers

The weather is unpredictable these days, yet a white Christmas is something that most of us want to wake up to on December 25th. In case that doesn't happen (although the odds for the UK this year are 2/1), you can always transform your car with these stickers. Easy to pop on and off you could easily create your very winter wonderland.

** Santa's reindeers are called: Dasher, Dancer, Prancer, Vixen, Comet, Cupid, Donner, Blitzen & of course….Rudolph.