On Tuesday 26th September 2017, an historic event happened in Saudi Arabia. A royal decree was issued declaring that it was now legal for women to drive.
Saudi Arabia was the only country in the world which did not allow women to drive and this move is a series of changes the kingdom have implemented as part of Vision 2030. This sets out a plan for the country's reinvention post-oil and includes plans for female empowerment.
The move to legalise driving for women in Saudi has been heavily influenced by the Women2Drive campaign, which saw hundreds of Saudi women get behind the wheel of a car and post photos on social media with the hashtag #Women2Drive to support Manal al-Sharif.
Sharif, who now lives in Australia, was jailed in Saudi Arabia in 2011 after posting a video online of herself driving a car. The act provoked death threats and spurred her to start the campaign. She celebrated the lifting of the ban by posting a photo of herself on twitter behind the wheel of a car.
With the inspirational Sharif, contributing to such an historic event, we thought we would look at some other inspirational women who have made an impact to the motor industry and female drivers everywhere.
1. Dorothy Levitt
Billed by the press as 'The Fastest Girl on Earth', Dorothy Levitt was the first British female racing driver and taught Queen Alexandra and the royal princesses how to drive. Her book, The Woman and the Car, encouraged women to carry a small hand mirror in their purse 'in order to see behind while driving in traffic', thus inventing the rear view mirror before it was formally introduced in 1914. She also suggests that women travelling alone should carry a handgun. Despite some of her questionable advice, she was a pioneer of female motoring and independence, holding the world's first female land speed and water speed record. At the turn of the 20th century, she was ahead of her time and paved the way for future women to enjoy and excel at driving.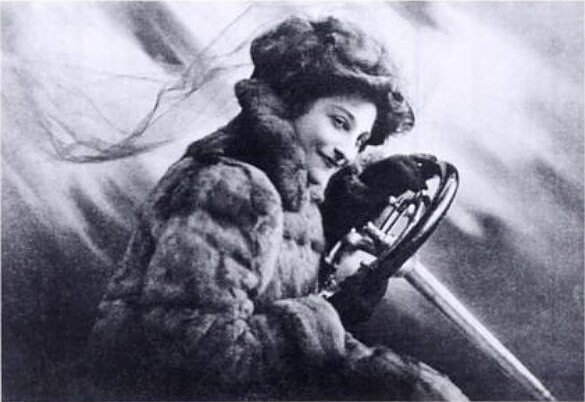 2. Miss Kitty Brunell
The daughter of motorsport photographer, Bill Brunell, Kitty made a name for herself in the late 1920s and 1930s as a race car driver. In 1933, she became the first, and so far the only, woman to win the RAC Rally outright, driving a four-seater AC Ace sports car. Her interest in driving came earlier, in 1929, when at age 17 she came second in the Monte Carlo Rally and continued to compete until her win in 1933. Her name disappears from entry lists from 1933, about the same time she got married, which suggests that the old fashioned constraints of marriage forced her to stop her exciting and successful career. Despite the premature end to her career, Kitty Brunell was a front runner for female race car drivers everywhere.
3. Mary Victor Bruce
Believed to be the first woman in Britain to ride a motorcycle on the open road, she was up before magistrates court in 1910 at only 15 years old, for speeding her brother's motorcycle. She continued her need for speed by winning the Coupe de Dames in the 1927 Monte Carlo Rally, after driving single-handedly from John O'Groats to Monaco. A few days later, she broke records at Montlhéry and continued to break records throughout the 1920s and 1930s, before taking off to set records in the air. Even old age didn't stop her from getting behind the wheel when in 1974, at the age of 78, she zoomed round Thruxton circuit in a Capri Ghia at 110mph.
4. Maria-Teresa de Filippis
Maria-Teresa de Filippis was the first woman to compete in Formula 1. She competed in five World Championship Grand Prix and was a pioneer for women in motorsport. She began her career at age 22, when her brothers bet that she couldn't go very fast, and ended up winning her first race driving a Fiat 500 on a 10 km drive between Salerno and Cava de' Tirreni. After working for Maserati, Filippis competed in several Grand Prix from 1956 – 1959 and although she didn't win any titles, she paved the way for future female Formula One drivers, although another female wouldn't compete until the 1970s.
5. Lella Lombardi
The woman to follow Filippis was Lella Lombardi, the only female Formula One driver to finish in the top six in a World Championship race at the 1975 Spanish Grand Prix, beating the likes of James Hunt and Niki Lauda. She earned the respect of her (mostly male) peers and was never excluded from an event, as Filippis had been in the 1958 French Grand Prix. Acceptance of women in this sport had improved in the mere 17 years since Filippis was prohibited from taking part.
And there's more! See the rest of our top ten fierce females in motoring here.