We love a hot hatch here at Lookers. Don't get me wrong, I wouldn't say no to owning a LaFerrari or a Bugatti Chiron, but that's as likely to happen as a Donald Trump statue being erected in Mexico City. It's far more likely that I'm going to be able to take home a hot hatch like the frankly brilliant Renault Mégane GT and get my kicks driving to town to do some much needed Christmas shopping.
And the competition has been fierce lately, with the likes of the Ford Focus RS and Honda Civic Type R punching above their weight Scrappy Doo style in almost every regard. Your car's going to get a black eye.
So it was with a spring in our step that me and my colleague Mike took the new Mégane GT out for a spin along the coast. And it didn't take long until we were totally obsessed to the point that driving our own cars home was nothing short of heart-breaking.
This is the fourth generation Mégane, with the GT topping the range as the most explosive version you can buy until the RS lands in 2018. Those waiting for the RS should rest assured though, that the GT is an incredible car to drive.
Yes we were impressed with the sporty appearance of the new Mégane; the ultra-comfortable bucket seats and the deeper sills and stylish bumpers, but there was always going to be one feature to pretty much blow everything else out of the water. The RS Drive button. And it's here that RenaultSport has done something quite magnificent.
In this sporty Mégane, the RS button isn't just for show. It's not some gimmick that increases the power incrementally while, like some Sports models, bathing you in the kind of neon light you'd expect to see in Amsterdam's most famous tourist attraction.
The button fires up its 1.6-litre 4 cylinder turbo engine capable of producing 202bhp and 206lb ft of torque, enough to yield a 7.1-second 0-62mph time and a 145mph top speed. Turns feel epic while at the same time safe and manageable as the car's grippy aerodynamics and responsive four-wheel drive steering keeps you in full control.
As a result I now want an RS button in all other walks of life. Struggling to get through hump day? Press the RS button. Need to go to the supermarket with a 2 year old in tow? RS button. Need to get through Christmas dinner with the in-laws? RS, RS, RS.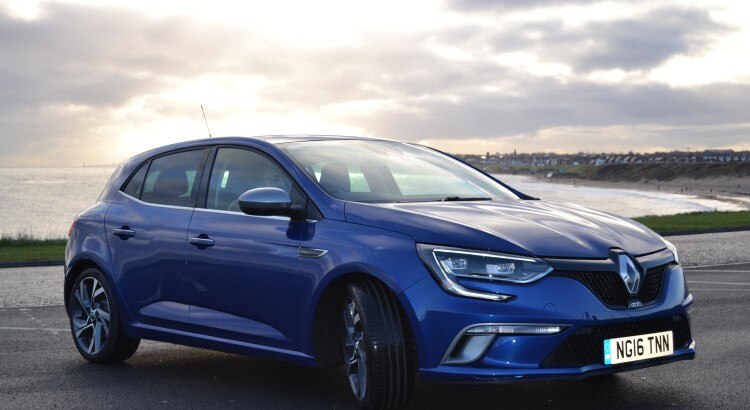 The four wheel drive system works much like the one found in the Porsche 911 GT3 in that it turns the rear wheels in the opposite direction to those at the front at low speeds to help to navigate tricky corners, while above 50mph they face the same way to give you the stability required. It's all very clever and definitely the kind of tech you wouldn't expect from a hatchback.
Truth be told we didn't really concern ourselves with such technicalities during our drive as it became clear that this was a car to have fun in rather than pour over its instruction manual.
Every stretch of road was a joy, while any traffic we encountered gave us time to admire the improved interior and the tablet sized centre console that's packed with features without being too distracting.
Sitting in a beach side fish and chip shop and discussing the merits of the new Mégane over a cup of tea both me and Mike agreed on one thing, handing the keys back would be like splitting up with a girlfriend, one you know is no good for you but one that would live long in the memory and form the basis of many a drunken conversation with your mates. If cars could receive drunken phone calls at 2.30am on a Friday night, the new Mégane would probably have to block its number.
Chris Knox brings you regular blogs on an array of diverse subjects; from motoring industry news and reviews to the latest goings on at Lookers, as well as what gets him riled up on the road.