Every 30 seconds someone, somewhere in the world is killed in a road crash. Shocking isn't it?
This week is Road Safety Week, organised by the road safety charity, Brake, which works to stop road deaths and support families bereaved or injured in road crashes.
The UK's biggest road safety event aims to inspire thousands of schools, workplaces and community groups to take action on road safety and promote life-saving messages during the week and beyond. It also provides a focal point for professionals working in road safety to boost awareness and engagement in their work.
Last year, almost 8,000 educators, community groups, companies and road safety professionals registered to get involved and downloaded the free online action pack filled with guidance, posters, banners, interactive resources, as well as assembly plans and activity sheets for schools.
Each year has a different theme and this year it's 'Speed Down, Save Lives.' In the UK, speeding is still a major problem. This year's campaign aims to raise awareness of the dangers of speeding and will focus on transmitting key messages about speeding and the impact it has on road safety. Some of the key messages of the campaign are:
Speed causes deaths and serious injuries on our roads

Going slow = stopping in time

Speed cameras work. They save lives
The campaign, which has been running annually since 1997, increases awareness of road safety across the UK and supports families bereaved or injured in road accidents. This year's theme aims to address some of the stark statistics below:
Breaking the speed limit or travelling too fast for conditions is recorded by police at crash scenes as a contributory factor in one in four fatal crashes in Great Britain.[1]

Drivers with one speeding violation annually are twice as likely to crash as those with none.[2]

A recent Brake survey found that 40% of UK drivers admitted they sometimes drive at 30mph in 20mph zones.[3]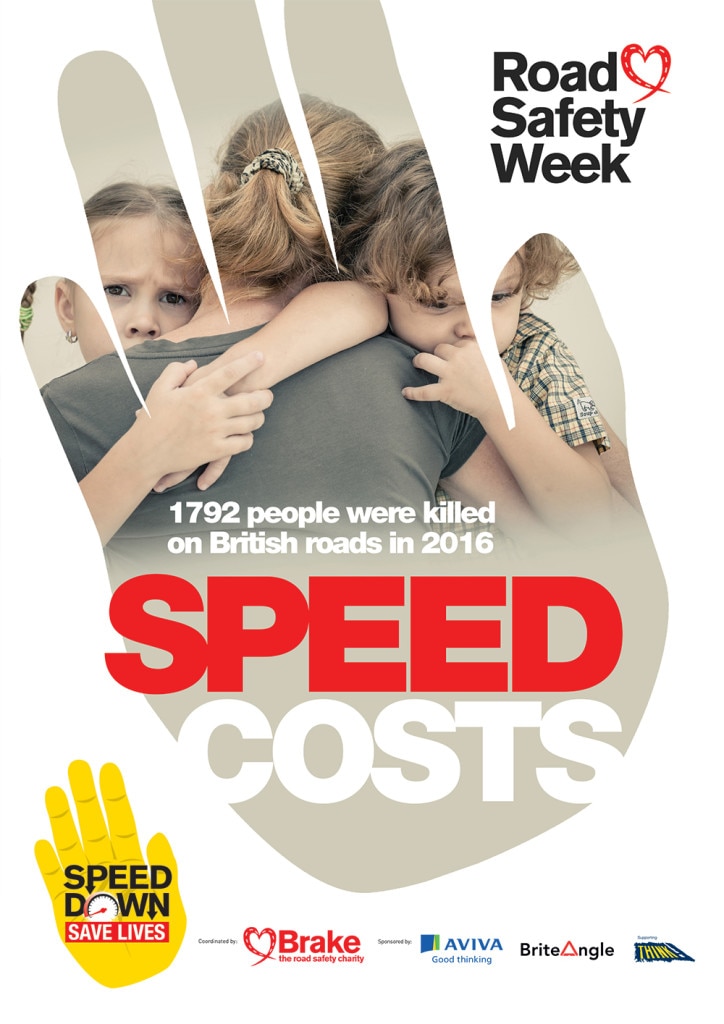 How to get involved
You can get involved whether it's in your workplace or as an individual. It could be something as simple as taking the Brake pledge, in which you sign up to a list of promises to make the roads a safer place. Last year, over 9,000 people made the pledge; why not be one of those people this year? You could raise awareness in your workplace by displaying posters from the action pack and writing a feature for your company newsletter if you have one. There are a range of fundraising ideas on the Road Safety Week website and another way to support Road Safety Week is to make a donation via their Just Giving page.
Last year, 81p of every £1 was spent on Brake's charitable work supporting people bereaved or seriously injured, and delivering road safety activities. The remaining 19p is spent on raising vital funds for the future.
There have never been more motorists on the roads and it is our duty to drive responsibly. Enjoy the drive, but always consider the safety of yourself and of others on the roads. Don't become another statistic.
Road Safety Week runs from 20th – 26th November 2017. To find out more about Road Safety Week, visit: http://www.roadsafetyweek.org.uk/
[1] Reported Road Casualties Great Britain 2015, Reported Road Casualties Great Britain: Annual Report 2016, Department for Transport, 2016, table RAS50008
[2] Crash involvement of motor vehicles in relationship to the number and severity of traffic offenses, SWOV, 2013
[3] Report on safe driving: speed, Brake, 2016