The Volkswagen Amarok loves the countryside, absolutely loves it. You can of course use it to drive to the local off license to buy a pint of milk but that's a bit like an amateur musician playing barre chords on Jimmy Hendrix's Fender Strat guitar or someone opting for a salad at an all you can eat Chinese buffet, you won't be getting the most out of it.
That's why we sent our Marketing Executive Kerry Searle to attend Volkswagen's Trailblazer Event to put the pickup through its paces.
The event, organised by Volkswagen, invited fans of the Amarok to tackle the wilds of the North Yorkshire countryside, specifically Duncombe Park in North Yorkshire, in order to fully experience the agility and sheer raw power of this beast of a utility vehicle.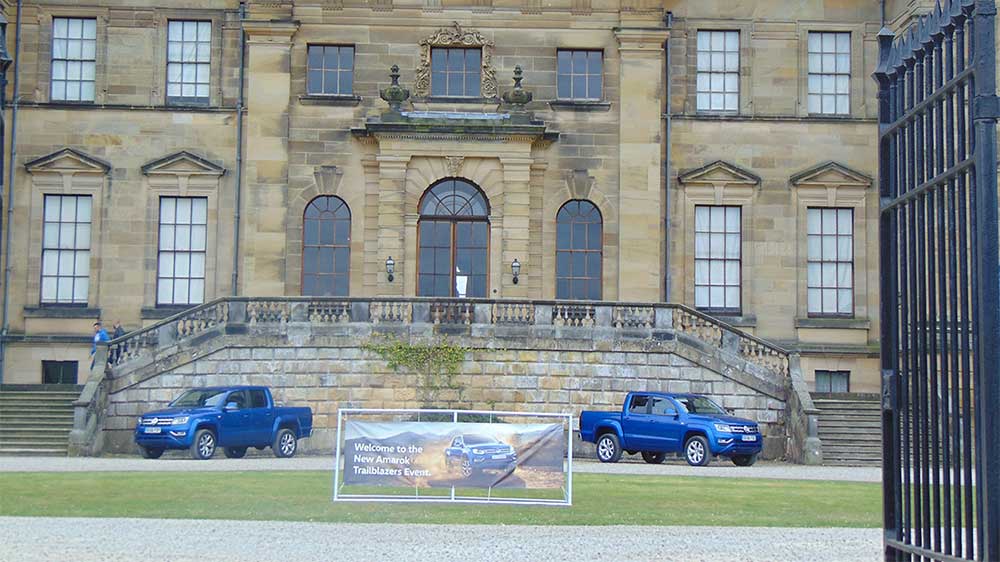 Given that the biggest vehicle that Kerry had previously driven was an Alfa Romeo Mito, there were just a few nervous laughs among the organisers when she stepped into the V6 Amarok. They needn't have worried as she smashed it, and by that I don't mean that she smashed the Amarok, although she did tell me that she took out a few poles along the course.
Hi Kerry, how did you find the Trailblazer event?
I loved it. I've always loved the Amarok. I don't know what it is about them but there's something about a Volkswagen pick-up that I've always had a massive soft spot for.
On what terrain did you get to drive on?
The grounds at Duncombe Park were perfect for this event. The Volkswagen team had prepared the grounds and laid a course with poles that were ever so slightly wider than the width of the Amarok (yeah Kerry we believe you ;). The course included steep inclines and declines which tested the Amarok's side tilt and had me clinging on for dear life. There was a part of the course where we had to drive one tyre on to a mound of mud which made me feel like I was going to drop out of the driver's side window at one point!
How did driving the Amarok make you feel?
Driving such a large pick-up made me feel like a Transformer. I felt like I was in the tallest and biggest vehicle on the road (probably because I was). I did feel like a typical country/farmer girl though, which was helped by the wellies I was wearing, and once I completed the course I felt like I was a pro rally-driver.
I'm not too sure who pooed their pants more though, me or the professional driver sat in the passenger seat!
If you were given an Amarok, what would be the first thing you would do in it?
The first thing I would do is go off-roading again. I think I'd go over to the Lake District for a weekend and truly explore nature. I'd love to go away on a warm summer's night, take a few duvets and sleep under the stars in the back of the Amarok bed.
What celebrity did you feel like when driving the Amarok?
Oh, 100% Sabine Schmitz. I probably didn't drive anything like her though as my maximum speed was 20mph, but I definitely felt like a pro driver after it. I might tackle the Nürburgring next!
If you think you can take on the mighty Volkswagen Amarok and would like to take it for a test drive visit the Lookers Volkswagen page for the latest offers.
Chris Knox (aka the Lookers Blogger) brings you regular blogs on an array of diverse subjects; from motoring industry news and reviews to the latest goings on at Lookers Towers, as well as what gets him riled up on the road.