The 88th annual Geneva Motor Show in Switzerland saw a range of weird and wonderful cars revealed. There was a large focus on electric cars this year, with some of the big players unveiling their fully electric vehicles coming out in 2018 and 2019. Lookers blogger Kieran MacNamara looks back at 5 of the cars that got our hearts racing.
1. BMW M8 Gran Coupe Concept
Revealed amongst images of cracked ice and the northern lights, this is a car that you wouldn't mind admiring for hours on end.
The M8 Gran Coupe concept showcased a shifting metallic green paint job, which in different lights transforms into to a more blue-grey shade. On top of this the M8 features twin exhausts and brakes all in gold to add another level of luxury. The option of a turbocharged 6.6-litre V12 unit at the top of the range offers a lot under the bonnet to play with. This car will be a real head-turner when launched around 2019.
2. Ford Mustang Bullitt
Celebrating the 50th anniversary of the iconic Steve Macqueen film, the Mustang Bullitt was another showstopper at this year's Geneva Motor show. Boasting top speeds of 163mph, which is 8mph quicker than the Mustang GT, the Mustang Bullitt also features a green decorative stitching on the interior with a nod to the original. Expect to see this car in production in Europe in 2018.
3. Honda Urban EV Concept
Honda unveiled their Urban EV concept at the Geneva Motor show and surely took home the future-retro prize. Scheduled for release in 2019, the car features a 1970s style décor inside, with a wooden dashboard and a large panoramic display screen. The Urban EV concept car also features rear opening doors to add to it's unique design.
4. Audi E-Tron SUV
We all know that electric cars are going to become more mainstream in the coming years, but consumers are still weary of the distances they can achieve before each recharge. The new purely electric Audi E-Tron boast a lengthy 311-mile range rivalling the Tesla X model and a possibility of 500bhp for the flagship. Audi also claim that in under just 30 minutes the E-Tron SUV will be charged and ready for another long-distance journey. Look out for this car (in some slightly less crazy colours) in 2019.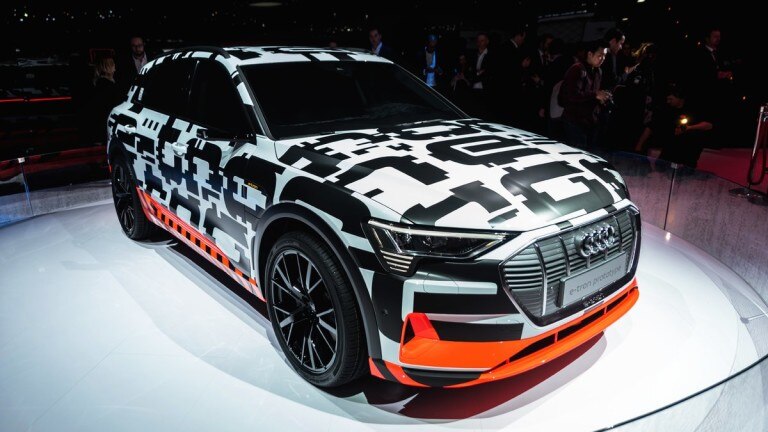 5. Jaguar I-Pace
The race for the domination of the electric-vehicle market certainly heated up this year at the Geneva Motor Show and Jaguar staked their claim with the I-pace. The range is expected to be 300 miles and the car boasts and impressive 0-60 in 4.5 seconds. Taking just 45 minutes to charge using a fast-charging set up and Wi-Fi hotspot internet access for up to eight devices, the I-Pace looks to put a real stamp on the electric market.
We are certainly looking forward to seeing these cars on the roads in the next few years!
Do you agree with our top 5 picks above or were there other cars that caught your eye at this years Geneva Motor Show? We'd love to hear from you in the comments below!