Although the E-PACE is the smallest SUV offered by Jaguar, it may surprise most with its practicality and dynamism.
As the smallest sibling in Jaguar's SUV line-up, the E-PACE is targeted at those who want the look and ride height of a larger car, but not the difficulty of driving one.
It comes with the choice of petrol or diesel engines, and two- or four-wheel drive-trains. On the face of it, it seems to have enough to suit most preferences.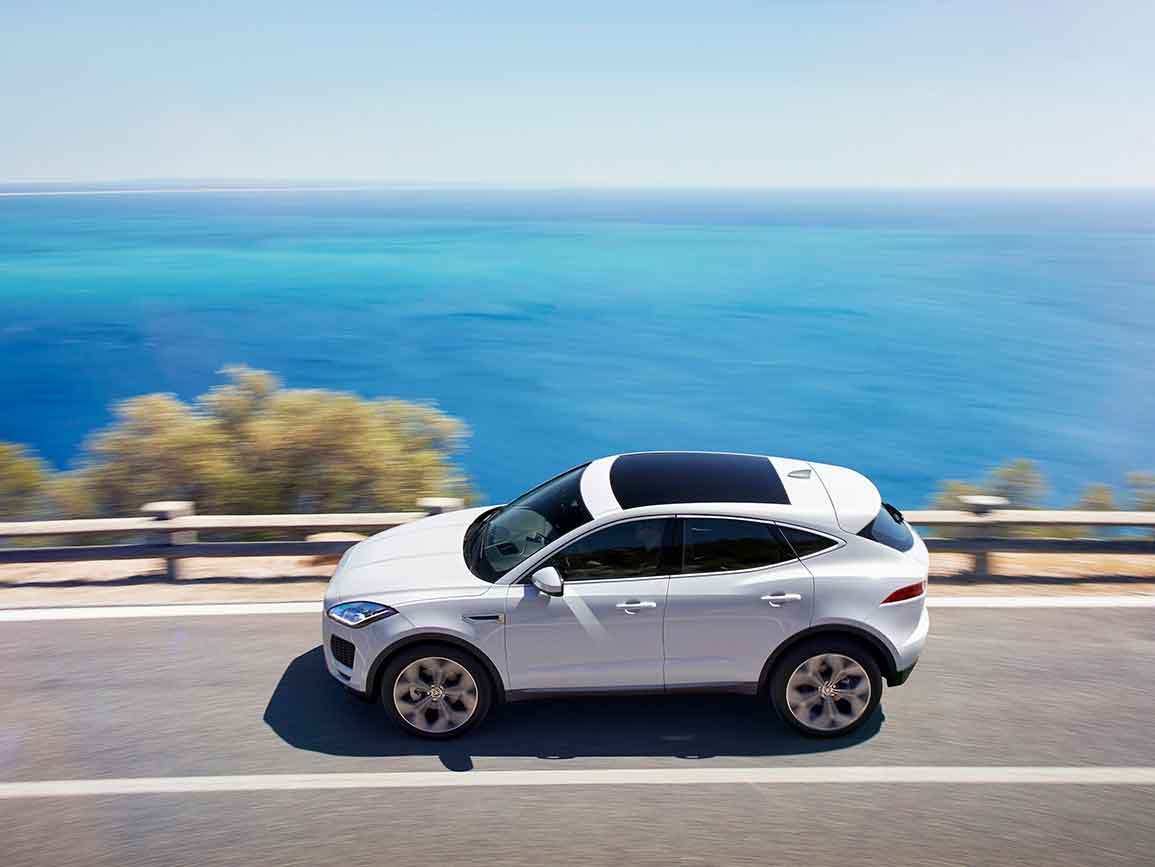 What tech do you get?
The E-PACE has a number of safety assistance features, from pedestrian detection and emergency braking to tech that assists with lane-keeping and reversing – all of which helping the model to a five-star NCAP safety rating.
And you've got the manufacturer's Navigation Pro system, which provides real-time traffic updates and even shows you street parking availability.
Our tester was also fitted with 'Connect Pro Pack', adding a 4G WiFi hotspot to the cabin – a draw for families who want to stay connected out of the house.
E-PACE performance
We sampled one of the higher-spec engines on offer – a 2.0-litre turbocharged petrol that peaks at 247bhp. Although it's not quite as potent as the top-of-the-line, 298bhp unit, there's no doubt it's more than needed for most.
A solid 365Nm of torque is distributed to all four of the wheels, through an eight-speed automatic transmission that helps it from 0-60mph in only 6.6 seconds.
To put that into context, that time would be quick for a hatchback, so it's even more impressive for something a bit weightier.
On the road
Fuel economy is claimed to be 36.7mpg combined, with a CO2 reading of 174g/km. You'll get more miles for your money on one of the lower-spec engines, but that won't faze you if you're after performance.
There's a good amount of weight on the steering, and you'll have little bother putting it where you want it on the road.
Granted, the ride is firm, but what else would you expect from the huge 20-inch rims on our HSE R-Dynamic trim? It's not so noticeable at motorway speed, though, at which there's also a surprising lack of road noise.
Typical Jaguar looks
According to the manufacturer, the E-PACE draws a lot of its design from the F-TYPE sports car – the rear lights and grille to name just a few.
It's good looking and imposing in equal measure, especially in the HSE R-Dynamic spec. Although the larger F-PACE isn't too dissimilar in terms of overall look, the pair have enough between them to be recognisable in their own right.
And when comparing with like-for-like rivals from other manufacturers, it definitely stands out.
An equally impressive interior
The E-PACE's cabin is geared towards the driver, with a large section of the dash angled at the driving seat.
If there's one word for it, it's solid. The buttons and switches are large and satisfying to use, while the overall use of high-quality materials is equally pleasing.
You'll find a bit of tough plastic here and there, but not enough to take away from the feel of sitting inside.
Legroom for passengers in the back is just as reasonable as you'd expect from a compact SUV – taller passengers will notice, but it's not cramped.
There's also a 425-litre boot behind, that might be a tad smaller than that of other cars in the class, but it is easy to access.
What spec do I go for?
As with a lot of models from Jaguar Land Rover, the standard spec list fairs well in comparison with its rivals.
Automatic LED headlights and Jaguar's full sound system appear for no extra, along with cruise control – an increasingly 'standard' feature across manufacturers, but definitely one worth celebrating if you often make longer journeys.
The HSE R-Dynamic spec that we drove is one of the more impressive options, with the 12.3-inch screen, premium Meridian sound system and Park Pack, which uses a 360-degree parking camera to help you into tighter spots.
Our verdict
The high demand for SUVs has seen a huge increase in the number of models available, from the larger models down to the likes of the E-PACE.
However, its looks and standard features rank it at the higher end of the segment. It's a pricier option than most alternatives, but it also comes with quite a bit more than those.
There is something for everyone with the Jaguar E-PACE, be it the style and appeal of the spec we tested, or the improved practicality and comfort of the lower trims.