Striking looks, the latest features and the driving experience to match - we take out the Range Rover Velar to find out just what it has to offer.
Bigger than the Evoque, smaller than the Sport
If you're looking to purchase a Range Rover there were previously just three main options. There was the stylish Evoque, which is at the more affordable end of the spectrum, the Sport, which sat in the middle and the standard Range Rover at the top of the range.

The new addition to the family is the Velar. Designed to sit in between the Evoque and Sport, it's a mid-sized SUV for those looking for a a bit more space and a bit more luxury.

Featuring an all-new Touch Pro Duo infotainment system comprising of two high-definition 10.2 inch touchscreens and fitted with all of Range Rover's latest technology, it's the most cutting-edge car that Land Rover has ever released. Although there are many SUVs to choose from, its sheer looks and heritage of the Land Rover brand show the car can stand up against the best.

It's no surprise that it won World Design Car of the Year in 2018 and was nominated for World Car of the Year.
Sleek, sophisticated design
The front of the new Velar is unmistakable as that of a Range Rover, but with a twist. It features full Matrix LED headlights that are noticeably thin, when sittting next to the prominent grille.

The Velar's door handles which electronically retract to become flush with the car's bodywork add to the elegance of this car and are an excellent touch. It all works together to create a car that looks more like a concept rather than a vehicle that you can actually go out and buy.

Inside the car, the dual 10.2-inch touchscreens give easy access to navigation, media and phone functions via the top monitor, or climate control settings and driving mode selections through the lower one. It's a system which is just as good to use as to look at, and represents a huge step forward for the brand over its existing offerings.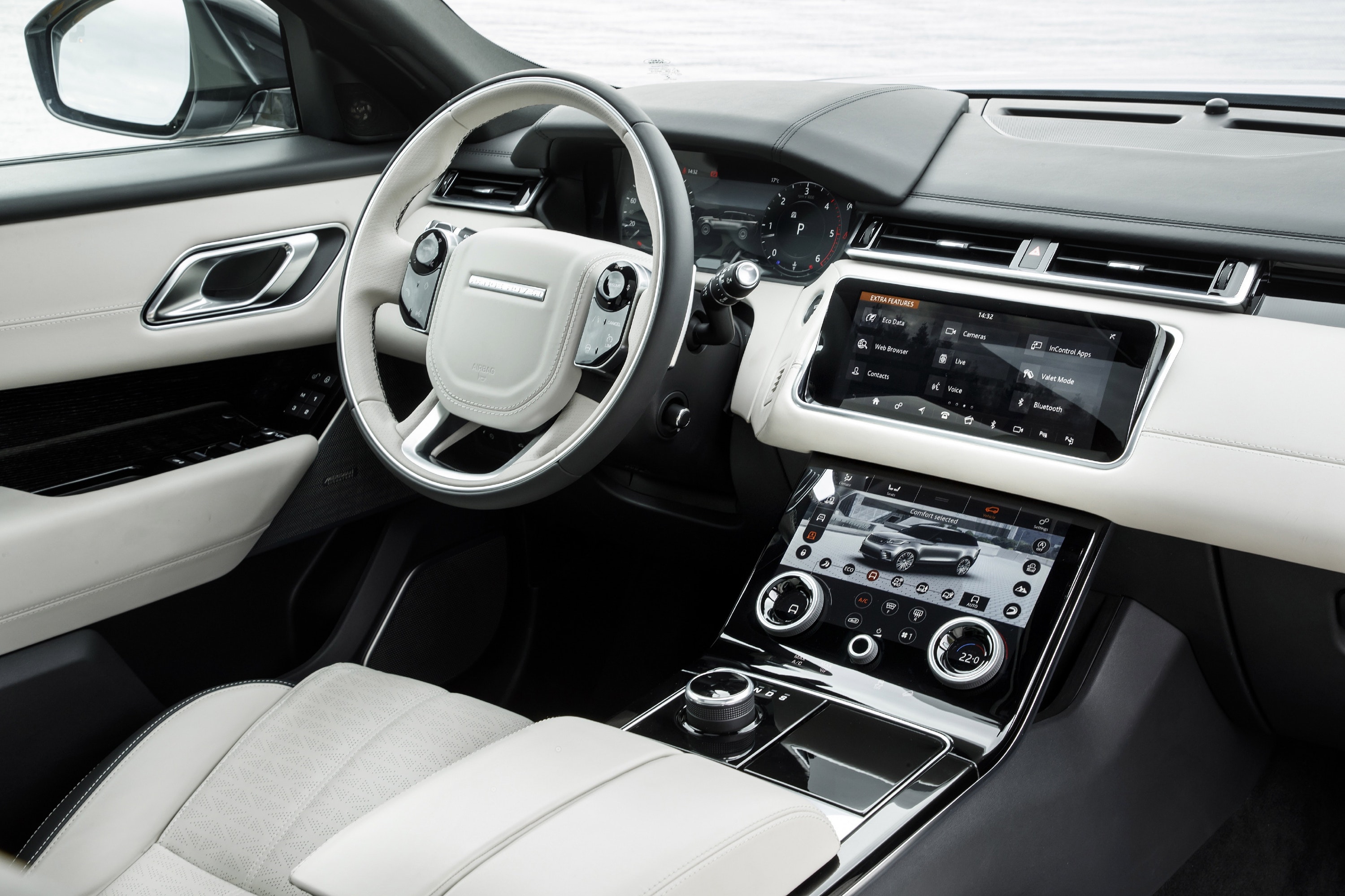 Spacious and practical
There's 632 litres of boot space to be found when the rear seats are up, which rises to 1,731 litres with them folded down flat. It's a huge load area, and because it's square in size it's extremely easy to put your belongings in and take them out.

The Velar is quite a high car, which does mean that lugging heavier items into the boot could be more of a challenge, but there's not much of load lip which makes things a little easier.

Enough space for adults in the front and back, the cabin's airy nature means that it feels spacious overall, while soft-touch materials and well-padded seats make it a comfortable place to be.



Getting behind the wheel
Even before you start the engine, one of the first things that strikes you is just how vast the Velar feels. It's near impossible to see the very front of the car, and this can be a little disconcerting to begin with, but it doesn't take long to get used to it.

After selecting 'D' on the car's rotary gear controller, the Velar – fitted with the turbocharged V6 diesel in the model we were driving – pulls away cleanly and responds with more than enough urgency and bite for a car of this size.

The eight-speed dual-clutch gearbox shifts between gears with ease, and you can take manual control via the steering wheel-mounted paddles should you wish.

The impressive 700Nm of torque on tap means that the Velar never feels out of puff, even on extremely steep gradients and more suspect terrain.

The model we tested was the HSE which came fitted with the turbocharged V6 diesel, air suspension, and rode on 21-inch alloy wheels. The large wheels not only add to the overall look but provide a more than comfortable ride.

The Velar is also nothing short of exceptional when it comes to tackling tricky conditions. It's fitted with the latest Terrain Response system, allowing the car to scrabble up incredibly steep gradients, as well as handle slippy terrains. When left in full Auto terrain mode, it'll happily tackle practically anything – even when on standard road tyres. If you're looking for a car for all conditions, then the Velar is the car to go for – and it definitely lives up to Range Rover's ethos of 'go anywhere'.


More than enough bang for your buck
Prices for the Velar start at £44,830. For that, you get a base-spec vehicle fitted with the four-cylinder Ingenium diesel engine. As standard, all cars get Terrain Response, 18-inch alloy wheels and heated front seats. Cruise control, autonomous braking and keyless entry is also included, as is the Touch Pro Duo infotainment system. This base trim is available with the four-cylinder only.

Mid-range SE cars benefit from larger 20-inch alloy wheels, a 360-degree parking camera and a full 12.3-inch screen replacing the car's traditional dials. You also get leather seats, of which the front two are powered and heated. However, these cars cost from £56,060 – though these are now available with the turbocharged V6 diesel.

The car offers excellent value for money as they come fitted with a good amount of standard equipment, and enough luxuries to keep those keen on tech more than happy.



Why buy a Velar?
The Velar will be perfect for those who want elegant looks and the latest tech wrapped up in a true go-anywhere package. It's likely many drivers will be tempted to Range Rover from other brands – and we couldn't blame them. The Velar is very well-rounded car, and is proving to be immensely popular– and deservedly so.

Specifications

Model: Range Rover Velar

Base price: £48,830

Engine tested: 3.0-litre turbocharged diesel

Power: 300bhp

Torque: 700Nm

Max speed: 150mph

0-60mph: 6.1

MPG: 44.1

Emissions: 167g/km


If you are interested in the Range Rover Velar, you can make an enquiry online today or contact your nearest Lookers Land Rover dealership.