The prestigious What Car? Awards 2018 celebrated its 40th anniversary at the start of the year and what a celebration it was. It's safe to say that we weren't disappointed. Here we list our winners, all of which you can find across our nationwide Lookers dealership network.
What Car? Car of the year 2018: Best City Car – Kia Picanto 1.25 3
The Kia Picanto 1.25 3 offers a spacious interior to rival other cars in this class. There is ample room for four adults, a large boot and interior storage space. The 1.25-litre four cylinder petrol engine offers a smooth acceleration and good handling that's ideal for city driving, whilst also being enough to push it further for occasional motorway journeys. And……it's fun, really fun, with a choice of colours of dreamcoat like proportions and a premium 7 inch touchscreen.
What Car? Car of the year 2018: Best Small Car – Seat Ibiza 1.0 TSI 95 FR
The Seat Ibiza is brilliant to drive both around town and on the motorway, its 1.0 litre three cylinder engine offers a fun, powerful performance in both environments. Its relatively low running costs and impressive economy of 60.1mpg, as well as plenty of space, make it an amazing buy. It also improves on stylings while keeping the former model's attitude intact. Ok, so it no longer has those rear lights that make the car look like it's about to pick a fight with you, but neither do those new sharp lines and dynamic edges make it look like a push over either.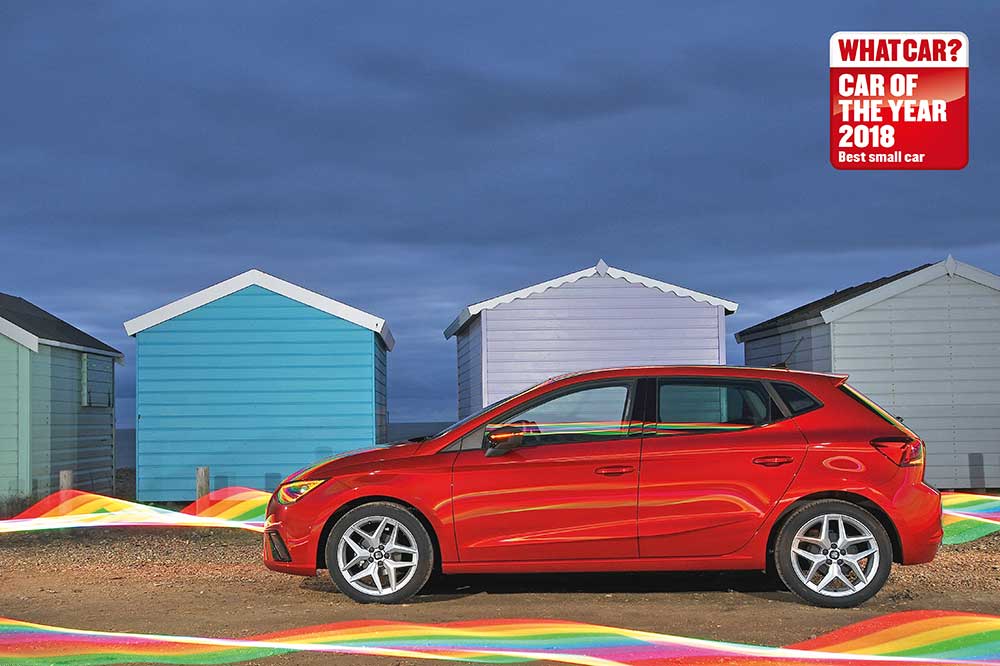 What Car? Car of the year 2018: Best Family Car – Skoda Octavia 1.5 TSI 150 SE L
The Skoda Octavia is a comfortable, practical family car which doesn't compromise on power. It's an enjoyable drive, with its 1.5 litre turbocharged engine offering 148 bhp and plenty of punch no matter how hard you work it. The spacious interior is complemented by the massive 590 litre boot and the running costs are considerably lower than competitors in this class, making it a great all-round performer for a family car. While a competitive price is a factor, What Car? also believes that it comes close to the Audi A3 in terms of build quality. Well who are we to argue?
What Car? Car of the year 2018: Best Small SUV – Seat Arona 1.0 TSI 95 SE Technology
The 1.0 litre three cylinder engine managed 45.9mpg in What Car's true MPG test. Its raft of technology includes automatic emergency braking, rear parking sensors and wireless charging. Available on great finance deals, it's an affordable SUV with impressive performance, standout style and comfortable interior. In a class this busy, SEAT has more than earned its stripes as a brand. It's a cat among the pigeons, an underdog straining at the leash and any other domesticated animal metaphors you care to mention.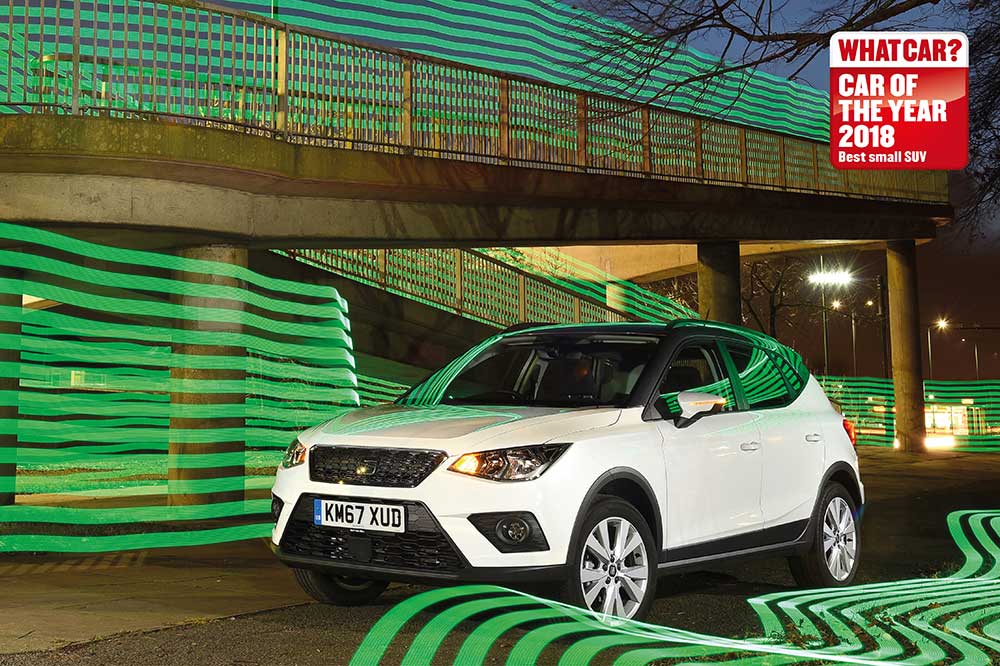 What Car? Car of the year 2018: Best Family SUV – Volvo XC40 D4 R-Design
This is a huge moment for Volvo. Admired from afar over recent years, the brand has now taken centre stage and has delivered a car that, given the amount of competition in the SUV class, should be pretty chuffed with itself. Refinement, comfort and quality are its hallmarks, all culminating in an effortless ability to win you over with its premium charms. Much like the 2000 Moloko hit, for Volvo the time is most definitely now.
What Car? Car of the year 2018: Best Luxury SUV – Audi Q7 3.0 TDI 272 quattro S line
When the Q7 was re-launched in 2015 with the tagline 'the legend continues' little did we know how legendary it would be. This car has indeed made the kind of epic journeys that can proudly sit alongside Frodo Baggins' barefoot trek to Mordor. With comfort and class in spades, it's smooth and silent drive belies a V6 engine that is thundering under the bonnet. With a soft touch cabin and an infotainment system that beats its more expensive rivals, it's a precious car indeed.
What Car? Car of the year 2018: Best MPV – Volkswagen Touran 1.6 TDI 115 SE
What Car? were looking for a car that allowed passengers to stretch out their legs on long journeys, while having enough room left for gym bags, buggies, musical instruments, a fully inflated bouncy castle and every member of the 2017 Class of Strictly Come Dancing. Ok, so I might have made the last two up, but much was expected of the winner. Understandably, the Touran passed with flying colours, with its abundance of space in no way compromising its smooth and premium drive. In fact What Car? compares it to a spacious hatchback in terms of driving comfort. So, pretty much the perfect car then.
Stay tuned for part 2 of our What Car? award winners later this week...