While we love Christmas here at Lookers, the onset of the colder weather also means that we must, at times, get a little serious.
While we all like to dream of a White Christmas, the reality is usually quite different. Yes, I'm looking forward to sledging with my 4-year-old son, but I'm less excited about death sliding into a roundabout when my brakes fail on the compacted snow, or using my favourite CD (the Michael Bublé Christmas album at the moment obvs) as an emergency ice scraper at 7 am.
But it's easy to get caught out. So, to help we've put together some top tips to keep you safe on the roads over the holiday season and throughout the rest of the winter.
Preserve your battery and electrics
Car batteries don't last forever; in fact, they rarely last longer than five years, and extra demands are placed on them in winter, thanks to lights, heating and wipers.
Make sure you:
Turn off lights, wipers and heated rear window before trying to start the engine

Use the starter in short five-second bursts

Wait 30 seconds if the engine doesn't start quickly before trying again

If you don't use your car often, give it a regular overnight trickle charge
Add some Antifreeze
Antifreeze stops your engine from freezing over and costs just a few pounds. It will go a long way to preventing a frozen and cracked engine that would see you footing a bill for several hundred pounds, a bit of a kick in the proverbials around Christmas time.
A 50/50 mix of antifreeze and water will help to lower the freezing point of an engine to around -37C. Most new cars use long-life antifreeze so make sure you pick up the right one when you look around for the best type.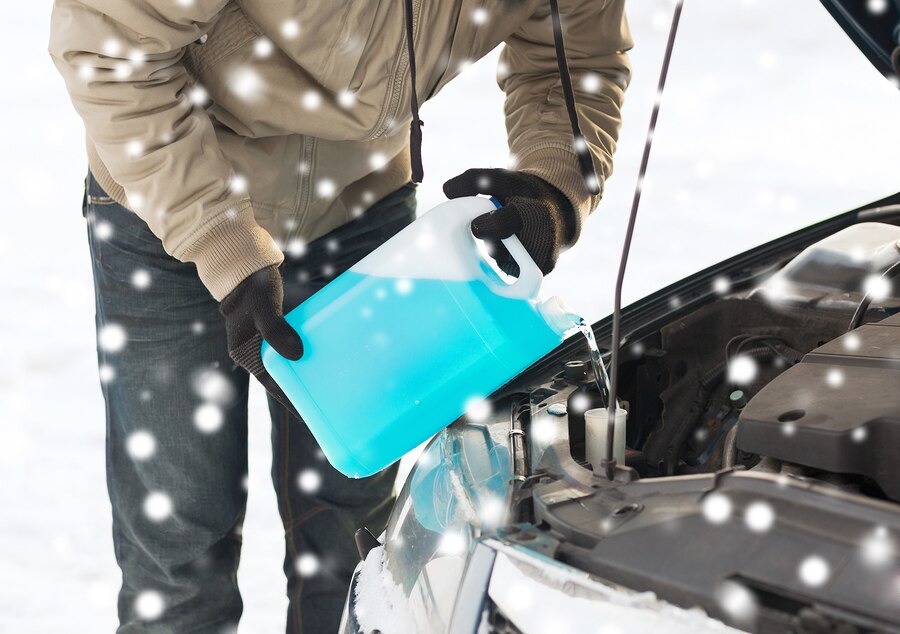 Image credit: mrcleancarwash.com
Troubleshooting
If your car starts to make a squealing noise when you start the engine, it could mean that the water pump is frozen. Stop the engine and let it thaw out. Be mindful that this could take days unless you can move the car to a heated garage.
If your car overheats, it's quite possible that the radiator has frozen. Stop straight away to prevent any serious damage being caused.
Maintain good vision
Clean your windscreen thoroughly, keeping it – and other windows – clear of dirt, snow and even things like car stickers.
Snow on your roof can block your view by falling onto the windscreen. Give yourself a head start before setting off and remove any snow that has collected on the top of your car.
Use the car's air-con system, if you have one, as this will help demist the screen faster, reducing condensation in the process. And don't forget to replace worn or damaged wipers.
You can also reduce the chance of it freezing by using an appropriate additive in your screenwash.
You must use headlights when visibility is seriously impacted. If you use fog lights, remember to switch them off when things improve to avoid dazzling other drivers or obscuring your brake lights.
Take care of your tyres
Always check your tyres before you set off. General wear and tear, splits of bulges and especially tread depth are all checks you should make pre-journey. The minimum tread level is 1.6mm, but during winter we recommend having 3mm of tread to help with traction and grip.

Having the right pressure in your tyres is also vital. Keep them correctly inflated as letting air out won't provide extra grip and can be unsafe.

Something else to consider is winter tyres, or all-season tyres, with the former designed for colder climates and icy road surfaces, and the latter offering a balance of safety and economy all year-round.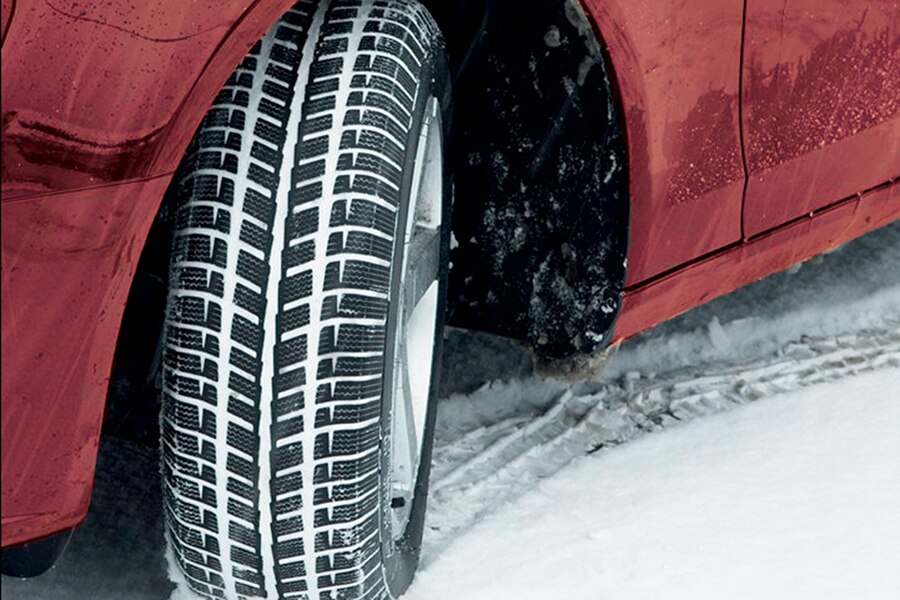 Image credit: Autocar
Go slow in the snow
Stopping distances are ten times longer in the snow and ice, so gentle manoeuvres are key to driving safely. If you have to use your brakes, apply them gently.

Wear comfortable shoes and pull away in second gear, slowly easing your foot off the clutch to avoid wheel spin.

If you drive an automatic, check the handbook – as some have a winter mode.
Emergency Care Kit
It's also a good idea to carry an emergency care kit when you venture out into the cold as who knows what you may be faced with?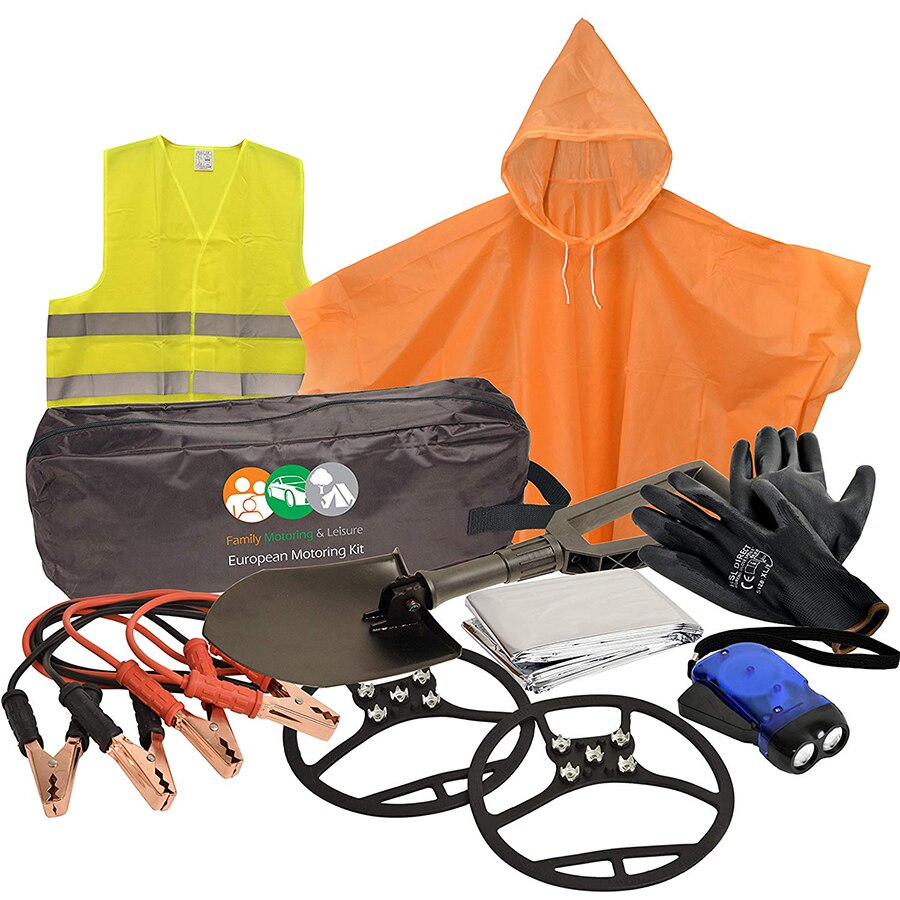 Image credit: amazon.co.uk
Here's what to pack:
De-Icer and Ice Scraper

Emergency Mobile Phone

A Sleeping Bag/Blanket

Jumper Cables

Emergency Snacks/Chocolate – In case you break down and need to keep your energy up in the cold. That's what I tell myself anyway

Jerrycan of fuel

An Emergency Escape Tool

High-vis vest

Snow shovel

Snow shoes/Snow shoe grips

Torch

Gloves

A Blanket

Rain poncho
To help get your car winter ready, book a service at Lookers. Let it snow, let it snow, let it snow!
Happy winter driving and stay safe out there.