How much is that doggy in the window? The one with the twitchy blue nose!
Yesterday was World Book Day and to celebrate the official launch of our pawfect new pooch Lucky, we take a closer at books about some of our favourite friendly canines on the road…
1. Lookers Lucky books
#1 Lucky's Big Break
Lucky Barker is a loyal, amicable and well-loved dog with lots of pals. He is watched over by his doggy family – his mama, papa and his big bro and older sis, Leo and Laura. Lucky has a passion for adventure and can often be found paddling at the seaside or playing fetch at the park. As man's best friend, he cherishes all us people (or pack members!) and often likes to visit the car wash or the mechanics.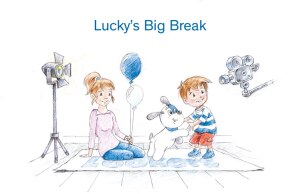 As a family friendly retailer, Lookers is always exploring new ways to engage families within our dealerships and we think Lucky will do just that. Our exquisitely imaginative Lookers storybooks, which are available here online and at our dealerships for free or for a voluntary donation to BBC Children in Need, immerse us in a world of Lucky escapades.
2. P.D. Eastman stories
Animal-whispering Dr Doolittle may be there to lend an ear to those in the animal world, but who's the doctor responsible for recounting their stories? He has created a crackerjack combo of cartoonist characters – a feline friend in stripes, a green-bellied, grumpy creature who hates Christmas and an elephant who is terrified of just about everything. Guessed it? Dr. Seuss's cartoonist style illustrations bring to life stories such as the classic Cat in the Hat, Whoville's The Grinch and Horton Hears a Who. Rewind to 1961 in the literary world and we come across P.D. Eastman, who's art is often mistaken for being that of Dr. Seuss's.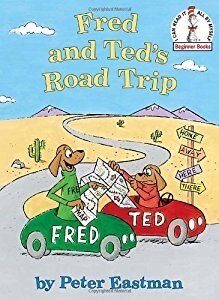 Just as Lucky loves cars, Eastman's woofderful caboodle of pooches own their own set of wheels for cruising around in; whether in pursuit of work, play, or a final mysterious goal: a dog party. Here's what looks like a masked burglar pooch speeding off, two lost mutts mustering up some navigation skills in the desert and a pup who, down to his failure to pre-empt the traffic signals, really should have gone to Specsavers.
3. Living Paintings
Although they're usually seen as mortal enemies, cats and dogs can become inseparable when living under the same roof. Well-known children's author Julia Donaldson grew up with pets of her own, living with her parents alongside family-orientated feline, Geoffrey, and if the below photo is anything to go by, we're sure Lucky would have got along with him just fine!
One of Donaldson's most recent huggable hounds is Nell from The Detective Dog, which tells a splendiferous story of a special friendship between a little boy and his multi-talented dog. As well as a hard copy, the story is also available as an audiobook, ideal for long car journeys.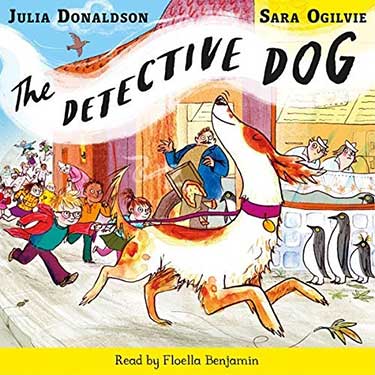 Donaldson's witty rhymes, such as those in The Stick Man and Zog, have established their place on the Living Paintings bookcase – an ever-growing library of children's books to support blind and partially sighted children's reading in education from pre-school, to primary through to secondary school, and reading at leisure. Living Paintings are a charity supported by BBC Children in Need, one of our valuable partners, and in the video below, you can find out how their tactile picture books are helping youngsters enjoy reading through braille and audio descriptions: