Flavoured gins, the avocado, social media influencers and talent shows – all trends that have taken the public by storm over the last decade, none of which show any sign of becoming the subject of a 'Throwback Thursday' anytime soon.
In the world of cars, it's the Sports Utility Vehicle - or SUV for short - that has transcended from overnight sensation to established star, with figures in The Society of Motor Manufacturers and Traders showing an increase of 279% for registrations of SUVs between 2009 and 2018.
2019's figures also give some indication that the party is far from over, with three SUV models in the top 10 selling cars for September, and the same three in the top 10 for the year-to-date.
Source: http://www.smmt.co.uk/vehicle-data/car-registrations
So, what can the SUV-boom be accredited to? Is it performance and practicality or is it a case of following what's hot and what's not? Here we take a look at some society-driven reasons as to why people may be driving them.
"Celebrities, and now social media influencers, can play a prominent role in peoples' spending habits. Cars are no exception to that rule…"
Standing out from the crowd
In the age of social media, it's almost an expectation that people broadcast elements of their life. Pictures of food, snaps of holidays and cars can dominate the ways in which people interact with the online stratosphere. Those willing enough can even carve out a lucrative career from sharing what they have or what they get up to.
As a car that is bigger in size and in presence, an SUV could well be the perfect tonic for anyone wanting to cut through the social noise and make their own statement.
Star power
Celebrities, and now social media influencers, can play a prominent role in peoples' spending habits. Cars are no exception to that rule, with SUVs often featured in newspapers, online publications, YouTube videos and everything else in between.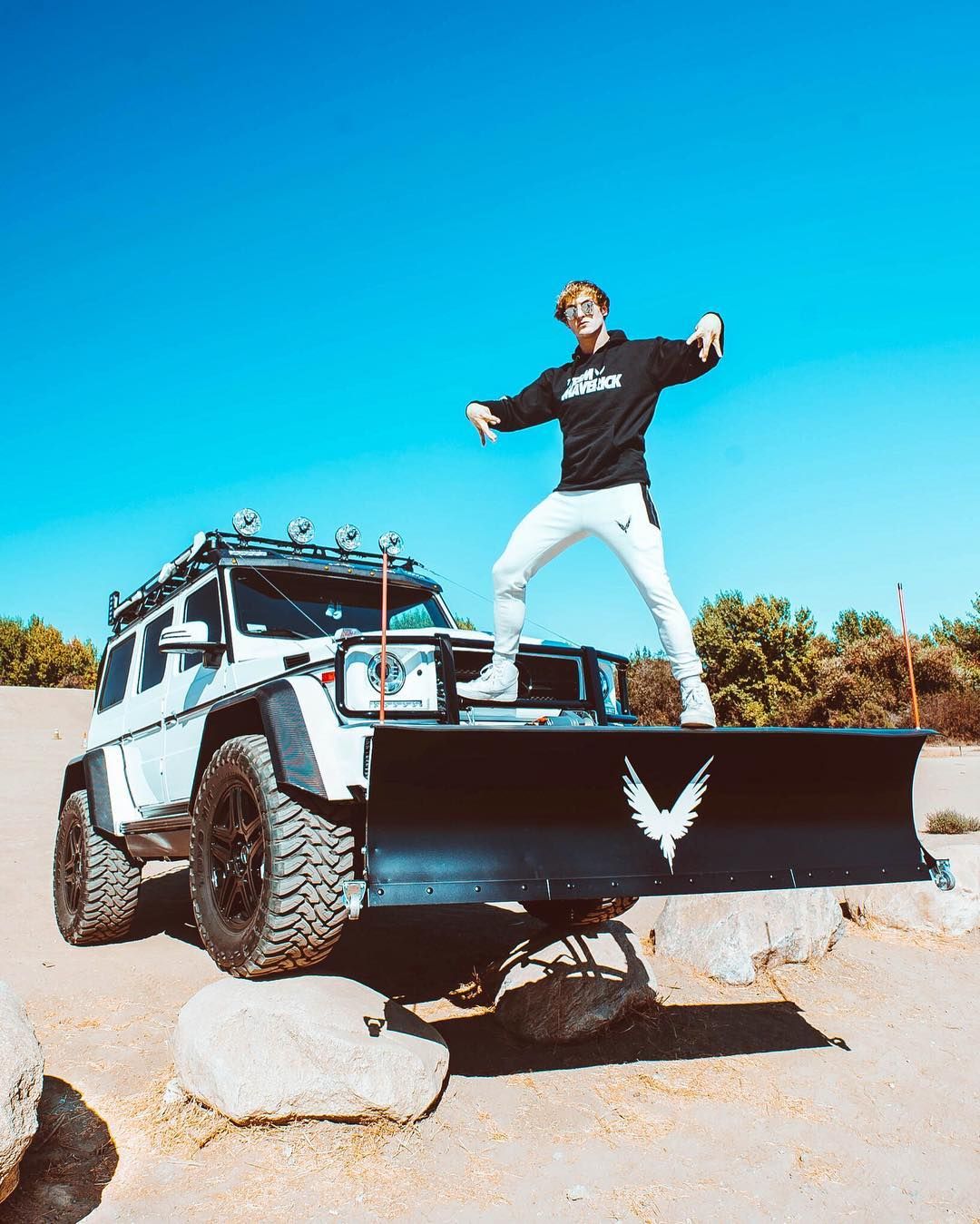 YouTube mega star Logan Paul with his Mercedes-AMG G500 4x4. Source - Pinterest
From adding bling, being snapped out and about after training, to winning an Emmy for Carpool Karaoke, there are sports stars, music artists and even chat show hosts adding to the popularity of SUVs and keeping them firmly in the spotlight - sometimes without even intending to do so.
So perhaps cars need to be big enough, not just for the family, but for your film crew, including the sound and lighting department.
Safety first
Away from the limelight, SUVs come with a perception that they are safer to drive than most other cars. Size, higher vantage point, and the ability to handle more impact are among the reasons why people see them as a safer way to get from A to B.
To add to the perception of more safety, models like the VW T-Cross, Audi e-tron, Range Rover Evoque, Seat Tarraco and Skoda Kamiq have all received the full five stars in Euro NCAP safety tests this year.
And in today's world of uncertainty and split opinions, that feeling of extra safety can be a welcome boost.
Bring the family
The UK boasts a number of hotspots that are ideal for families looking for a quick getaway, often during the school holidays when the kids need a bit of entertainment.
Plenty of legroom, bigger boot space, extra comfort, higher perceived safety and the ability to drive on all road conditions are just some of reasons why SUVs can make perfect cars for families, and why this type of car is still going strong today.
Convenience
One of the benefits of an SUV is the fact that you don't have to bend down to get in; you simply walk in, something that suddenly becomes a real benefit as you leave your thirties firmly in the rear-view mirror. You also no longer have to contend with a boot lip that requires you to call in Dwayne 'The Rock' Johnson when lifting out your Christmas shopping.
All in all it's easy to see why, for many, the SUV has replaced the hatchback as the go-to model and also why parking at the supermarket has become that little bit trickier.
To check out our full range of SUVs, go to lookers.co.uk