The Audi A8 is once again claiming its role as an innovation driver in automotive lightweight design. The next generation will feature an intelligent mix of four materials, more than in any of Audi's previous production models. The mix of aluminium, steel, magnesium and carbon fibre reinforced polymer (CFRP) provides low weight and impressive rigidity which in turn will offer greater performance, efficiency and safety.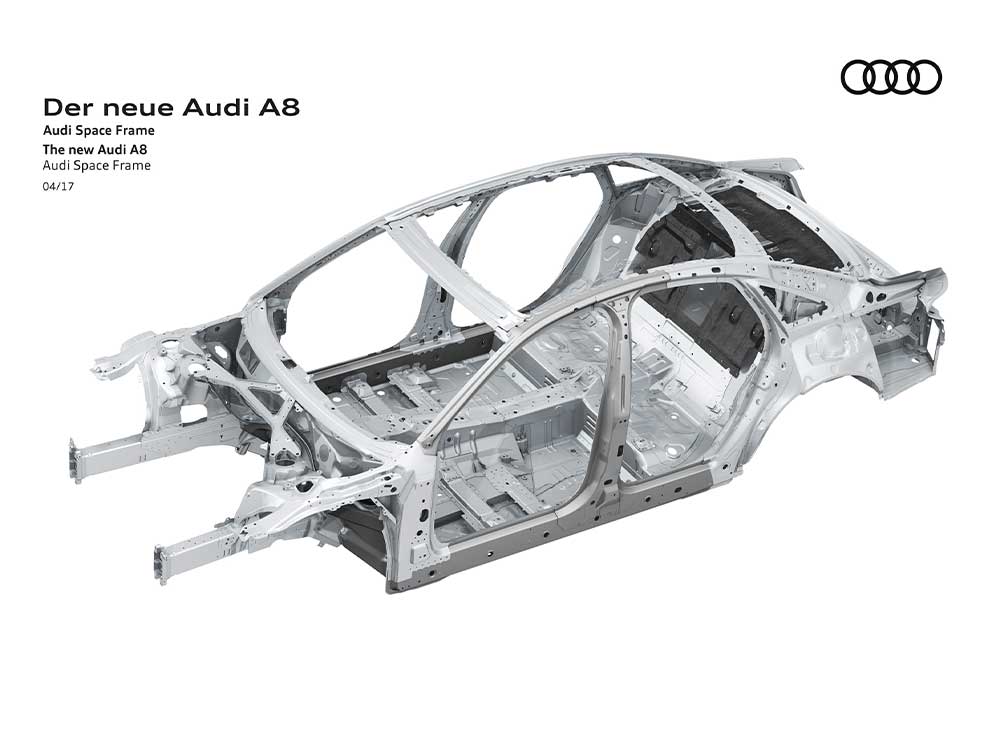 The ultra-high-strength, torsionally rigid rear panel made of CFRP is the largest component in the occupant cell, contributing 33% to the torsionally rigidity of the total vehicle. An innovative direct-fibre layering process has been specially developed so that individual fibre layers can be placed in a finished layered package, rather than having to manufacture entire sheets.

A high-strength combination of hot-formed steel components such as the lower section of the front bulkhead, the side sills, the B-pillars and the front section of the roof line are produced using tailoring technologies, meaning they are customised. The process reduces weight and increases strength, especially in areas of the vehicle that are critical for safety.

The aluminium components make up 58% of the new Audi A8 body, the largest share in the mix of materials. New heat-treated, ultra-high strength cast alloys attain higher tensile strength than values previously seen.

Finally, the magnesium strut brace contributes a 28% weight saving. Aluminium bolts secure the connection to the strut tower domes, making them a guarantor of the body's high torsional rigidity. In the event of a frontal collision, the forces generated are distributed to three impact buffers in the front end.

In 1994 it was the first generation of this luxury car, with its aluminium unitary body, that made the Audi Space Frame an established presence in the automotive world. Since then, more than one million production cars have been built in accordance with this design principle and Audi have continued to build upon its know-how in the use of materials and joining techniques.