This weekend is the weekend of the world's greatest dog show, Crufts, and a bundle of sprightly pups will, like our new mascot Lucky, be loopily leaping around, across and over wide-open spaces and obstacles.
Based on the tales of Lucky's Big Break, if you're heading out with your little'uns and our new mascot this weekend, you may want to cast your eyes over the following Dos and Don'ts before letting Lucky loose…
Do:
1. Rise and shine in time for brekkie! Lucky has one mighty appetite and as the saying (we're sick of hearing) goes – breakfast is the most important meal of the day! To avoid making a breakfast bar pit-stop on the way, you'll need leave time to indulge in some Tropicana and Tony Tiger Frosties at home. They're GRRREAT!! after all…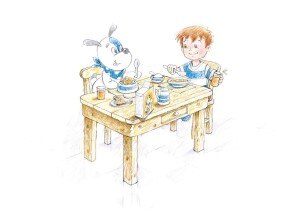 2. Pamper him. Don't let those imploring puppy eyes fool you, Lucky is a pretty high-maintenance kind a guy! To dodge a down in the dumps droopy-eyed dog, make sure you give him plenty of attention which will keep him in high spirits.
3. Let him meet new people. With his peppy tail wag and playful bark, Lucky makes quite the pawsome pal and he always socialising with new people. Like most dogs, he doesn't like to be cooped up, so allow him some freedom by letting him off the leash to introduce himself.
Don't:
1. Let him drive! In the film My Dog Skip, Jack Russell Skip takes the wheel and judging by the way Lucky buckled up next to Leo before his Big Break, it may have given our new mischievous Lookers woofster some wacky ideas! I wouldn't let him sit in the front if I were you…
2. Risk him gate-crashing a picnic! With the smell of sausage rolls wafting in the wind, a dog that would devour anything he could get his chops on and ducks sending him quacking mad… what could possibly go wrong?! From bacon frazzles and beef chews, to crunchy biscuits and Bonios, your why not pack some drool-worthy travel treats for Lucky to sway him away from someone else's picnic? We don't want our pup becoming a most-wanted sausage roll thief…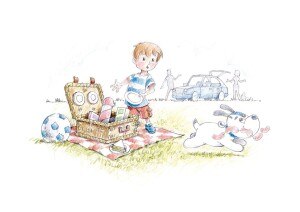 3. Forget any extras. Okay, so maybe you won't go as far as Paris Hilton building a luxury MTV Cribs-worthy mini mansion with an outdoor balcony for her dogs, but there are a couple of extras you could take with you to keep Lucky comfy. To shake off a case of a peevish, puffing and panting pooch, quench Lucky's thirst with some water whilst you're out on walkies and let him snuggle in a pet bed on the journey home.
You can download the Lucky's Big Break storybook here.