The last few years have shown that the British winter is becoming fiercer and less predictable. Winter tyres have thus become more and more popular as a way to improve safety, reduce wear and tear, and enhance the comfort and enjoyment of driving during the colder months.
Using them between October and March is recommended by numerous motoring organisations, including the AA.
While commonplace in colder climates around the world (and a legal requirement in parts of Canada and northern Europe), winter tyres are relatively new for many British drivers.
If you're unsure why you should buy winter tyres, wish to dispel the myths behind winter tyres, or simply require advice on which winter tyre is best for you, our guide provides useful advice. We can even advise on winter braking distances and the effect of driving with winter tyres.
What are Winter Tyres?
Winter tyres have a different rubber composition and tread pattern to conventional tyres, meaning they perform better on wet and slippery road surfaces, and at temperatures lower than 7°C. They also suffer less deterioration in a winter climate than summer tyres, ensuring prolonged performance when it's required most.
The composition of winter tyres includes a large quantity of natural rubber and silica. This results in the surface remaining softer and more pliable at low temperatures, as opposed to summer tyres which have a higher proportion of synthetic rubber. The upshot of this different design is substantially increased stability and an impressive reduction in braking distances.
As well as improvements in straightforward braking manoeuvres, winter tyres also enhance grip and traction when cornering on wet, snowy and icy roads. The lateral grooves enable better drainage, while in snowy conditions the longitudinal grooves retain snow. This design feature, seemingly counter-intuitive, is in fact the best way of improving grip – for the simple reason that snow sticks to snow better than it does to rubber.
Winter tyres are usually worn six months of the year from October to March. Having your vehicle fitted during colder months is mandatory in ten European countries – Austria, the Czech Republic, Estonia, Finland, Germany, Latvia, Norway, Romania, Slovenia and Sweden. The adverse weather conditions across Europe in recent years have led to road safety groups across the continent recommending purchasing a set of winter tyres, and contributed to a rapid rise in popularity in the UK.
What are the Benefits of Winter Tyres?
The harsh weather experienced in the British Isles and throughout Europe in recent years has challenged the old view of winter tyres as an unnecessary investment. The widespread use of tyres designed for colder weather would have been an invaluable aid to many during the harsh conditions.
Using winter tyres is essential for getting the very best out of your car during the winter months; they not only perform better on snow and ice-covered roads, but any time the temperature is below 7°C. The benefits of winter tyres include:
• Safety: Increased braking distances and reduced traction on slippery roads are contributing factors to thousands of road accidents every winter. Cold weather brings about a variety of treacherous conditions that put even the most careful drivers at risk (black ice, for example, is all but invisible).
• Although no tyre can entirely counter the effects of wet, icy or snow-covered road surfaces – or act as a substitute for taking even more care than usual on the road – winter tyres are crucial in reducing the risks of cold-weather motoring.
• Versatility: Winter tyres are potential life-savers in snowy and icy conditions. They are also more effective than summer tyres when the temperature falls below 7°C – even on dry roads. Facing the heavy rain of autumn and winter is also much easier with a set of winter tyres, as their superior drainage provides greater resistance against aquaplaning.
• Long-term value: Both winter and summer tyres experience greater wear and tear when used in the wrong weather condition. The short-term cost of buying a set of winter tyres could well benefit you in the long run, as having specialist tyres for October-March and April-September means that the life of both sets of your tyres will be increased.
• Convenience: Winter tyres only require one fitting every six months, and are suitable for any road surface. This makes them a more convenient choice than snow chains, which require frequent fitting and removal and are only very effective when driving on roads covered with a large amount of snow.
• Driving enjoyment: Confidence in your vehicle's performance and safety is essential to enjoying each journey. With winter tyres, you can be sure that your car or van will maintain the best possible traction and handling in cold environments.
Winter Tyre Specification
Winter tyres are an important aid to safety and handling in the colder months. But purchasing winter tyres is just the first step. It is important to ensure they are of the correct specification and fitted to your car with due care and attention.
For example, if you already own a set of winter tyres, it is essential to be aware that a minimum tread depth of 3mm is strongly advised.
If you're purchasing a new set of winter tyres, you will also need to know certain details about your vehicle's existing wheels – namely the width, profile, size, load rating, and speed rating. This information is vital for obtaining a set of winter tyres that work correctly.
Fortunately, all it takes is a quick look at the number visible on the side wall of your tyre, which will be arranged in a format similar to the following:
225/45R17 W90
The "225" indicates the width of the tyre in millimetres. The "45" after the stroke tells you the "profile" of the tyre, or the width of the tyre compared to its height (45%, in this case).

The "R17" indicates the size (in inches) of the wheel rim to which the tyre is designed to be fitted. Finally, the "90" denotes the tyre's load rating (the maximum weight each tyre can carry), and "W" denotes the speed rating (the maximum speed at which the tyre can carry a load corresponding to its Load Index).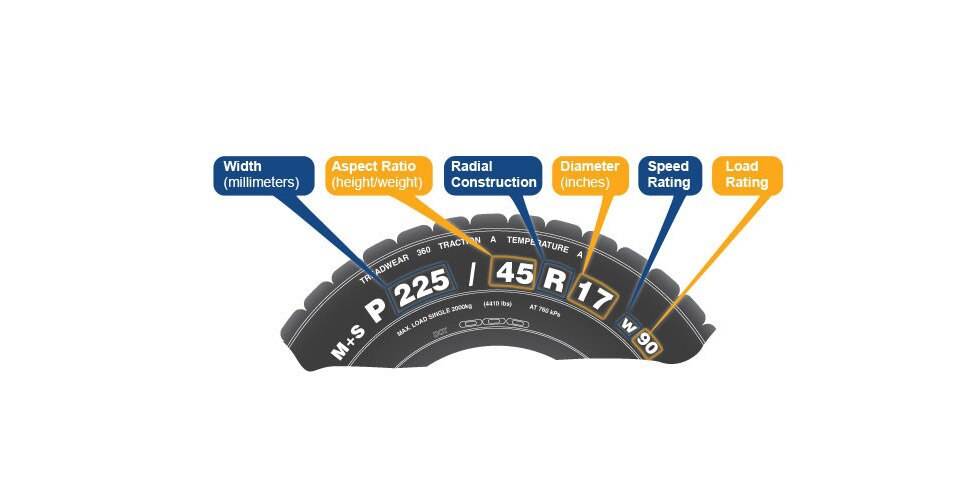 Choosing the right winter tyres
All winter tyres deliver outstanding traction and grip in cold weather. The market in these products, however, is as varied and competitive as any other area of the automotive industry. Each manufacturer available at Lookers has its own range of specialist winter tyres that perform especially well in certain cold-weather conditions, or on particular road surfaces.

Some winter tyres, for example, work best on snow-covered country roads, while others are best on wet motorways, or off the tarmac altogether. There is also substantial variation between the tyres that are suitable for different classes of car and van. The design of winter tyres for high-performance cars, for example, will be focused on retaining stability at greater speeds, while those fitted to SUVs will be specially adapted for travelling in snowy or icy conditions when off-road.


Winter Braking Distances
62 - 0 mph. Braking distance on wet roads when temperature is under 7C:
• Summer Tyres - 70.5 metres
• Winter Tyres - 53.7 metres
30 - 0 mph Braking distance on snow-covered roads when temperature is under 7C:
• Summer Tyres - 43 metres
• Winter Tyres - 35 metres
20 - 0 mph Braking distance on snow-covered roads when temperature is under 7C:
• Summer Tyres - 68 metres
• Winter Tyres - 57 metres


Winter Tyre FAQs
Q. Will winter tyres push up insurance premiums?
A. In the past, it was common practice for insurers to place additional premiums on drivers after fitting winter tyres. Almost all insurance companies now levy no extra charge, recognising the many safety advantages associated with the addition of winter tyres.
Q. Are winter tyres a good investment?
A. Buying a set of winter tyres reduces the amount spent long term on replacing tyres. Using winter and summer tyres in the weather conditions for which they were designed means that they wear out at a slower rate; this in turn leads to reduced costs over a five-year period
Q. Is British weather too mid for winter tyres?
A. The severe weather conditions of recent winters indicate that heavy snowfalls and very low temperatures are likely to become an annual occurrence. As such, investing in winter tyres will rapidly become a necessity. What's more, winter tyres give you an advantage at or under the relatively mild temperature of 7°C.
Q. Isn't it only those who live in remote areas that need winter tyres?
A. It is true that drivers in rural areas (particularly in the north of England and Scotland) have a particular need for winter tyres. This may be due to inferior road surfaces, inclement weather conditions, and being further away from help in the event of a breakdown or accident. Motorists in urban and suburban areas,however, can still reap the many benefits of winter tyres in cold weather.
Q. Can I get by on two winter tyres?
A. It is best to buy four winter tyres, since a combination of winter and summer tyres could adversely affect handling.