They've only gone and done it again! Yes the Lookers F&I (Finance & Insurance) team have undertaken another charity challenge and in so doing have scaled newer and greater heights.
You may remember the intrepid group raised an incredible £11,000 for the British Heart Foundation last year by climbing Ben Nevis. Now they have set themselves an even bigger goal by climbing the Twin Peaks of Snowdon and Scafell Pike back to back in 48 hours.
As well as raising over £8,000 (and counting) for the Alzheimers society who are our charity partners until the end of December, this dedicated and kind-hearted band of brothers enjoyed a weekend which included a couple of scary moments, but also lots of fun, food and navigational gotchas.
Here Commercial Director Paul Bentley tells us about the trip. Spoiler alert – it sounded so good, we may all be signing up with them for next year.
Tell us about the team
The team is made up of staff from the F&I team. On the day there was myself - Paul Bentley, Darryl Jones, Peter Ferris, Jon Sadler, Gary Lancaster, Craig Sturgeon, Pete Garratt, Neil Carrahar and Chris Worth. Unfortunately Michael Armstrong wasn't able to join us however was with us in spirit.
Did you get off to a good start?
We started our adventure on Thursday night and this meant heading over to Bangor where we checked into our travel lodge and then enjoyed some local hospitality at the "Tap & Spile". Not wanting to appear rude to the landlady we felt it was only fair that we stop and have a drink (or two) with the locals!
What happened on day one?
We started on Friday 13th – a date chosen deliberately to spice things up! Upon arrival at the car park at Snowdon we were unexpectedly turned away due to it being re-tarmacked. We had to then find somewhere to park the cars and then wait for a bus to arrive. When the bus did arrive 20 minutes later we quickly realised we weren't the only people thinking of climbing Snowdon on that day and it was packed. All this had put a huge dent in our 8 am starting time and it was now just a few minutes before 9:30.
We had also originally agreed to take the easy Llanberis route which is basically classed as a "long walk" however we decided at the last minute to change this to make the challenge a little more difficult by taking the Miners & Pyg routes which was really against Darryl's wishes….which he reminded us all about several times during the day!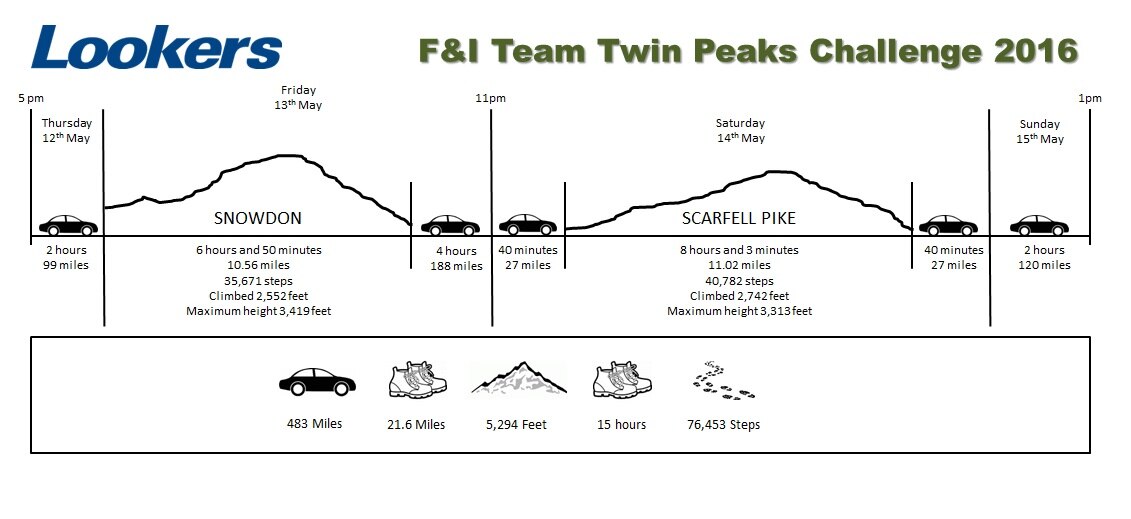 How did day two go?
Our starting point of Seathwaite at the base of Scafell Pike was about 45 minutes away from the hotel and feeling that we were now experts in mountain climbing we started again up the track, summit bound. We were getting quite nicely into our stride again following people ahead of us when Pete who had chosen himself to be our navigator (as he was the only one that had packed a map and a compass), pointed out that we were again going the wrong way. After asking three or four different people that were passing if this is correct we eventually agreed with them and turned around and headed back towards the farm where we started our walk.
We were quickly into our stride this time heading the right way up Scafell Pike which was via the route known as the corridor. This was an extremely uneven and rough route however apparently we were told it was easiest route not to get lost on... They clearly don't know us!!!
What were your biggest challenges?
On day one the start was relatively easy at the beginning and the pathway seemed quite even, we just followed the people ahead of us and not really concentrating. Unfortunately after climbing some huge rocks, we realised we had headed 30 minutes in the wrong direction and had taken the "Crib Goch" route that involved some serious rock climbing and is known as the "scary one". After some debate about how we get back to our original route, which included Gary saying we could circumvent a large lake and Darryl's input of "this wouldn't have happened if we had taken the Llanberis Path", we decided that to retrace our steps was the only safe option.
By the time we got back to where we had taken our wrong turn we had wasted just over half an hour and the time was 10:30, this all meant that we were around two hours behind where we wanted to be, knowing that we had to drive to the Lake District later that evening. Nevertheless we carried on our walk along the miner's path, and as we climbed, the ground underfoot got steeper, rockier and much more difficult to climb.
Whilst Scafell Pike (day two) is lower in height than Snowdon however the ground underfoot is much more treacherous. There is no path as such, just large boulders to stride and climb over. The smarter ones in the party including myself had taken walking sticks with them and this was continually recognised and we were complimented on our choice, we were even given a fitting title.
What were your highlights?
The views and the lakes on Snowdon were absolutely stunning and this really helped take our minds off the hard climb that was taking place. The temperature was about 22° and I think everyone was extremely tempted to cool off in one of the lakes, but it proved to be best not to, as when we got to the top the temperature was much much cooler because of the wind and openness of the summit.
The view from the top of Scafell Pike was mind blowing too - a complete 360° view as far as the eye could see and even off to the west coast where we could see Sellafield nuclear power plant. The weather was excellent, the skies were blue and the view was absolutely perfect, it made all the climbing very worthwhile.
Describe your favourite moments of the trip.
There were so many. The camaraderie on the climb was fantastic and despite the continual mocking and mickey taking of each other when it mattered everyone helped each other and a great example of this was when Darryl's leg went into cramp! We have never seen a human being's legs contort as badly as they did with his cramp and with and the screams of pain, it looked like a scene from alien.
This really took its toll on Darryl, and we had real concerns they wouldn't be able to complete the climb however, it is to his total credit he just kept going and soldiered on and we made it to the top.
I want to thank the team and their very supportive partners and families for giving their time so generously to this cause. I also want to thank them for making the weekend such great fun, and underlining what a fantastic F&I team we have. I also want to thank Tim Smith and Dave Pearson from Black Horse for kindly covering our hotel and food costs (don't worry, we did have a personal cash kitty that we all contributed to, to pay for any alcohol, as we didn't want them to have to pay for our bad habits!)
The Group also managed to take some video footage..here is a short clip of their expedition: