Lookers Track day arrived with a refreshing burst of sunshine and the warmest day in April since 1949, seeing partners and aftersales staff take on multiple circuits in two days of adrenaline fuelled action.
Guests raced eight different vehicles, navigating tricky chicanes and bursting down the straights at speeds up to 185mph.
Put your helmets on as we take a look back at the two fantastic days down at Palmer Sport in Bedford.
Day 1: Lookers Track Day: Partners & Sponsors in the name of the 353 charity
Guests from across the country were invited to take to the track at Palmer Sport, with temperatures hitting close to 30°, there wasn't just heat in the air but on the track too. The day of racing saw guests spin more times than a 75 minute Pink Floyd record as people pushed to put in the fastest laps, whilst we also saw some highly impressive racing skills which got a few guests wondering if a change of career could be in order.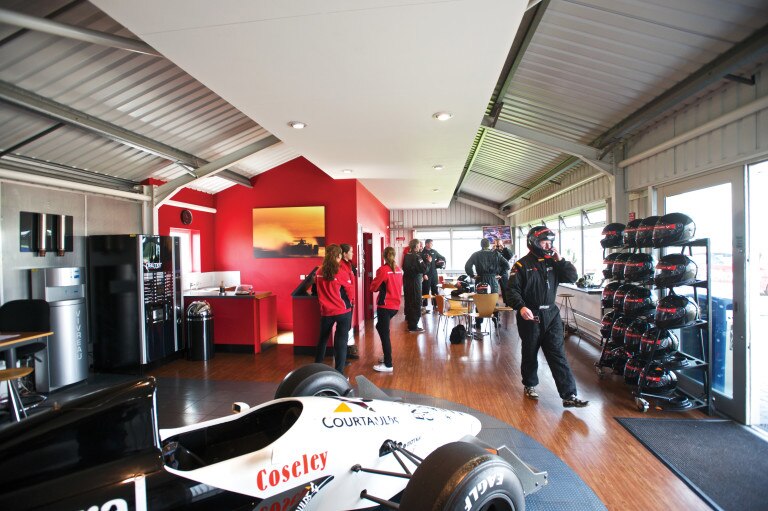 The teams prepare before hitting the track.
Divided into different teams to take on the circuits, timings across the board were taken with prizes up for grabs for the fastest individuals and overall best team. Competition was fierce throughout and smiles were abundant, even for those picking up the pace at the rear, as a member of team Ferrari was told by an instructor:
"If I clocked your timing on the bus on the lap round, it would have been slightly quicker than the lap you've just done".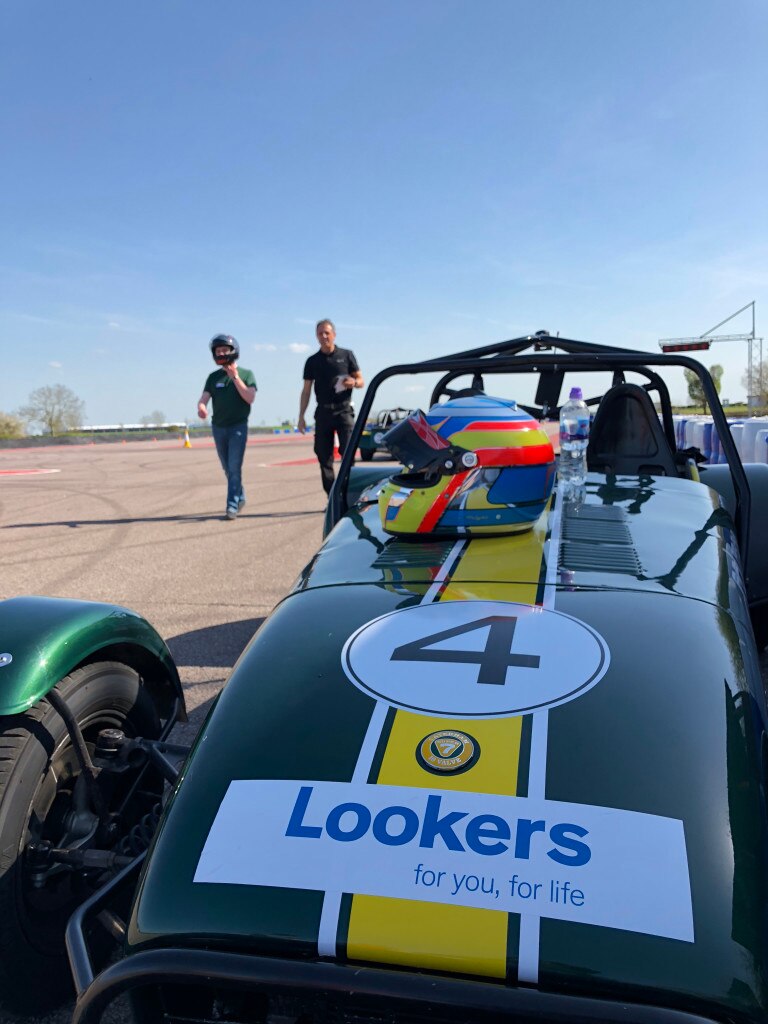 The sun was out as guests took on took on the different circuits.
As adrenaline levels returned to normal, we headed into the evening and the main focus of the day's event – raising money for the fantastic 353 charity. The 353 charity gains it name from Private Conrad Lewis who was the 353rd British soldier to be killed in Afghanistan. The charity was set up by Conrad's parents, Tony and Sandy Lewis, who are now dedicated to helping the lives of former soldiers.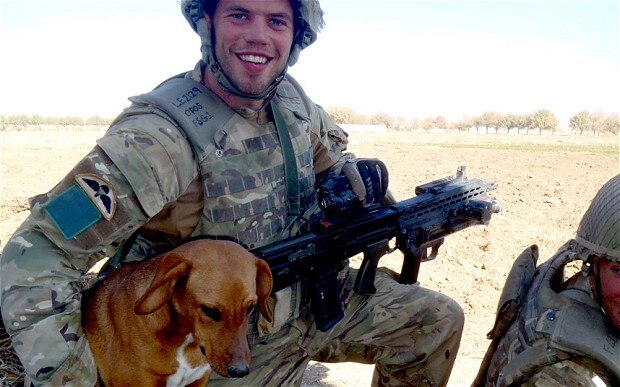 Private Conrad Lewis. His legacy lives on through the 353 charity set up in his name.
Tony Lewis introduced the charity after dinner and gave insight into the work the charity is doing. Every penny raised by the charity goes directly to reaching out and helping ex-military servicemen and women making a significant impact to many people's lives. Lookers Chief Operating Officer, Nigel McMinn aptly said:
"Our forces keep us safe and they keep our liberty but at a great expense. Many come back with horrible injuries that impact the rest of their lives. We wanted to do something for that cause by helping the 353 charity."
What followed saw incredible generosity, as the charity auction raised £44,000 all going directly to the charity. This phenomenal figure "won't just help but will directly save lives. We cannot thank you enough" – Tony Lewis.
All in all, a superb day that would be difficult to match. Congratulations to John Collins taking the prize for overall best driver. Day two had a lot to live up to!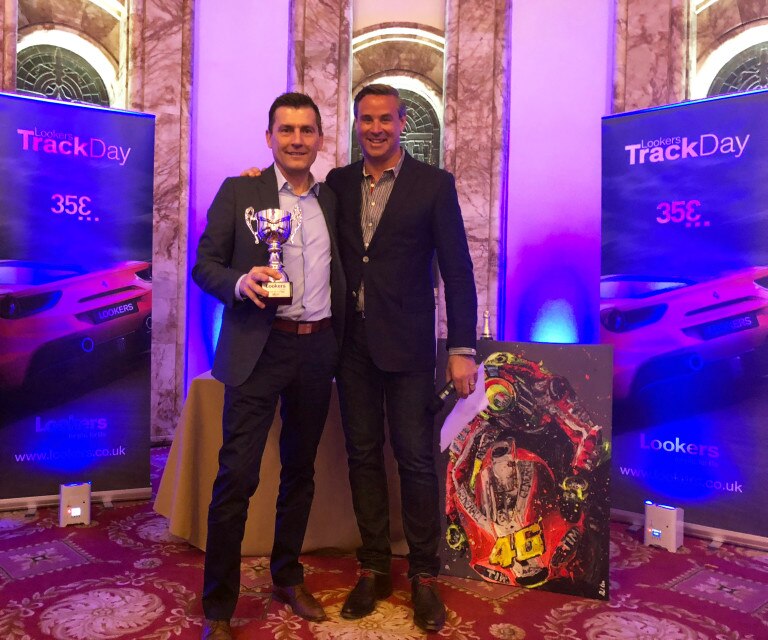 John Collins takes home the trophy for best overall driver on day one!
Day 2: Lookers Track Day: Rewarding our fantastic aftersales staff
Another scorching day saw winners of the Formula Lookers table rewarded for their outstanding hard work in aftersales with a day of racing at Palmer Sport. Joining us from across the UK and Ireland, it was clear early on that this was a competitive bunch with a knack for speed and swift driving. How do you drive these cars? I hear you say. Well, aftersales Retail Operations Director, Paul Bentley was told by one instructor "Drive like you stole it!". We understood that loud and clear and put our foot down as confidence and speed built across the day.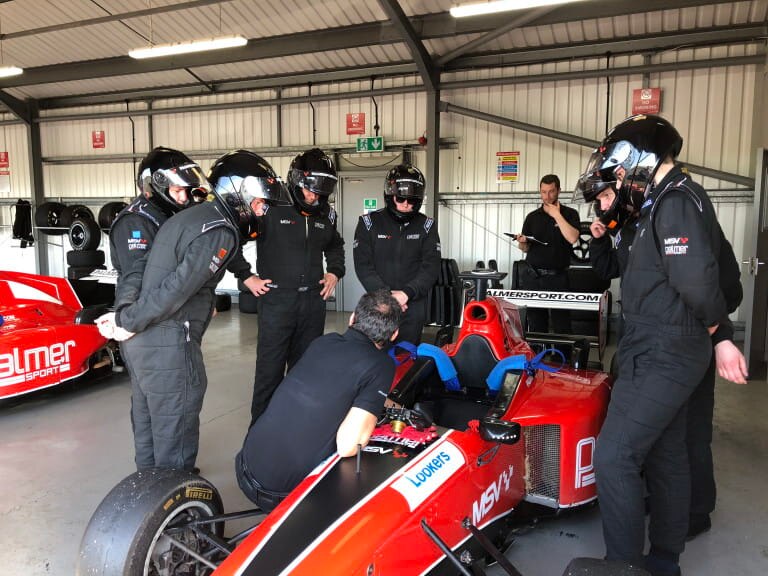 After another day of solid driving, we headed inside for the prize-giving for the fastest individuals across the tracks and it was evident we had some talented racers in our midst. It was clear quite a few staff weren't scared to push the cars to the max with some exceptional times clocked in. A special mention to Phil Hill – Aftersales Manager at BMW & Mini as he took the crown for the overall best racer. We have our suspicions he could be related to Damon Hill…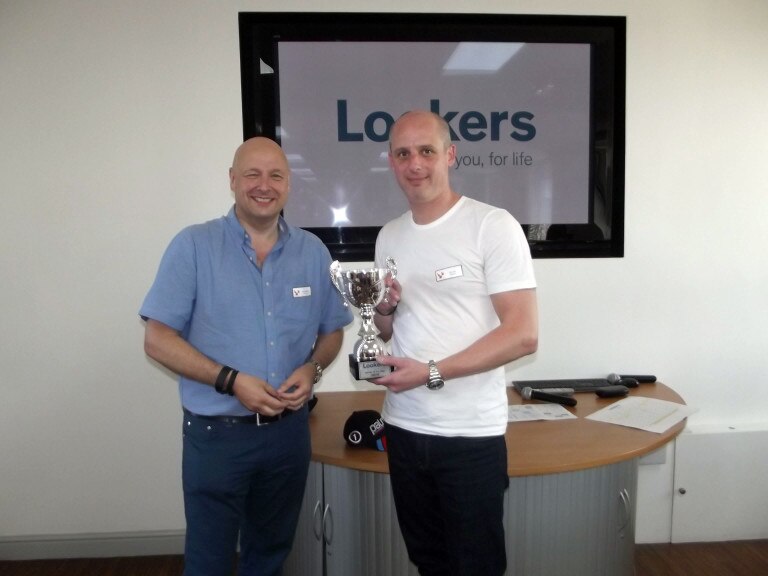 Phil Hill – Aftersales Manager at BMW & Mini taking the crown on Day 2.
Now let's look at these cars
So, what were the different cars we raced across the two days? Let's break down these mighty machines and just how we found racing them around the tracks (and often on the grass and gravel too).
Palmer JP-LM
Let's start with one of the most impressive cars of the day. The JP-LM saw guests race around the west circuit at speeds up to 167mph reaching 0-60 in under 3.5 seconds. The acceleration on this car was unquestionable and the noise it produced could be heard anywhere across the Palmer Sport grounds. Not for the faint hearted but very addictive for those willing.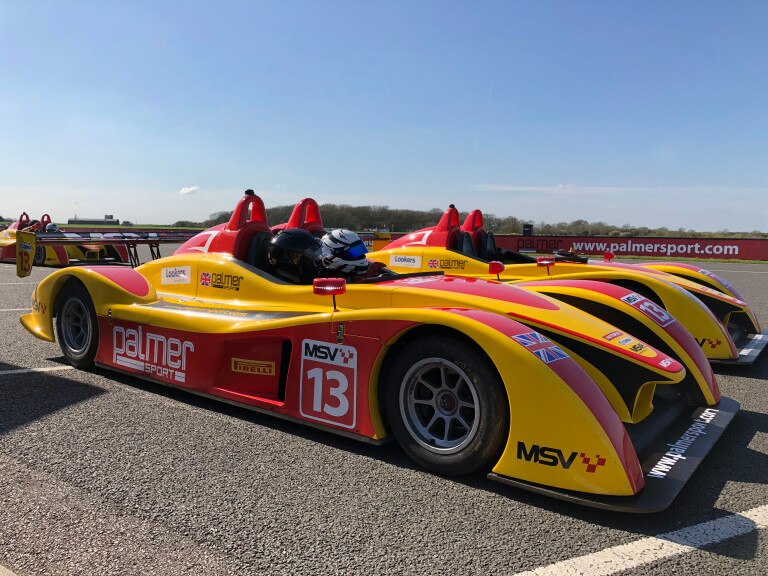 Day 1 Partners Winner: Chris Duggan
Day 2 Aftersales Winner: Gary Willis
Sodi GT5 Go-Kart
Top speeds of 48mph may not sound too high, but when you are inches off the ground zooming around corners you'd think you were going double that speed. A great bit of fun in comparison to the bigger machines across the other tracks.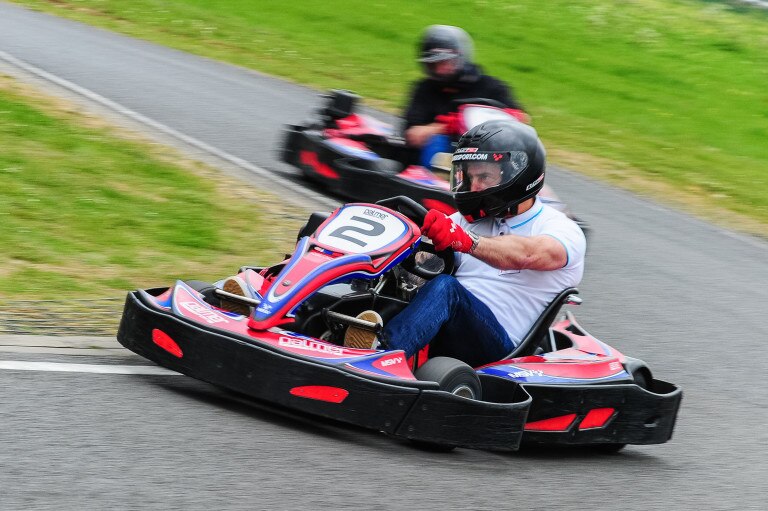 Catch me if you can
Day 1 Partners Winner: Dean Pipitone
Day 2 Aftersales Winner: David Webber
Renault Clio Cup Racer
Delivered from the continent, these left-hand drives were one of the most thrilling cars of the day. Almost as long as they are wide, you can really throw these around the track with an impressive top speed of 150mph and a 0-60 in five seconds, it wasn't a surprise that our guest had a lot of fun in these extreme Clios.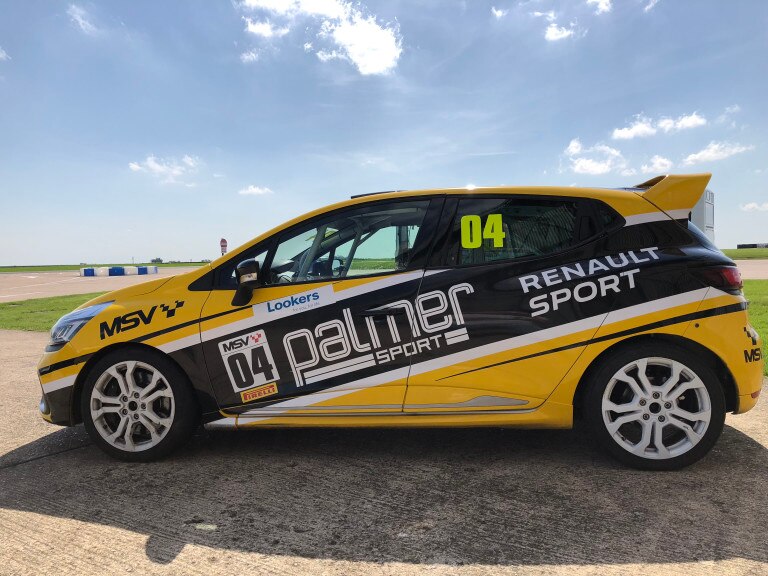 Not your average Renault Clio
Day 1 Partners Winner: Jason Middleton
Day 2 Aftersales Winner: Dennis Coppen
Caterham Seven
One of the only stick-shift cars of the day, this ultra-light racer had guests flying around a course and trying to donut around a cone before putting their foot down and aiming to clock in a time under 30 seconds. Fun is just one word to describe this car.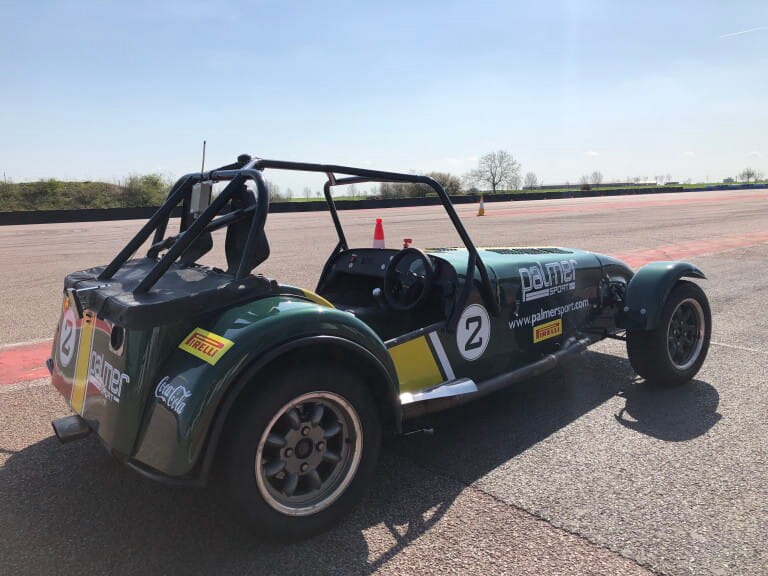 The Caterham Seven
Day 1 Partners Winner: Gary Smith
Day 2 Aftersales Winner: Mark Terry
Land Rover Defender
A change-up from the other high-speed vehicles across the day, this impressive piece of British engineering took our guests on the off-road course. Wading through mud and water, scaling walls at angles of up to 35° and plunging down steep slopes, guests were asked to hit certain targets and practice their agility through balancing on timber whilst edging along. A true test of skill and nimbleness.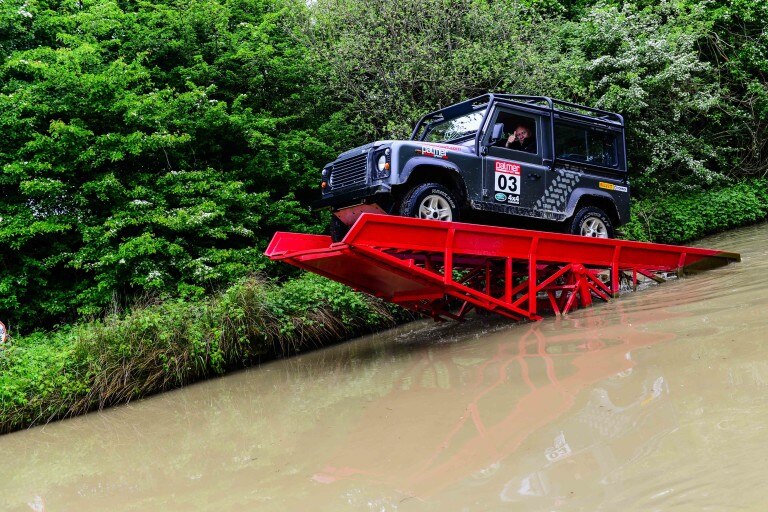 No terrain is too tough for the Land Rover Defender
Day 1 Partners Winner: Geoff Barnes
Day 2 Aftersales Winner: Lorraine Ali
BMW M4 GTP
This Bavarian brute of a GT car seriously got the adrenaline pumping when you put your foot down. Improved from it's road-going counterpart, this phenomenal machine can reach speeds of up to 185mph with its three litre, twin turbo engine providing no fewer than 425bhp. Zoom.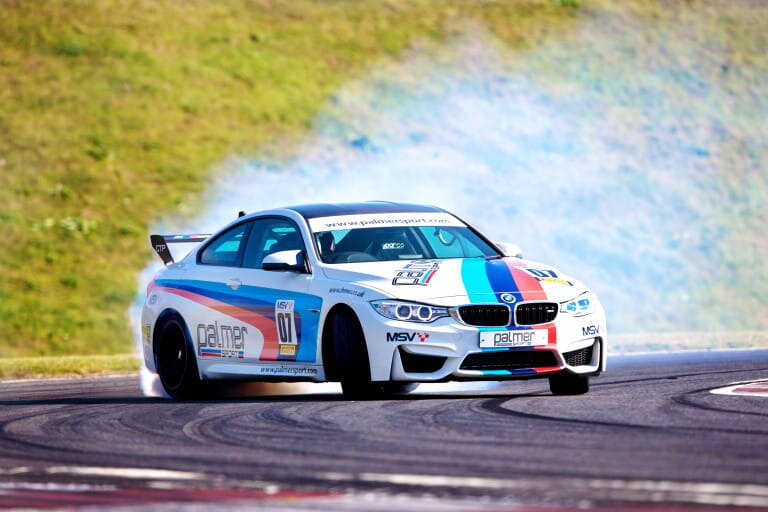 The BMW M4 GTP terrorising the track
Day 1 Partners Winner: Tony Williams
Day 2 Aftersales Winner: Daryl Jones
Ariel Atom
Now this car was a different animal. A modern classic which boasted the second fastest 0-60 of all the cars at an impressive 3.2 seconds, the immense acceleration and grip (sometimes!) whilst navigating corners saw guests flying around the East Circuit.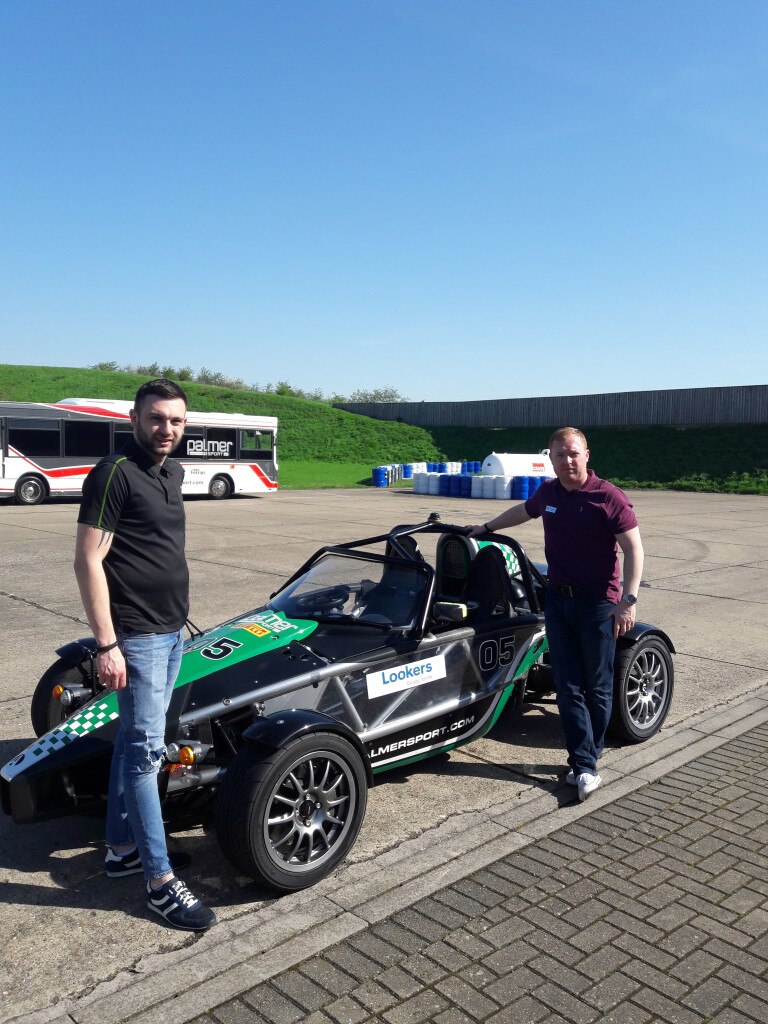 Lookers Aftersales staff Sean Keymar and John Burrows preparing to race the Ariel Atom.

Day 1 Partners Winner: Jonathan Jones
Day 2 Aftersales Winner: Ricki Sampson
Formula 3000 Single-Seater
Finally, on to the prize event. The Formula 3000 offers an experience like no other as guests flew around the track and impersonated their favourite F1 driver. Powered by a Cosworth-developed 3000cc V6, providing 200bhp at 6500rpm there was plenty under the bonnet to play with. You could hear this car much better than you could see it as it flew past. A real treat, even if you weren't the quickest like myself!
Day 1 Partners Winner: David Smith
Day 2 Aftersales Winner: Phil Hill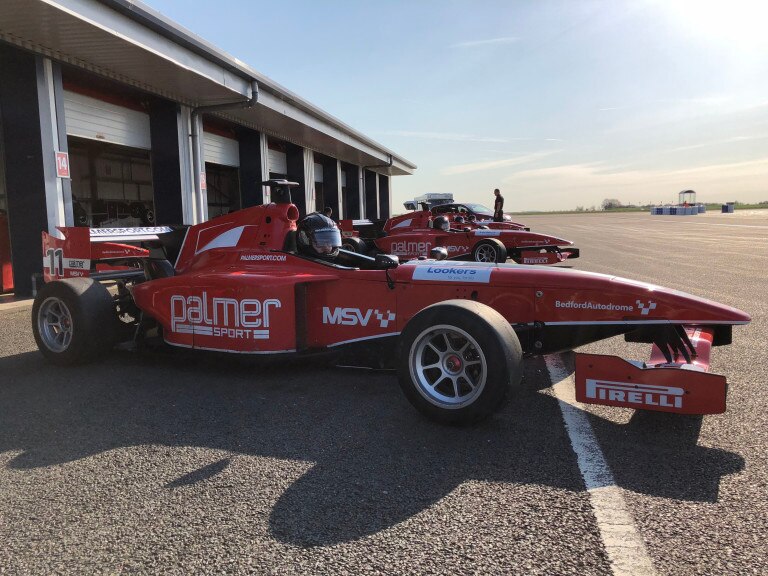 The Formula 3000 basking in the sun
Overall Winners
Day 1 Partners Winner: John Collins
Day 2 Aftersales Winner: Phil Hill
A final word
A thrilling two days, but it wouldn't have been possible without everyone involved – the team spirit and competitiveness drove up the fun factor, with partners and staff alike saying what a day it was. On top of this, a massive thank you to all the staff at Palmer Sport for their organisation and instruction across the two days. Here's to the next one!