While the British summertime weather is as unpredictable as an American election, there are days where you could be fooled you live in the Canary Islands.
It may not happen as regularly as some would like but the sun does occasionally shine on our little island, and during times like these there is only one type of car to be had; a convertible.
However, the market nowadays is filled with a vast array of options for the drop-top lover, so it might be tough to find your best option. But as we're slap bang in the middle of summer, (apparently), I thought it would be useful to walk you through 10 of the stand-out cabriolet candidates that might help you make up your mind.
Now, I must warn you there is some pretty geeky stuff coming up; brake horsepower stats, torque figures, 0-60 times and the word differential slipped in there once or twice. (I know, actual car stuff). However, I do try and cater for everyone, so you might find the odd colour recommendation and a few additional toys that are a must.
Anyway enough chit-chat, let's dive in, and we start off with a cracker.
Audi A5 Cabriolet S line
Audi, for some time, have been the epitome of German engineering. A brand that offers refined quality, style and class, and the A5 Cabriolet S line is no different.
It takes almost superhuman ability to maintain a car's excellence when you chop its head off, but the four-ringed genius' have managed to do just that across the whole engine range.
As well as an uncompromised drive, the cabriolet also offers heated front seats, front and rear LED lighting and bundles of useful tech. This includes SatNav, Audi's Connect Infotainment System, smartphone interface, park assist, Audi's Pre Sense City system as well as an in-built seatbelt microphone, meaning you can still make those delightful calls to your mother-in-law even when the top is down.
In addition, the sensational 2.0 litre TDI engine boasts an extremely impressive 62.8 combined mpg, begging the question, is the Audi A5 Cabriolet S line the best convertible grand tourer out there? It certainly stakes a claim.
Mini Convertible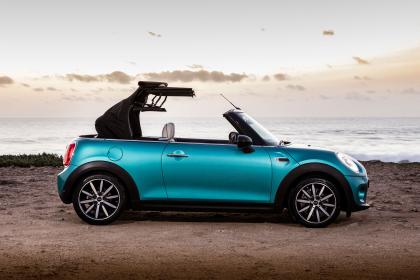 There aren't many topless city-suited cars out there that can rival the Mini Cooper S Convertible. The 1.6T four-cylinder missile under the bonnet produces an impressive 175bhp, but an even more mesmerising 0-62mph time of 7.2s.
Add this to weather change detection roof technology, leather seats, a reversing camera and a future-safe residual value and you have the combination of Usain Bolt and Beyonce mashed together into a Warwick Davis size package, and who wouldn't want that?
Fiat 124 Spider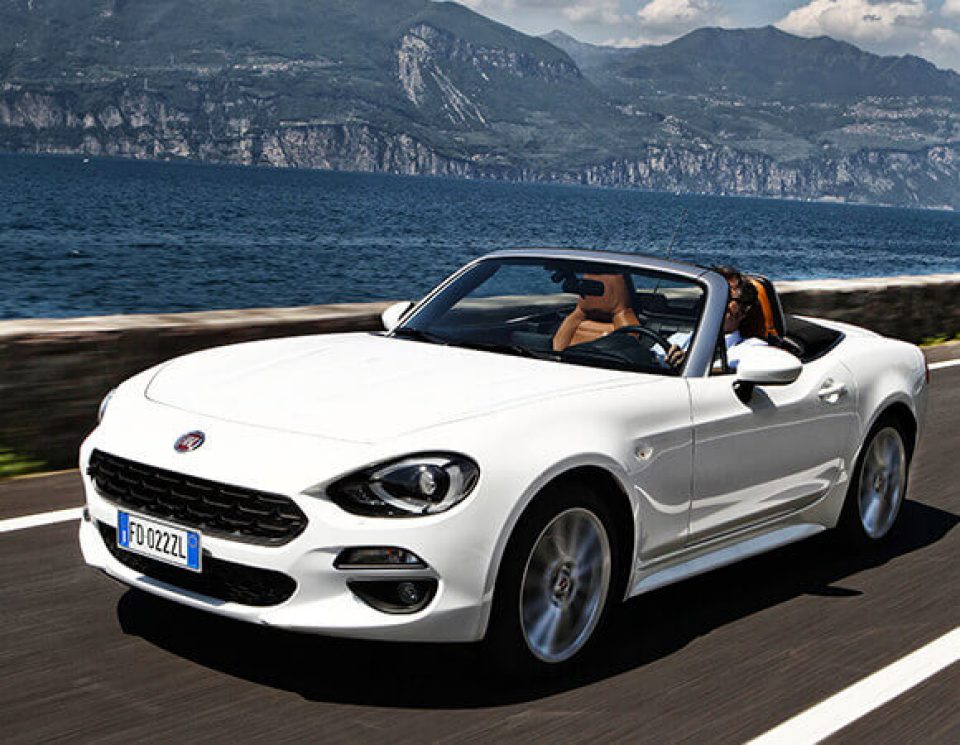 Even further down the engine scale resides the Fiat 124 Spider 1.4 Multiair Classica, but if you thought that just because it doesn't boast a fuel-chomping V20 it's not going to be fun, then you'd be wrong.
The 124 started life originally destined for Alfa Romeo's badging and, as well all know, that screams true motoring perfection. However, Fiat have made it their own, and it's as impressive as one of those Michelangelo bloke's ceilings.
The Mazda MX-5 has dominated the two-seater drop-top sports car arena since Daniel Radcliffe was in nappies, however finally has real competition in the little Italian with its 177 lb-ft of torque, 134mph top-speed and an open differential, which allows even the least Stig-like drivers to comfortably thrash it around on a beautiful summers day.
Pairing all that with in-built headset speakers, minimal cabin noise, heated leather seats, SatNav, and a rear parking camera with distance sensors and you will be left wondering why the hell it has taken Fiat 32 years to reintroduce this master-class back onto the winding British A roads.
Ford Mustang V8 Convertible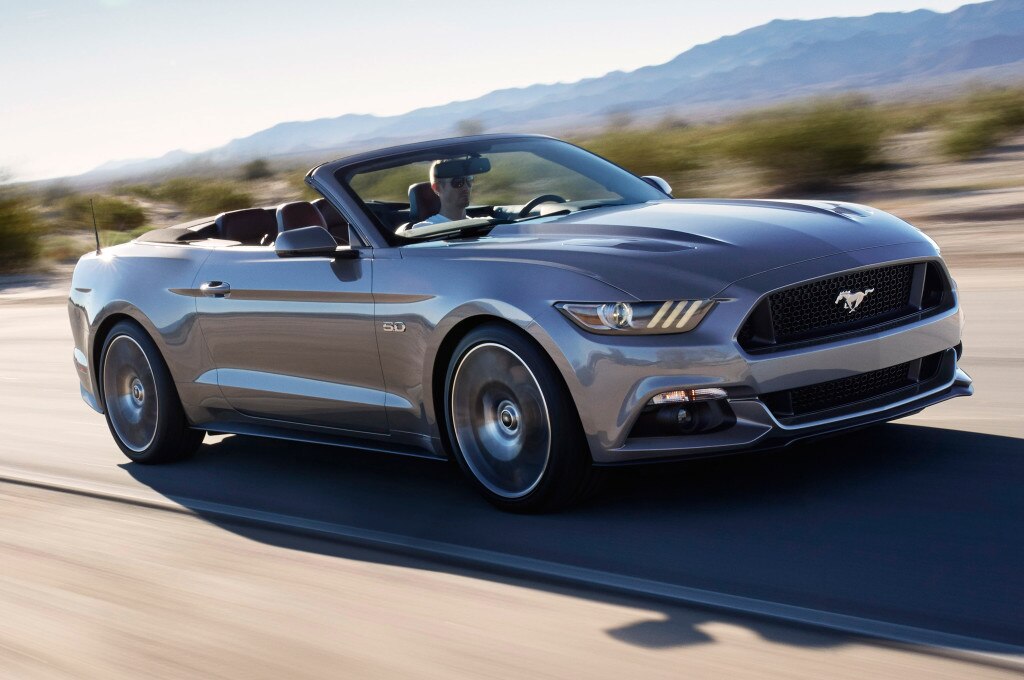 Now, as I said in the intro, the American's are a touch crazy, but they have full-on lost the plot recently. Nope I am not talking about the continuous fake news sagas, but the fact our friends across the pond have gone and introduced a polar bear enthusiast's worst nightmare to leafy Britain, the Ford Mustang Convertible 5.0 V8 GT.
The all-round ridiculousness of dropping an engine that can produce 435bhp and 400 lb ft of torque into an every-day road car, and then putting it on sale this side of the Atlantic seems ludicrous. But what you may have missed is that this is no longer just your standard U.S. brute.
The Mustang has flowered into a genuinely thrilling convertible, rivalling almost anything for excitement by featuring vast improvements on previous models.
For example, the drag-strip regular now offers a limited-slip differential, allowing greater control behind the wheel, keyless entry and start as well as Ford Sync.
But, maybe most importantly, it hasn't lost its frighteningly good looks of old. When I see the Mustang it's what I imagine women see when they look at George Clooney or Brad Pitt, just sheer lust.
However, if the drawer of the supersized engine and smart tech combined with unadulterated exterior sexiness isn't enough, the Ford also offers a dashing interior as well as sports seats, which surprisingly don't make you feel like you're sat on top of the washing machine during a hot-wash. Perfection.
Jaguar F-Type Convertible 5.0 Supercharged V8 R
Now, staying on the slightly nuts drop-tops theme for a moment, here we have Jaguar's offering; the F-Type Convertible 5.0 Supercharged V8 R with all-wheel-drive.
You would be forgiven in thinking that the F-Type is just a British equivalent of the Mustang, but it's much more than that. The Jaguar oozes sophistication and, in spite of boasting a huge 575bhp engine within its feature-rich arsenal, the Jag holds ample amounts of class.
Some of this stems from the R's all-seeing bi-xenon headlights, clever sports suspension, torque vectoring brakes, a seamless automatic gearbox, its electronic differential and of course the stunning AWD system. Compiling all that and putting it together inside the unmistakable beauty of the F-Type and you are left with a truly mind-blowing machine.
Land Rover Range Rover Evoque Convertible 2.0 Si4 HSE Dynamic Lux Auto
As I said about the Mustang last time, topless cars can be real game-changers, and it's no different for this beauty. The idea of an SUV drop-top sounds ridiculous, and in most cases it would be, but Land Rover has somehow managed to pull it off.
When you look at the Evoque you would be forgiven for thinking it's just a pretty-poser's city car, but the HSE Dynamic Lux still offers Terrain Response Electronics, an advanced 4WD system, a mesmerising nine-speed automatic 'box, heated leather everything, cameras, self-park, Range Rover's 10.2 inch InControl Touch Pro system and a free puppy!
Okay, I may have added that last one, but everything else is true, and why would you need a puppy if you owned this? I don't think I would need family or friends if I had one of these.
The Evoque may look as though it belongs on the leafy streets of Cheshire, but when put to the test its Land Rover heritage surfaces in abundance, and what better way to do that than with the roof down? Just make sure you watch out for muddy puddles.
Maserati GranCabrio Convertible V8 Sport MC
Taking a swerve back onto the tarmac, we come across another mind-boggling speed machine in the shape of the Maserati GranCabrio Convertible V8 Sport MC, and it's not just the lack of roof that makes this edition different from the hard-top GranTurismo coupe.
The sleek V8 allows for 500 more rpm than its full-headed brother, as well as a "Sports" button. (I do love a sports button). Now what makes this button different to most is the face it actually does stuff, and once you take the plunge you can expect stiffer Skyhook suspension and 50% faster gear changes.
As expected in any Maserati the interior is wall to wall cow, as well as the occasional carbon fibre trim. Now, if you were to ever lose your leather kingdom, (these things can be misplaced), you will be comforted to know the GranCabrio features NavTrak software; allowing you to be quickly reunited with your 450bhp, 376 lb ft of torque-producing monster almost immediately.
Mercedes-AMG GT Roadster

Right, I take back everything I said about the Mustang being nuts during the last blog, this Mercedes-AMG GT Roadster absolutely takes the biscuit. It's full on wild animal. It shouldn't be called the GT Roadster, a more suitable name I think would be the Mercedes Tiger-Shark-Dinosaur Killing Machine. (Got a ring to it, don't you think?)
The AMG's Twin Turbo V8 produces a whopping 549bhp; allowing for a 195mph top-speed and a 0-62 time of 3.75s – ridiculous for a GT car.
But don't think the Mercedes is all brawn, the Roadster offers active rear-wheel steering, an electronically locking rear differential and is coated with luxurious Nappa leather. It's like placing Donald Trump's psyche into Megan Fox's slender body, a worrying combination that requires your full attention at all times, but certainly entertaining.
The Ferrari 488 Spider
Next, as we delve on the verge of supercar territory, we come to several majestic creations, but none much more so than the Ferrari 488 Spider.
If you have been impressed by nerdy statistics so far then you better take a seat as the Ferrari's Twin Turbo V8 produces a jaw-dropping 661bhp and 560 lb-ft of torque. This means a 0-60mph time in a stupidly-quick three seconds and a 0-124mph time in an almost unfathomable 8.7s.
The abundance of power is brilliantly called upon by the Italian's dual-clutch seven-speed gearbox combined with a throttle response time of 0.8s. Now, you may be thinking that all I have done is spit nonsensical facts at you, but don't worry, I have saved the best two for last.
Not only is the 488 the only car on the list to boast a retractable hard-top roof, something of a trailblazer in this department, but it also looks quite fetching in a nice shade of blue. (See something for everyone).
Aston Martin V12 Vantage S Roadster
Joining Ferrari on the line between manufacturers losing it and edging full-on ludicrous is the Aston Martin Vantage S Roadster, which is truly superb in many ways, but the centrepiece V12 engine takes the main-stage.
This monstrous beast allows the Vantage S Roadster to redline at 205mph and reach the first 60 of those in 3.75s. However, as you would expect with any of Aston's creations, it is much more than sheer power.
The exterior styling is something to behold, particularly with the top-down. The same can be said for its crisp leather interior – meticulously crafted with the upmost delicacy, and topped off with the V12's all-new infortainment system, featuring Sat Nav and Apple CarPlay. True car porn.
In truth, it's hard to choose which convertible is best. However, one thing that's not difficult is where to choose from. Every single one of these masterpieces is available at Lookers. So, have a think which suits you best and get on the blower to book your test drive now!
You won't regret it.