Welcome to October's edition of The Steer: Our monthly round up of motoring news, where we bring you the biggest (and spookiest! 🎃) stories from the world of motoring.
October sees the arrival of spooky season with many people across the world celebrating Halloween. Ireland is credited as being the birthplace for Halloween through it's Celtic ritual origins whilst Romanians flock to Bran Castle in Transylvania which is rumoured to have been Dracula's home. However a group of Japanese car fanatics celebrate slightly differently, by dressing up themselves as well as their cars.
Getting into the spirit, we've taken a look at the top 6 horror cars in film and also compiled some tips to help drivers who get spooked behind the wheel.
Photo credit: Jalopnik
Whilst Halloween celebrations are in full flow this week, October has been a busy month in the world of motoring.
New cars, new hosts and a new Nürburgring lap 'record'
The all-new Ford Focus has recently hit the roads in the UK with a slick new design and the latest technology inside, but fans of the sportier Focus ST can expect the new model on the roads early next year.
It's expected to use the 2.3-litre engine found in the current, and more hyper, Focus RS model – we can't wait to get behind the wheel.
Skoda's new model – the Scala, looks to rival the Ford Focus and other hatchbacks when it hits the road in spring next year. The name 'Scala' means ladder in latin, which the brand claim is meant to reflect the strives forward Skoda has made in recent years, both in design and technology.
Not quite a rival to the Skoda Scala and Ford Focus, the 2019 Audi R8 has been subtly redesigned to feature tweaks to the exterior and new colouring options. The interior remains the same, but the suspension settings have been tweaked for more precision and stability, according to Audi.
Also arriving in 2019 will be two new hosts for Top Gear. English cricketer Andrew "Freddie" Flintoff and TV star Paddy McGuiness will be joining Chris Harris to present Top Gear's 27th series.
In the world of electric cars…
Dyson this month announced their new manufacturing facility will be based in Singapore, with Dyson's first electric car set for release in 2021. James Dyson has stated that there are plans for three different all-electric models, with an SUV and higher-end models rumoured. The solid state battery featured in the cars has been claimed to be able to charge quicker and store more energy than existing batteries. We are intrigued to see Dyson's offering upon their release.
BMW and MINI are set to continue to release more electric cars in the upcoming years, with the i4 unveiled at the Paris Motor Show earlier this month. The i4 will fill the gap between the i3 and i8, with a design similar to that of the 4 series Gran Coupe and a range of at least 300km – with a 600km version discussed.
Photo credit: Avarvarii
Mercedes-Benz set a new 'record' lap at the Nürburgring
The current record lap for a four-door and king of the ring for production sedans is the Jaguar XE Project 8. So how did Mercedes-Benz beat their record despite going four seconds slower…?
A Mercedes-AMG GT 63 S 4MATIC+ shot round the Nürburgring in 7 minutes and 25.41 seconds. This time is marginally slower than the Jaguar, but Mercedes-Benz claim that the AMG is an actual production car whereas the Jaguar is a special build with only 300 cars to be produced.
So Mercedes-Benz maybe can't claim a new record outright, but it's still a mightily impressive time.
Government slashes plug-in car grant
Government grants for new low-emission cars have been cut earlier than the planned date of 9th November due to an unprecedented rise in demand.
The overall grant available for purely electric vehicles has been reduced while grants for hybrid models are no longer available. When the Department for Transport announced the cuts earlier this month, they said the changes would not come into effect until 9th November unless sales were "higher than expected."
Since their announcement, vehicles eligible for the grants were sold at a rate over six times higher than normal which led to officials bringing forward the date to cut or reduce the grants. Approximately 900 grants at the more generous levels were claimed each day since the changes were announced, a huge increase on the 140 that were claimed during the first six months of the year.
The government have offered cash incentives through the plug-in car grant since 2011 in an attempt to encourage people to drive greener cars. Cars eligible for the grants were split into three categories depending on their CO2 output and range.
Customers who bought electric cars could claim up to £4,500 towards the cost and those who bought hybrid cars could claim grants of up to £2,500.
Now, the maximum grant for purely electric cars will be £3,500 and hybrid cars are no longer eligible for funding. The RAC'S Nicholas Lyes called the decision a major blow and 'a big step backwards.'
However, a Department for Transport spokesperson said: 'These changes will allow us to focus support on zero-emission vehicles.'
Ford marks the 50th anniversary of Steve McQueen's Bullitt with limited-edition Mustang
Released on October 17th, 1968 the film rocketed Ford's Mustang GT Fastback into the motoring hall of fame. To mark the 50th anniversary this month, they announced the Ford Mustang BULLITT.
And it looks incredible. Ford have stripped the Mustang of its spoilers and body kits in true homage to the original and added thick-spoked 19-inch alloys that give only a flash of the read callipers underneath.
The body is finished in a menacing Dark Highland Green paintjob, bearing no badges aside from the BULLIT emblem between its rear lights. It also has a white cue ball gear stick, a nod to the model McQueen threw around the streets of San Francisco.
Although the UK model has been slightly toned down – due to our tougher emissions laws – it's tweaked V8 is still firing at 453bhp and will launch itself from 0-62mph in 4.6 seconds.
The Ford Mustang BULLITT is a proper machine.
Hamilton claims his fifth Formula One title
Lewis Hamilton claimed his fifth Formula One championship last weekend, finishing fourth at the Mexican GP.
Going into the race, he had a 70-point lead on second-placed Sebastian Vettel in the standings and needed to finish only seventh or higher to seal the title.
The trophy carries Hamilton further up the records table, alongside Juan Manuel Fangio who has five titles in the premier racing class, and within two of Michael Schumacher's seven-trophy haul.
October was also the scene of another record, when Formula One veteran Kimi Raikkonen leapfrogged Mika Hakkinen to become the Finn with the most F1 wins, after taking top spot at the US Grand Prix.
and from the world of Lookers…
Motability Awareness Week and Autism Hour
Earlier this month we delivered our first Motability Awareness Week, which saw our dealerships welcome Motability customers and their families into their showrooms to discover more about what the scheme can offer.
Motability Awareness Week, which ran from 6th – 13th October, coincided with the National Autistic Society's Autism Hour initiative. As part of this, we ran Autism Hour each day, where we turned off the music, turned down the lights and offered a more sensory friendly environment for our customers with Autism to browse and meet with our Motability specialists to discuss their needs.
Lookers Motability Awareness Week also highlighted Guide Dogs Week, which was held by the Guide Dogs for the Blind Association. We took part by launching our latest in a range of 'Lucky' picture books, which feature our four-legged mascot and teach children about the role of guide dogs within our community.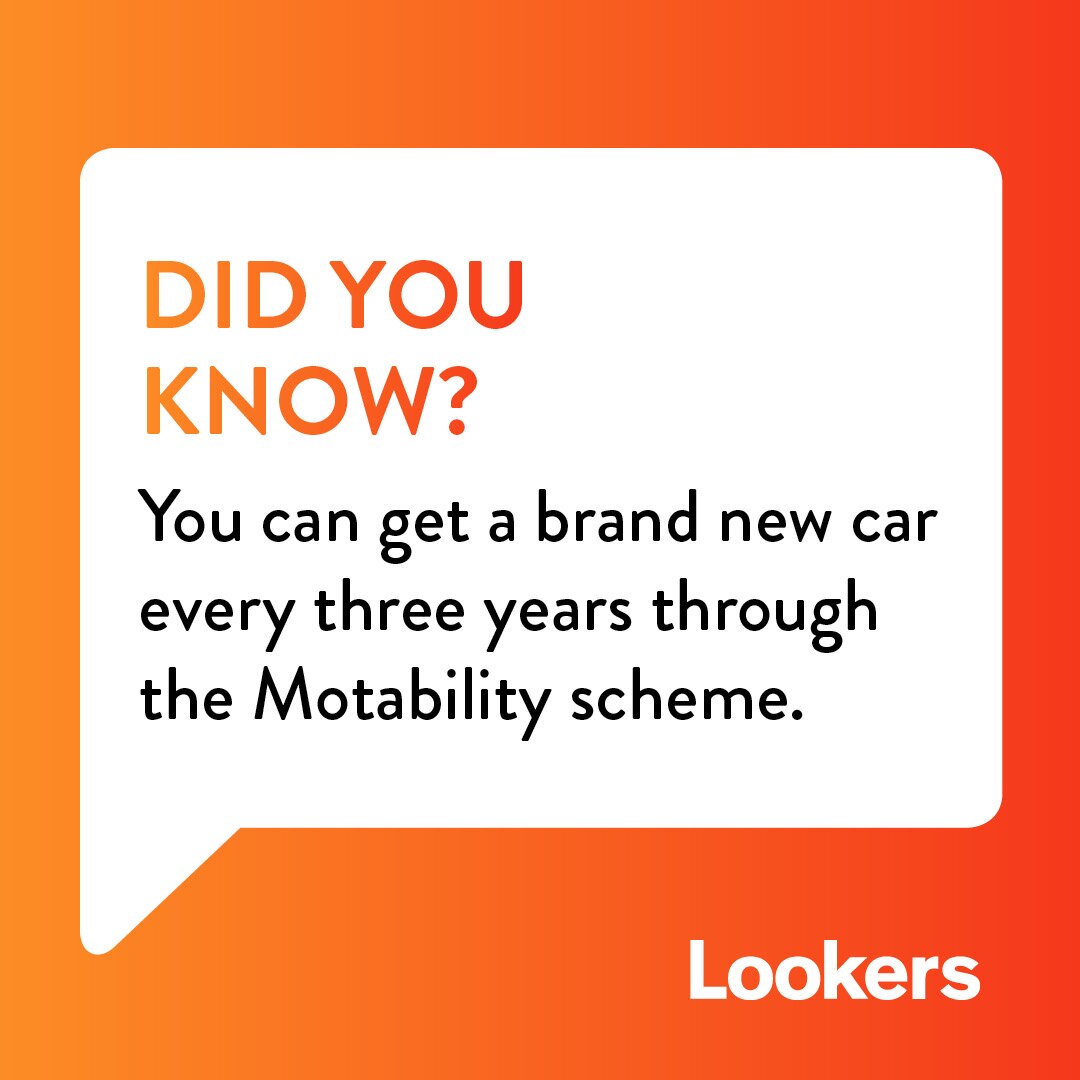 We will also soon be introducing Lookers branded dog bowls in our dealerships to help us become even more guide dog friendly.
Motability Awareness Week was a great success and we received positive feedback from our customers. This is just the start of a series of initiatives we plan to roll out across our dealerships, not just for one week a year, but daily, in our continuing attempts to be an inclusive, family friendly retailer.
It's been a busy month for Lookers and across the world of motoring, stay tuned for next month's edition as we edge closer to Christmas!