We're all enjoying the Halloween season here at Lookers. Pumpkins are being carved, apples are being bobbed and 'candy' is being hoovered up at a frightening rate.
In true Halloween spirit, we've also conjured up a list of our Top 10 horror film cars, ranking them out of five for the model, their Halloween cultural significance, and, of course, their horror value.
To kick things off, we've got a possessed car on a murderous rampage. More terrible than terrifying.
10.
The Car, 1977 👻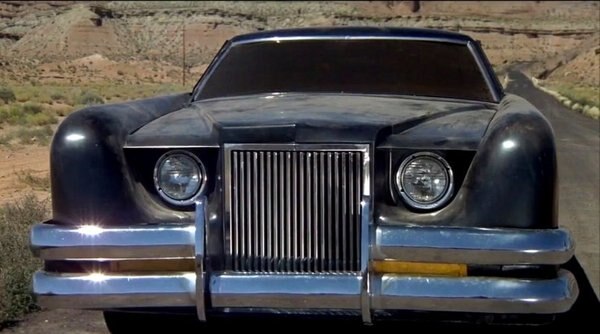 The Car, 1977 - image from tested.com
'The Car' is a modified 1971 Lincoln Continental Mark III: totally unstoppable and totally ludicrous. With less horror and more accidental comedy in the car's murderous charge, the chubby Lincoln is a total wreck, scoring 1 out of 5.
9.
The Evil Dead, 1981 👻 👻
The Evil Dead, 1981
The yellow Oldsmobile Delta 88, dubbed 'The Classic', is the car driven by Ash in the gruesome 'The Evil Dead' films. Even with bad special effect zombies, the film was an instant hit. However, the Delta's lack of importance throughout the zombie ridiculousness gives it a 2 out of 5.
8.
A Nightmare on Elm Street, 1984 👻 👻
A Nightmare on Elm Street, 1984 - image from imcdb.org
In an absurd ending (it was all a dream…or was it?) a 1958 Cadillac Series 62 Convertible wears Freddy's iconic stripes. After supernaturally locking a screaming Nancy and pals inside the car, Freddy drags Nancy's mum through a cat-flap sized window. A beautiful car overshadowed by a bonkers ending…2 out of 5.
7.
Ghostbusters, 1984 👻 👻 👻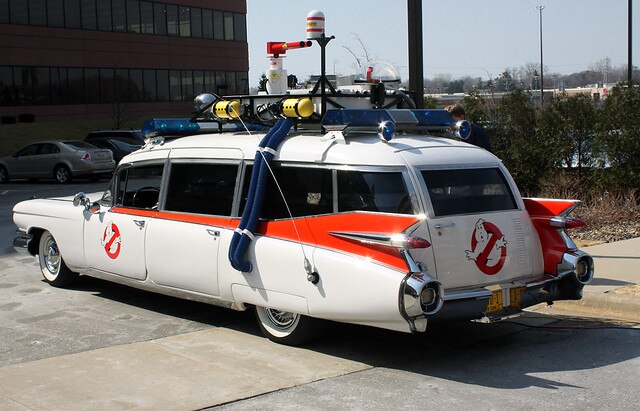 Ghostbusters, 1984
I know 'Ghostbusters' isn't technically a horror movie, but the Ecto-1 is a sheer horror to look at. The 1959 Cadillac Miller-Meteor ambulance-cum-hearse conversion is awful, but the ghost-busting car is a classic and instantly recognisable…3 out of 5.
6.
Zombieland, 2009 👻 👻 👻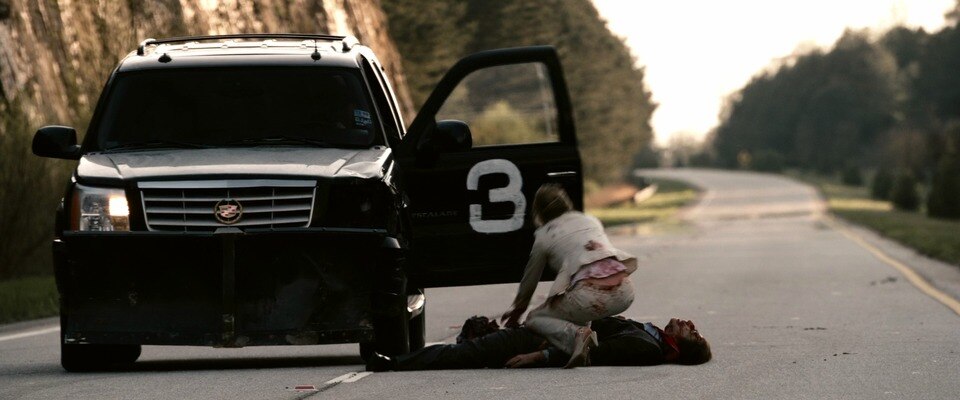 Zombieland, 2009 - image from imcdb.org
With a snowplough attached to the front for extra bulldozing/zombie killing power, the Cadillac Escalade in 'Zombieland' is a real bruiser. Combining zombie apocalypse defence with SUV comfort, the escalade is a real saviour in times of trouble for the zombie-fighting duo. As Tallahassee says, "You can do anything you want to a man, but do not f**k with his Cadillac!"
5.
Shaun of the Dead, 2004 👻 👻 👻 👻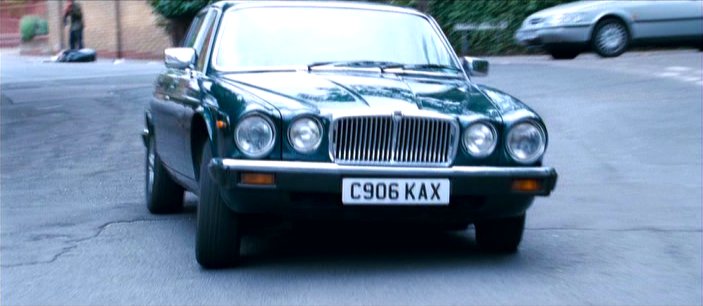 Shaun of the Dead, 2004 - image from imcdb.org
In this classic Brit horror-comedy, the 1986 Jaguar Sovereign V12 only appears for one scene in the film, but it's a real treat. The Jag is the prized possession of Shaun's step father Phillip (Bill Nighy), but it's also where he meets his sticky end. Knocking over zombies left, right and centre, the Jag earns a smashing 4 out of 5 for pure stealth and hilarity.
4.
Death Proof, 2007 👻 👻 👻 👻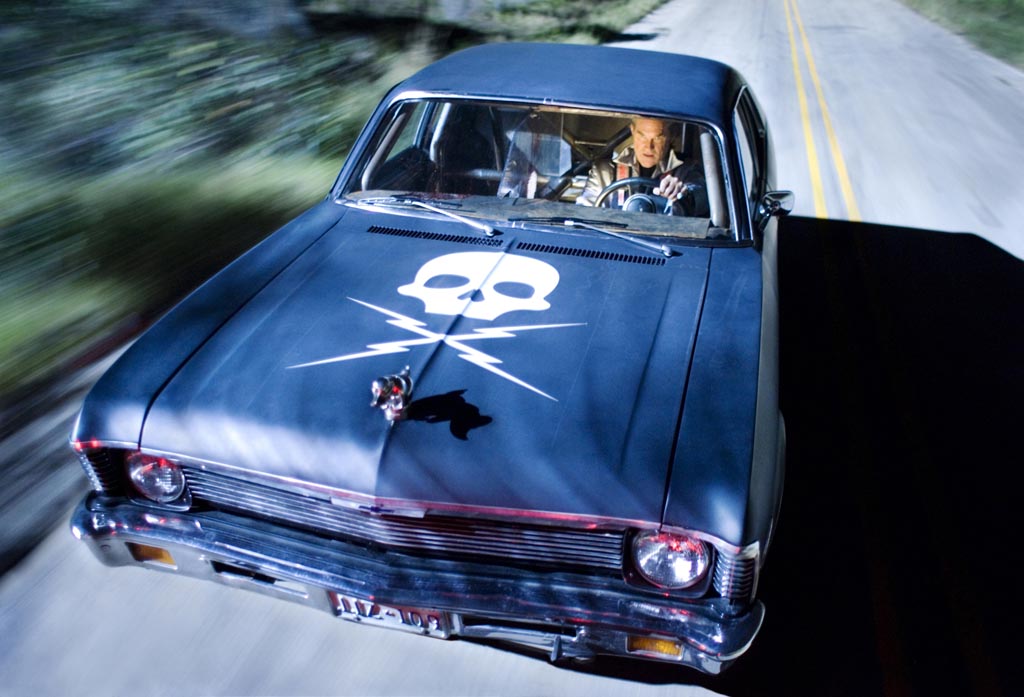 Death Proof, 2007
Kurt Russell is the stuntman turned maniac killer in Quentin Tarantino's 'Death Proof'. He's got an equally psychotic car to go with his psychotic behaviour, a matte black 1970 Chevy Nova 'death-proof' stunt car, complete with white skull and crossbones on the bonnet. The car is perfect for the film's high-octane car chases and is a match for Russell's deranged behaviour, deserving a solid 4 out of 5.
3.
Psycho, 1960 👻 👻 👻 👻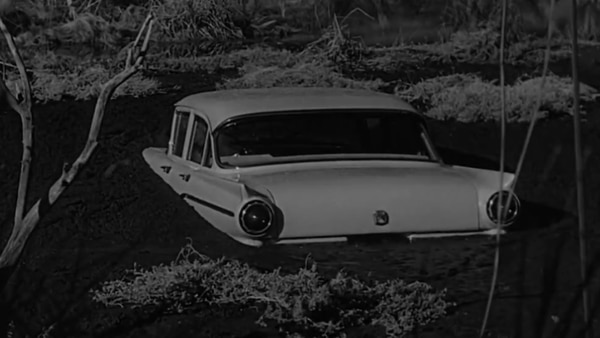 Psycho, 1960 - image from whatculture.com
An on the run Marion Crane drives her 1957 Ford Custom Sedan to the notorious Bates Motel, later ending up dead in the trunk after that shower scene. Norman Bates famously sinks the Sedan to hide all evidence, only for it to be pulled out the swamp as the movie's eerie final shot. One hell of a ride…4 out of 5.
2.
Batman, 1989 👻 👻 👻 👻 👻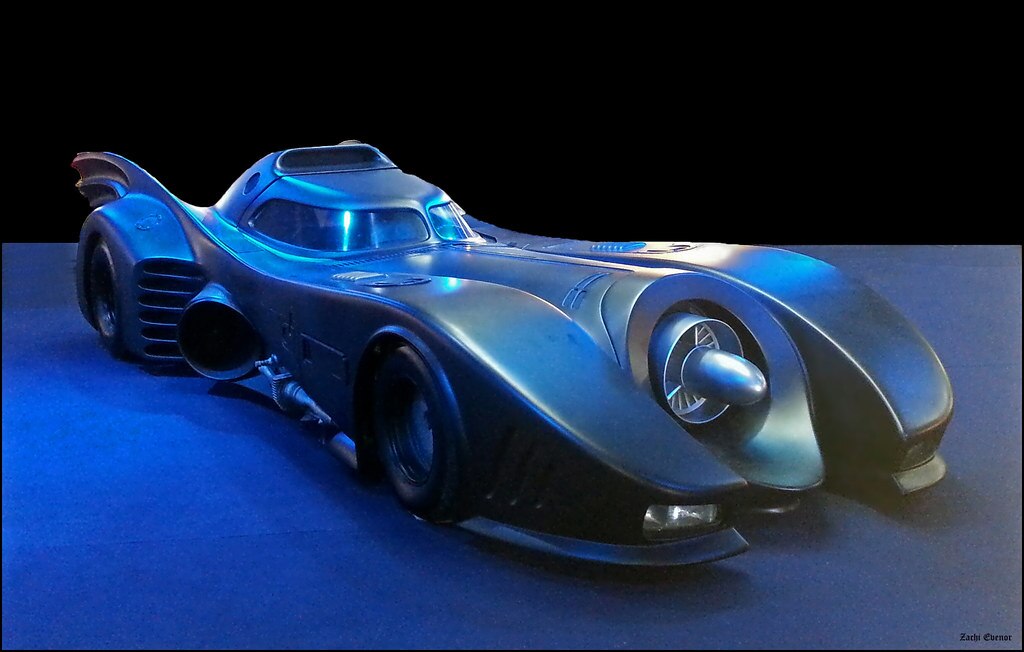 Batman, 1989
The Kilmer and Clooney Batmobiles don't get a look in, with the real star of the show being the 'Keatonmobile' from Tim Burton's 1989 Batman. It was stylist Anton Furst, studying military aircraft, who conjured up the car's stunning design. It's a darker and more aggressive Batmobile, reflected in the later tank-like Christopher Nolan version. The 'Keatonmobile' earns a top 5 out of 5.
1. Christine, 1983 👻 👻 👻 👻 👻
Christine, 1983
A far cry from 'The Car', we have the queen of car-based horror, 'Christine'. From the mind of horror-extraordinaire Stephen King, 'Christine' is a seductive bright red Plymouth Fury with a murderous streak, aptly tag-lined 'Fear on Four Wheels'. Her supernatural self-fixing powers, iconic tailfins, and her jealous attempt at choking her owner's new girlfriend, all reward Christine with a 5 out of 5 on the horror scale.