It's Christmas Jumper Day! Time to get out your jazziest jumpers, your silliest sweaters, and your most Chrismassy cardigans. Yet, the iconic Christmas jumper hasn't always been celebrated. Shunned by society in the past for its frightful ugliness, it usually appeared as an unwanted present from your least-favourite auntie.
Bridget Jones thought she had found her "mysterious Mr. Right" when first laying eyes on Mr Darcy…until she noticed his abysmal reindeer Christmas jumper. "Maybe not".
However, we've come to honour the ugliness of the Christmas jumper. Revel in its glory even. From humble Scandinavian beginnings to its current novelty fashion, the traditional Christmas jumper has been brought back to life through a real variety of popular culture references, memes included.
In no particular order, here's our pick of the top 10 Christmas jumpers currently available to buy. You'll be turning heads at the office Christmas party, that's for sure.
Have a holly, jolly Brexit!
For the Remainer who wants two types of Brussels this Christmas, this politically outspoken jumper is perfect if you want to start a feud at the dinner table with passionate Leavers in your family. It's all a bit of light-hearted fun, of course. Who cares about deals or borders when there's pigs in blankets on the go!
£14.99 from I Want One Of Those
May the Force be with you this Christmas
Get your geek on this Christmas with a Star Wars Christmas jumper. Depicting a TIE Fighter from the original trilogy, this 100% knitted jumper is actually pretty cool. A knockout Christmas jumper comes at a price though, and you'll be paying £44.99 for this one.
£44.99 from Amazon
All I want for Christmas…
…is Louis Theroux, of course. A UK national treasure and our favourite controversial documentary maker, Louis' beaming face sits loud and proud on this eccentric design. Conveying his lovable charm and awkwardness, this bright purple jumper features Louis in a Santa hat. What more could you want? Made and shipped sustainably, you're not only treating yourself, you'll be doing the planet a favour too.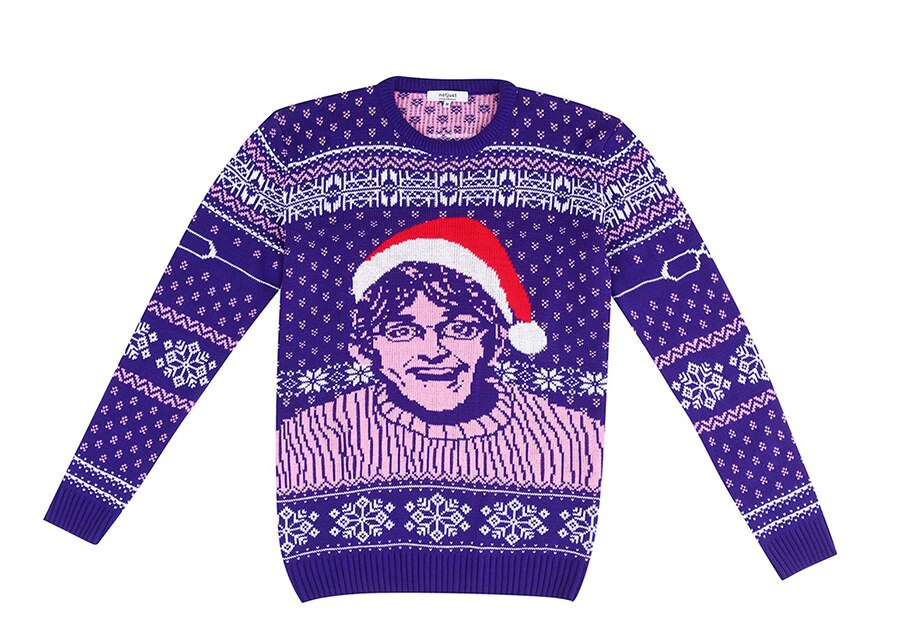 £39.99 from notjustclothing
Merry Christmas from the Upside Down
Everyone's favourite supernatural drama gets a Christmas makeover! You'll be having Eggos and Cherry Slurpees on Christmas Day in this festive Stranger Things jumper. You might even be heading to the Upside Down after one too many glasses of prosecco if you're not careful. Say hi to Barb while you're there.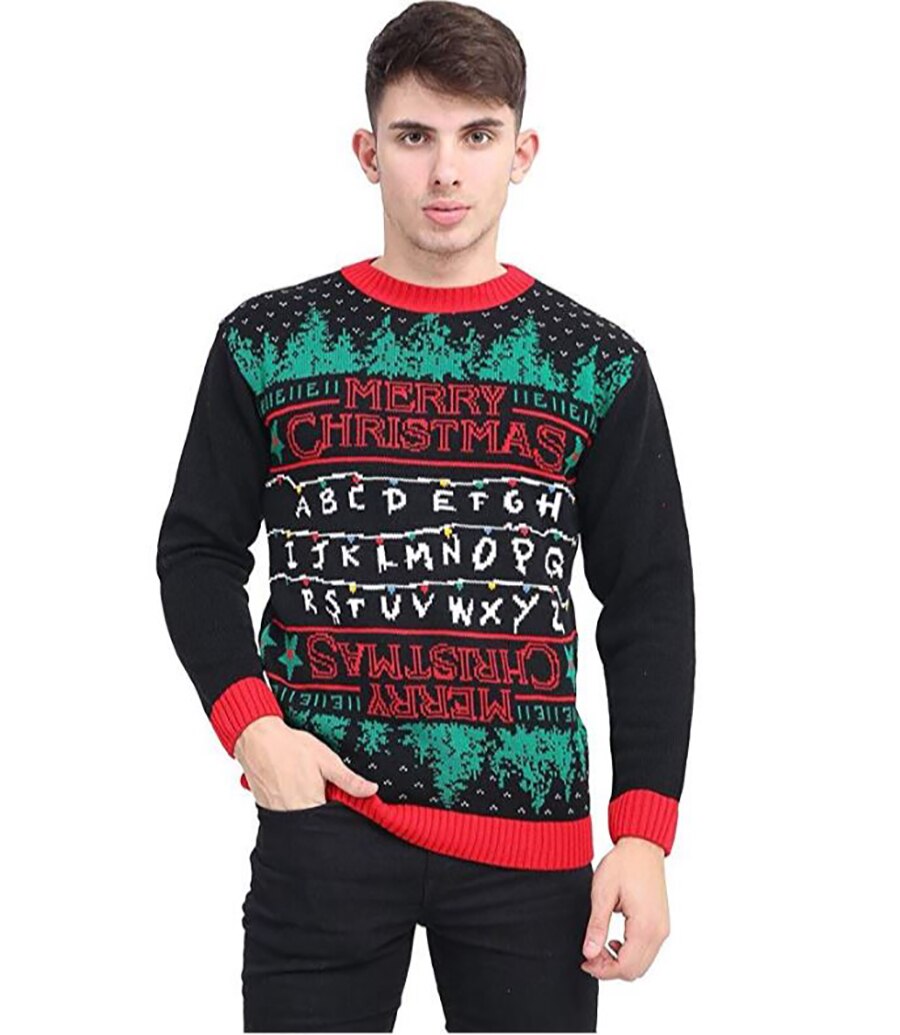 £13.99 - £14.99 from Amazon
The Season To Be Jolly It Is
Okay, I know there's already a Star Wars jumper on the list, but Yoda was too good not to include. Also, you can't argue with Yoda's profound wisdom on this one – The Season To Be Jolly It Is. You heard the tiny green creature…have a good Christmas!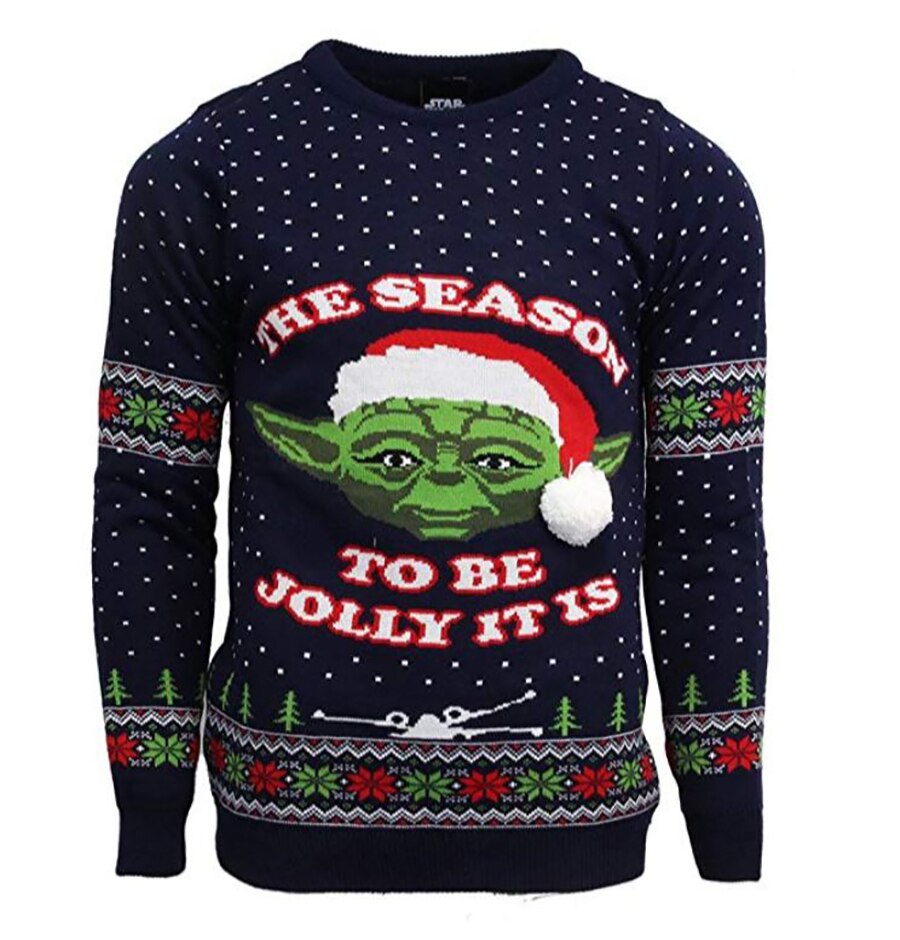 £39.99 - £51.60 from Amazon
Christmas at Hogwarts
Is anything more magical than Christmas? Harry Potter, of course! It's only right that there is a Harry Potter Christmas jumper and this one is a beauty! I'm sure Ron would much prefer this jumper to his mum's embarrassing creation that she gifted him in his first year at Hogwarts.
£51.99 from Amazon
David Attenbrrr
A living legend and the nation's beloved granddad, it's such a relief to see that Sir David Attenborough has finally earned his place on a Christmas jumper. The iconic veteran wildlife presenter is synonymous with fascinating and spectacular scenes, which is exactly what you'll be creating wearing this jumper. Seeing as it's the season for giving, 10% of proceeds also go to a charity of your choice.
£39.99 from notjustclothing
Christmas is Coming
An epic drama deserves an epic Christmas jumper! Winter is coming, but don't worry as this impressive Game of Thrones knit will keep you warm. You can wear the name of House Stark with pride at the work Christmas party, and know with confidence that you're wearing the best jumper there.
£25.99 from Merchoid
I put the jiiiing in jingle
What better way to celebrate the season of sparkle and glitter than with a Christmas jumper in honour of Lizzo: The Queen of all things fabulous. Featuring a festive twist on lyrics from her hit song 'Truth Hurts', this Christmas jumper is the perfect party starter and will have you 'feelin' good as hell.'
£27.69 from Etsy
Loathe Christmas entirely
If you're not one for bells and whistles on Christmas Jumper day, then this is the perfect jumper for you. Paying homage to Dr Seuss' classic, green, heartless, Christmas-hating Grinch, you too can grumble about the festive season – in style. While the Grinch may have stolen Christmas, you'll be stealing the show!
£24.91 from Etsy