It's Toy Time
Still looking for toys for Santa to deliver to your (ahem) good little boys and girls? Or perhaps you're looking for something to play with yourself over the festive season. I mean, why should the kids get all the fun?
Well, to help you with those last-minute stocking fillers we've trawled the (virtual) shelves for some of the toys that are guaranteed to provide big smiles come the big day.
RC Cars
And there's only one place to start. I mean we do sell cars after all. And well, there's some pretty awesome looking remote-control cars out there. They've certainly come on leaps and bounds from the cars I played with growing up, the ones that relied on the nearest concrete hill to achieve any forward motion.
There's absolutely tonnes of RCs to choose from, including a 1:12 Subaru Impreza WRC (£29.99), a rather impressive 1:10 Lamborghini Gallardo (£49.99) radio control car and, for those that like something a little less lifelike, a Toy Story 4 Radio Controlled Buggy (£24.99), complete with either Woody or his pal Buzz.
But my pick must go to the Monster Jam Grave Digger. It's available in three sizes, 1:24 (£14.99), 1:15 (£39.99) and 1:6 (only at Smyths toy shop priced £99.99). Rechargeable in the two larger sizes, it's an absolute beast, promising epic stunts, big air, donuts, crazy crashes and brutal bashes. My inner 8-year-old is very excited.
Slime
Slime is a phenomenon that doesn't look like going away any time soon, much to the disdain of parents across the land who are slowly but very surely accepting that their sofas are now beyond help.
There was once a real concern that slime factories across the UK would have to cease production when former family favourites like Fun House, Run the Risk, and Noel's House Party were axed from our telly boxes (RIP Mr Blobby).
Well now the stuff is everywhere, and I mean everywhere. My pick is the Cra-Z-Slime Super Slime Studio (£19.99) which will allow your little cherubs to make their own sticky goo, complete with glitter effects and rainbow colours.
Elsewhere there's something called Unicorn Poo slime. But that's too disturbing to go into right now.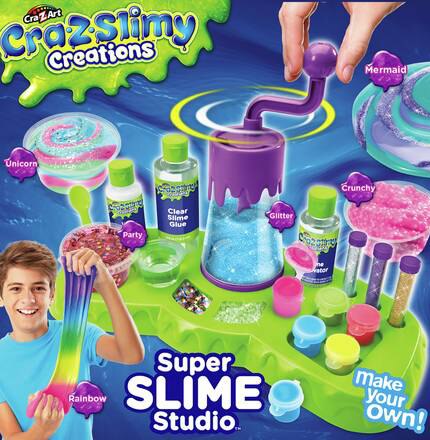 Board Games
It would seem that board games are enjoying a bit of a renaissance, with new and more bizarre products being launched each year. Again, the world has very much moved on from Battle Ships and Kerplunk. These classics now rub shoulders with the likes of Doggy Doo (£14.99), Gooey Louie (snot related fun this time - £13.99) and something called Flushin' Frenzy, which involves taking turns to plunger a toilet until a plastic, but no less nauseating, poo is launched skywards. I mean what's wrong with Guess Who?
Anyway, the kids seem to love these games, which is why Flushin' Frenzy (£19.99) is a top pick. Another game that looks nifty is Slap Ninja. Play as the Ninja Master and use his huge karate chop to defend his precious coin from your sneaky opponent. Hi-Ya!
For the older board-gamer who's put off by games that centre around bodily functions, there's much to choose from. Being a bit of a retro film nerd, my pick this year the Blockbuster Party Game (£20.00), which requires you to act out and remember quotes from some of cinema's finest flicks. It also comes in packaging based on the old Blockbuster rental VHS tapes. I'm sold.
Dolls
Dolls have been a staple for seemingly the dawn of time. Indeed, the earliest dolls were made from clay, stone, wood, bone, leather or wax. Though I'm not sure if they weed themselves or not. In fact, archaeological evidence has established that dolls are probably the oldest known toy.
Since the days of cuddling a bone we've had dolls that cry, dolls that talk, and even dolls that grow in a cabbage patch. This year has its own unique collection of dollies, from new versions of the seemingly timeless Barbie (what's her secret? Botox I reckon), to dolls that look more like members the Pussycat dolls than the Tiny Tears my sister played with.
Our pick this year is the Disney Frozen Sing-along Elsa, which is £39.99. (I hear Frozen is quite popular among little girls), or, for something a bit different, a Baby Born Little Sister Mermaid – prices vary.
Crafts
While a lot of kids consider craft-based toys as just above clothes on their Christmas gift rankings list, it's nice to tick off the responsible parenting box with a something for them to colour in or make. Whether it's modelling material or a 10,000-piece coloured pen set, there's plenty to choose from. Of course, it goes without saying that most of these will inevitably have you in a rage two months down the line as you scrub tirelessly at the ominous neon orange mark on the kitchen table or the now multi-coloured Play-Doh filled crevices of your remote controls.
I mean they might turn out to be the next Banksy, or at least the next Neil Buchanan. Who knows?
Well this year seems to be all about Kinetic Sand – the strange seemingly magnetic sand that is mouldable and easy to shape without the need for water of a sandcastle bucket. It's also multi-coloured for some pretty standout sculptures. Anyway, its black magic and I'm staying well away. For those unperturbed, my pick is the Kinetic Sand Sandisfying Set for just £20.
For something a little more traditional, there's the cute Crayola Doodle Dog. For just £10 is comes with an array of pens and a plethora of stamps, stencils and pattern tools, all housed in a happy-to-see-you poochie.
Well that's the end of our gift guide for this year. We hope you have a great time giving and receiving this Christmas.
Me? I'm still holding out for that Mr Frosty I asked for in the 80's.