I'm here!, I'm finally here. Over my time as a blogger for Lookers I've often covered the London Motor Show from a distance, trapped in the office and unable to take the opportunity to check how my hair is looking in the reflection of a Lamborghini's bonnet or fill my nostrils with the smell of burning tyres. But this year is different because I find myself writing a blog in the Costa of the ExCeL Centre London having spent two days in the thick of the action.
And WOW, there are some special cars here. It's like a 13-year old's bedroom wall coming to life. Not the Call of Duty kill streaks and half naked pictures of Kylie Jenner, no the car posters have come to life and are here to see and, when the organisers aren't looking, touch. I even playfully tickled a Bugatti, though it didn't look impressed.
Richard Hammond and James May were also here talking about online social hub Drive Tribe and…well, cars.
The show also gave Lookers the perfect opportunity to tell the world about the recently launched Lookers Electric Charge, our 'electrifying' charity initiative in aid of motor industry charity Ben, which you can read more about in a previous blog by the rather brilliant Lucy Chambers here.
Helping to draw the crowds was the exceptional Jaguar I-Pace, which Lookers Jaguar Land Rover were previewing at the show. In-fact I have to admit that I was a little taken aback by the amount of attention it has been getting here, especially when you consider the seductive charms of some the world's hottest super cars.
Everything from minis to hyper cars, lawnmowers to monster trucks are here, there's even the most immaculate ice-cream van you've ever seen, but, in a cruel twist, no ice cream. I had been worried that, being in the South, Monkey's Blood would not be on the menu today. How very disappointed I was let me tell you. Then in the midst of my disappointment I heard someone excitedly mention the sale of detoxifying cucumber and mint waters. My soul was crushed.
Anyway, I soon re-sprung my step as I began to formulate what I would like to call the 100% unofficial London Motor Show Awards.
The Most Utterly Bonkers Car
Koenigsegg Agera
Last year saw Swedish manufacturer Koenigsegg snatch the prize for fastest production car from the clutches of Buggatti with the frankly silly Agera RS, so I was pretty excited to see one up close.
Forget everything you know about reality when I give you these numbers. 1,160 bhp. I'll just write that again….1,160 bhp. 0-62 mph is 2.9 seconds. 0-124 mpg is 6.9 seconds with a top speed of 277 mph. Max torque is 1280 Nm at 4100 rpm. I wouldn't drive it unless you don't care much for you head.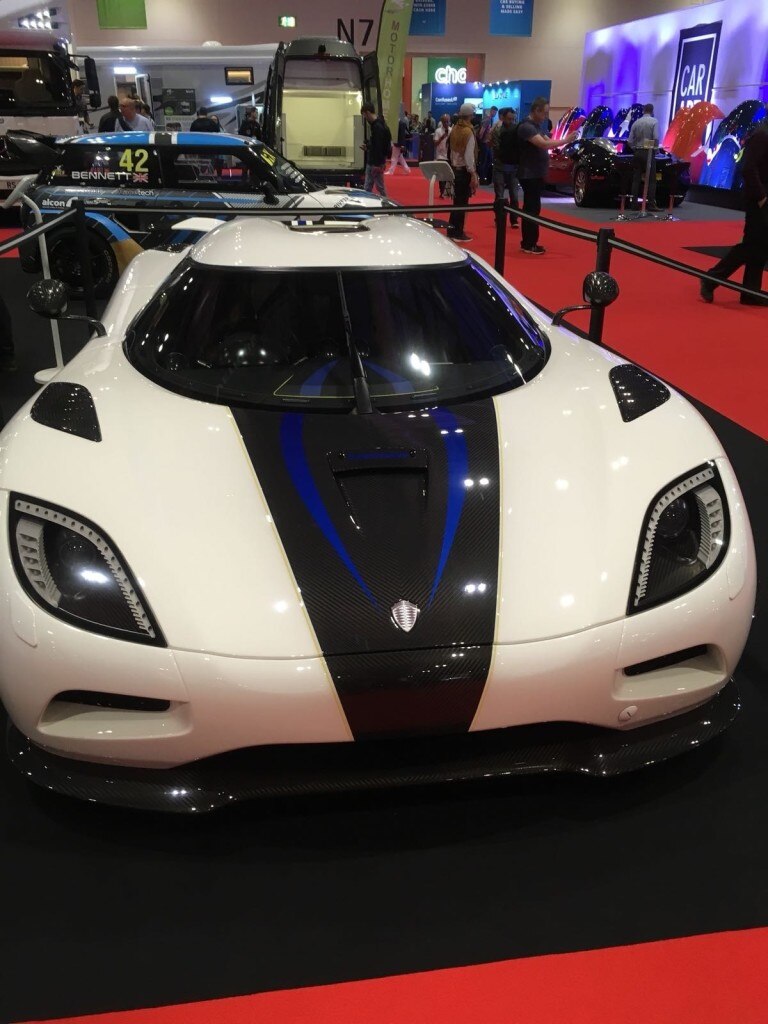 Classiest Car
Now this was a hard one. My heart was saying the Jag F-Type restoration, Eagle 31 4,2 coupe 1966 Series, and as I walked around the show I never thought that it would ever be beaten. Then I saw this and I think I actually fell in love. Based on the 1987 Carrera 3.2, this Porsche 911 affected me like a soppy Hollywood rom-com, and that dog-tooth interior, it had me at hello.
The car that's quite scary and makes you worry for the mental state of the owner
This award goes to this Hummer. No spec provided, no info. Just a huge bone crunching death machine with huge sub woofers and a chain gun on the roof.
Most Impractical Car
The JCB DieselMax. The World's fastest diesel, also the world's most awkward to park at the supermarket. Also, when did JCB start building diesel powered rockets? Bit of a mental leap from excavators and cherry pickers. Why can't they use this type of thinking to help speed up the road works round my way? I need answers JCB and quick.
Technology Award
I know this might sound biased (as of course it is) but I'm going for the Jaguar I-PACE. With a range of up to 298 miles on one charge and a 0-60mph of 4.5 seconds, the I-PACE proves that power and speed doesn't have to be compromised in the race to build an electric car that appeals to the mass market. The I-PACE is also stunning and was by far one of the most popular stands at the show. So much so that I could barely get a clear shot of the thing.
Oddest Addition to the Show
A lawnmower. A Countax lawnmower no less. Yeah it looks impressive, pretty damn impressive, but how the hell am I supposed to get that back from the catalogue shop? (I say catalogue shop but you know what I mean really, it starts with the noise you make when you see a new-born baby or a puppy and ends with Matt and Luke's surname from Bros).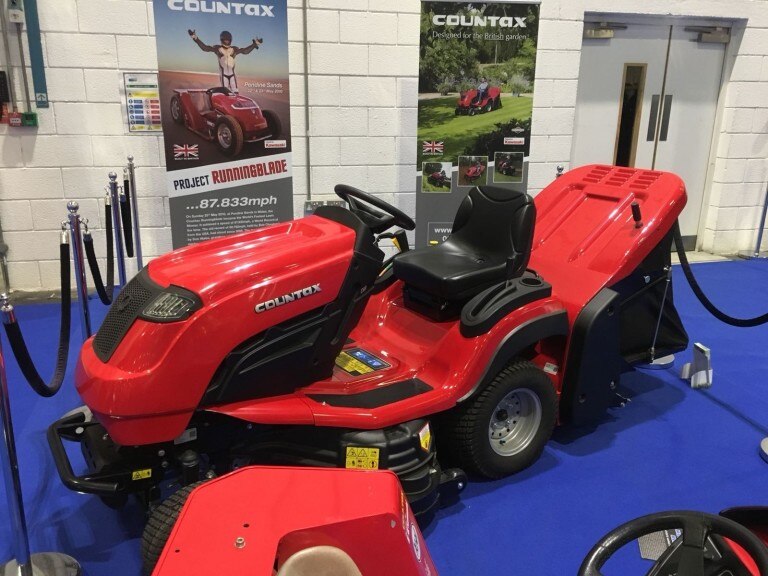 Best Car at the Awards
So, so many favourites. The new BMW i8 Roadster was nice, even nicer was the new V8 GT Ferrari Portofino, and even nicer than that the McLaren 570S.
But my winner is……..drum roll please…………It's the New Aston Martin Vantage 4 litre, Twin Turbo. 503 bhp, 195mph top speed and a 3.5 second 0-60. All that means nothing though compared to how it looks. Striking the right balance between creating a super car aura and retaining a car's sense of class and integrity is a trick that many manufacturers have struggled with recently. For Aston Martin it seems effortless.
Honourable Mention
An honourable mention must go to Del Boy and Rodney's three-wheel Reliant Robin as used in one of my favourite Only Fools and Horses episodes, Jolly Boys Outing. There were a few Prat Mobiles as well dotted around the show. Not naming names.