Here at Lookers, we've had a lovely Christmas break and are now feeling refreshed ready for the new year. We're also feeling reflective and thought it would be a good opportunity to look back at 2018 and share some of our highlights. From the launch of our mascot to an epic road trip across the UK, from test driving the latest models to winning awards, it's been a busy year for Lookers. Read on to see what we've been up to as well as find out what 2019 will hold.
The start of the year saw the launch of the Lookers mascot, Lucky the dog, at our annual conference. To coincide with our Mumsnet family friendly retailer accreditation, the launch of Lucky is our way of creating a more family friendly environment in our dealerships. Throughout the year he has entertained us and has been on plenty of adventures, serialised in the collection of storybooks available in our showrooms. He's become a TV star, discovered how to become a guide dog, found out about road safety and even helped Santa save Christmas!
It's not just Lucky who's been having all the fun either! From May to October, our CEO, Andy Bruce, took on the BEN Leadership Challenge, aiming to raise £200,000 for automotive charity BEN and we thought we'd help him out. The Lookers Electric Charge saw every single one of our 152 dealerships take part in an epic road trip from Dublin, through Northern Ireland, across to Scotland and down the UK using only electric or hybrid vehicles. Fancy dress and carpool karaokes resulted in plenty of hilarity, all for a great cause. BEN helps those in the automotive industry at times of need, so it was our pleasure to do our bit to contribute to the fantastic work they do. Andy Bruce presented a cheque at the glittering BEN ball back in December. He also passed on the Industry Leader Baton for next year to Jon Wakefield, MD, Volvo Car UK; Darren Guiver, UK MD, Group 1 Auto; and Tim Tozer, CEO, Allianz Partners.
As part of the Lookers Electric Charge, we were lucky enough to test drive the innovative Jaguar I-Pace round the streets of Glasgow. Our CEO, Andy, was very impressed with the all-electric Jaguar…
2018 also saw us test drive some great new releases including the Skoda Citigo, the Kia Ceed and the Audi A8.
We've also raised lots of money for national and local charities as well as sponsored grassroots sport and regional talent through our dealership network across the UK and Ireland. In 2018, we sponsored a 13 year old show jumper, an 8 year old motocross competitor and the captain of Motherwell Ladies football club. We also inspired young people through a workshop visit and treated two of our customers to a brand new car thanks to our BBC Children in Need fundraising campaign.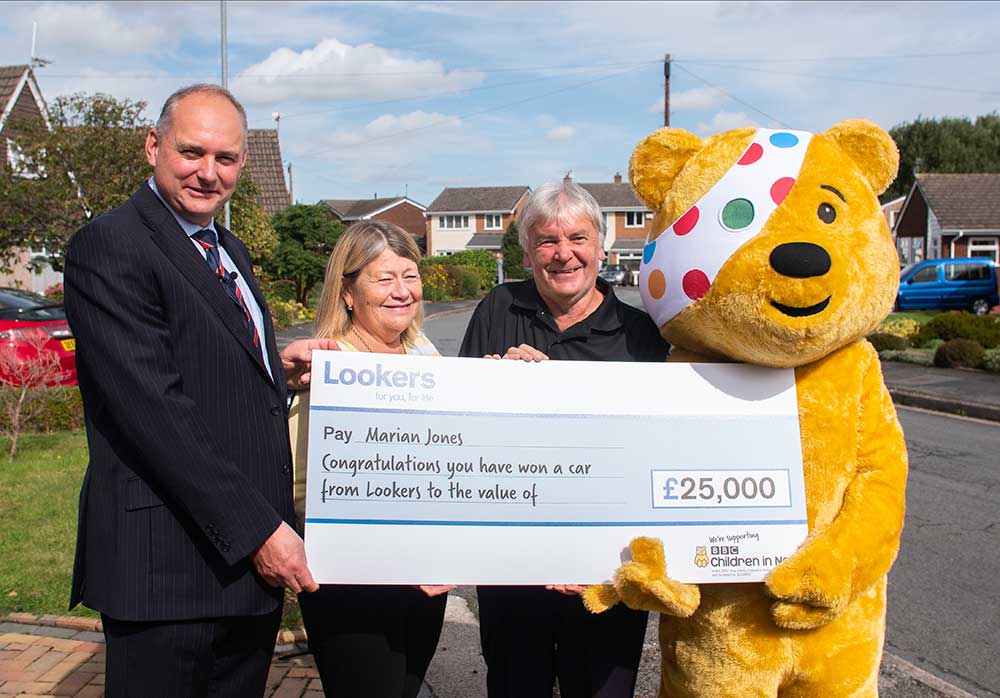 We have expanded our dealership network with the acquisition of Pollendine motors and Jennings which aligns with our strategy of 'the right brands in the right locations.' The acquisition of Jennings has reinforced Lookers' position as one of the largest motor retailers in the UK and strengthened its position in the north east region.
Back in October, our Motability Awareness Week invited Motability customers into our dealerships to find out more about the scheme and the offers we have. We also offered an Autism Hour across our dealerships, an hour per day where we turned the music down and lowered the lights so that it created a more pleasurable experience for our customers with autism. The campaign also raised awareness of the Motability scheme through our social media channels via a series of case studies.
The campaign was a huge success and we received some positive feedback from a customer at our BMW Knights dealership:
"I just wanted to say… great job. It's fantastic to see Knights supporting Autism Awareness. Makes customers like myself feel very proud when you see organisations like yours taking the time, energy and costs involved to pledge support for great causes like autism awareness."
We're looking forward to making Motability Awareness Week an even bigger success in 2019.
We've also seen award wins across the group in 2018. From our marketing team winning 'Best In-House Marketing Team' at the North East Marketing Awards, to Lookers SEAT Manchester winning Best Workshop CitNOW video at the CitNOW Awards, we have a lot to be proud of. At the start of the year we were also recognised as a Centrica Top 100 Apprenticeship Employer, something with aligns with the increase in apprentices joining Lookers this year.
So, what will 2019 bring? More fantastic new model launches, more fundraising and more fun whilst always keeping you, our customer, at the heart of things. We've started the year with The Big Sale, with some outstanding offers across our brands. So do pop in, say hello and have a browse. We'll be happy to help you find the right car for your needs. We're looking forward to seeing you soon.